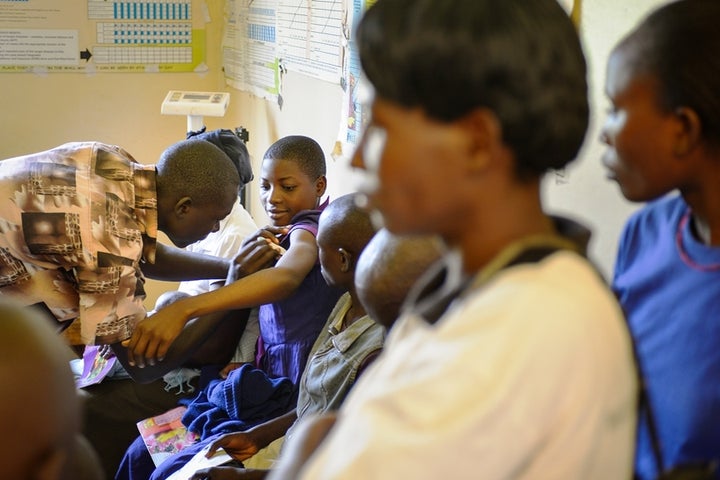 There is a crisis in our global health workforce. A looming shortage of 18 million skilled workers stands between us and the promise of universal health coverage—and the economies it could help stimulate.
But how do we recruit more smart, capable workers to this field around the world? How do we make the most of the health workers we have? And how can countries build the fit-for-purpose workforces they need to foster healthy, productive populations, which are a must for economic growth?
These problems are too big for the public sector alone.
I spend every day thinking about these questions and looking for answers in the countries where IntraHealth International works.
For years, global health and development have been the domains of aid workers and the public sector, of governments and nongovernmental agencies, all working with limited resources to solve huge problems in the midst of other huge problems—meeting the need for new hospitals and health centers in the remotest regions, for example, while also struggling to bring much-needed electricity and roads to them.
These problems are too big for the public sector alone. We need new stakeholders, and an all-new architecture for working together—not only for greater global good, but for greater economic well-being, as well.
As I sat with my fellow speakers on stage at The Economist's Innovating Economies summit in Nairobi this month, I was inspired by the collective potential we have to tackle problems in new ways—together. Take Google, for instance. The company wants to do more business in Africa, but recognizes the need for a stronger foundation there to do that—consistent access to good roads, reliable power, clean water.
These are problems public-sector players have been dealing with for decades.
So why not solve these problems together? By pooling our resources and know-how with businesses and creating thriving mixed markets for health care, we can help solve the health workforce crisis and help countries build stronger populations and economies. I have a few ideas for how we can work together to get there:
We collect a lot of global health data, but we have a lot to learn about how to best use them.
Better data use. We in global health and development collect a lot of data, but we have a lot to learn about how to best use them. By harnessing the data we have, we can help close the gap between the need for and availability of health workers in many countries. In Kenya, for example, there's a tremendous opportunity for all stakeholders—from the Ministry of Health and USAID to private-sector partners such as Procter & Gamble and Microsoft—to come together and put powerful health workforce data to use. Those data could help the public sector develop county-by-county strategies, tailoring each region's workforce to its population's needs and ensuring a steady pipeline of health supplies.
Stronger education and training institutions. Aspiring health workers need access to education that is high-quality and within their financial reach. Programs such as the Afya Elimu Fund, a low-interest student loan program, are making this possible for Kenya's health workforce and presenting ample opportunities for partnership. The fund was established in 2013 with the US Agency for International Development through IntraHealth's FUNZOKenya project, and is a joint venture of IntraHealth, the Higher Education Loans Board, the Kenya Healthcare Federation, the Ministry of Health, the Ministry of Education, and the Ministry of Planning and Devolution, and private-sector contributors. To date, it has received more than US$5 million from various organizations and funded over 9,000 students to become health workers. The fund aims to raise the number to 20,000 by 2018.
A focus on primary health care. When it comes to building our health workforces, we should focus not only on specialized cadres, but also on the generalists on the front lines of care. Universal health coverage will never happen without the nurses, midwives, community health workers, and others who provide primary health care and essential live-saving services every day. We should invest in building both public and private networks of health workers and mixed markets that maximize impact and minimize out-of-pocket payments, especially for the poorest.
Tap into the diaspora. During West Africa's Ebola crisis, we saw people from all over the globe with ancestral roots in that region raise their hands and say, 'I want to help.' As Yvonne Mburu, CEO of Med in Africa, pointed out at the summit, there's a great desire among the diaspora to get involved in improving health care, and great potential for sharing expertise. Establishing sustainable mechanisms that allow the diaspora to help not only during emergencies but, for example, through short-term assignments wherein they can work shoulder-to-shoulder with their counterparts in low-income countries could help build relationships and greater expertise among local health workers and officials.
Policies that pave the way for collaboration. We need to work with the private sector to help create a policy environment that makes it easier for them to be involved in global health and development in substantial ways—beyond writing checks. The public sector can no longer afford to treat private-sector health care providers as "the competition." Policies need to reflect the complementary natures of public and private health care services.
The global demand for health care will only continue to grow.
Our health workforce crisis will not go away on its own. The global demand for health care will only continue to rise as populations grow—and get older. And as African economies mature, more leaders are looking to health as a powerful investment, not just in well-being, but in their economic development.
The problem remains a global one. Now we must find the global willingness and resources to solve it.
Related
Popular in the Community