Five years ago, I met my first environmentalist while living in small-town Florence, SC. Up until that point, I only saw environmentalists on T.V., and was starting to think that this talk of "greening" only existed on the internet. Sarah Brandis was her name, and she was an intern with Earth Force, working in Charleston, S.C. After learning about how I started a non-profit organization, Greening Forward, which helps young people take action against the environmental issues within their community, Sarah encouraged me to connect with her organization.
Electrified with excitement, I rushed home from school that day to tell my grandmother who I had met at school. I knew my grandma would never let me call a long-distance stranger, so I left out the part about Sarah encouraging me to give Earth Force's CEO, Lisa Bardwell, a friendly call. I'd hope to see how Greening Forward and Earth Force could partner. Therein sparking my relationship with Earth Force, which eventually turned into me joining their board of directors at the age of 14-years-old. Placing students on boards remains a novel idea, but the trend is moving so that today's young people are being valued for the assets that we are.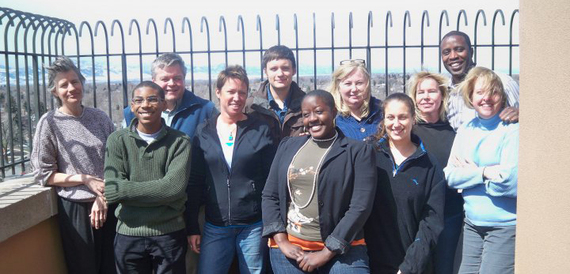 Five years later, in many ways, I can say that I have "grown up" with Earth Force. In these past years, I have learned far more than five lessons about changemaking, but I would like to share some of these ideas.
1. Always enlist a savvy mentor
Mentors identify opportunity, unlock doors, and challenge our way of thinking. As an eager 12-year-old who wanted to free the world of litter, I had to fill an incredible gap of leadership experience in order to establish Greening Forward. The mentors I identified through Earth Force helped me launch my ideas. Every young person needs not one mentor, but an army of mentors. I tell young changemakers to brainstorm the areas of their life that they need the most growth. Now, imagine who excels in that area. These are the individuals who you should seek mentorship from.
2. Always enlist a savvy coach
You might be wondering, "Wow, that sounds a lot like the last tip!" Well, the variance lies in the differing functions of a coach and a mentor. Yes, it was great having adults from Earth Force mentor me, but it was also helpful when we were able to identify when coaching was a better strategy. Mentoring involves using past experiences, and current wisdom to make suggestions about decisions. In contrast, coaching involves helping an individual use what they already know to solve the problems before them. Having someone to ask the hard questions without advising you on what to do exactly, helps us to realize how to use our own wisdom to solve our own problems.
3. Never be afraid to ask questions
One of the greatest assets I offered to Earth Force was sometimes the fact that I did not have much non-profit leadership experience in my early years. Board members and I still chuckle when reflecting on the innocent questions I used to ask, and the fearlessness with which I would ask these questions when I was 14-years-old, even though some of the adult members in the room had the same questions. If it had not been for this fearlessness, clarity would not have been shone over some of our board room dialogues. Board teams - actually, any teams - need someone to be persistently asking questions inquisitively. (I learned the word inquisitive in the fifth grade, which was actually my elementary school teacher's way of telling me I talked too much.)
4. Sharing meals builds community
My first ever flight was with Earth Force to a Denver, CO Earth Force Board Meeting. "Where is the plane currently?" I remember asking the flight attendant. (I had the silly expectation, then, that the flight attendant actually knew the answer to this question.) Many flights later, and now that I am a much more experienced traveler, I am always purposeful about sharing my first meal when I land with a colleague. Breaking bread with someone that you work with builds community, because while non-profits do important work, what is equally important is learning about the people who lead this work. Each of us have a story to tell, and we have more fun with our work when others can appreciate our story and what we bring to the table. Sharing meals opens this kind of dialogue.
5. Take time to reflect
One of the cool things about traveling with Earth Force to Board Meetings was the fact that I was learning so much I could never recall it all by memorization. Too often we jot down what we are thinking in the moment, and never look at those scribbles again. Quickly I learned that in order for me to keep up, I had to not only record my thoughts, but I had to commit to reviewing them periodically. Whether it's an off-topic discussion, or whether it's a discussion about how to invest in organizational human capital, I can now look back on these notes and see what I've done with that knowledge, and how I can continue to use it.
As I wrap up my time at Earth Force, I am delighted to give another young person the same kind of experience that I had while working with Earth Force, an experience of growth and learning.
Calling all HuffPost superfans!
Sign up for membership to become a founding member and help shape HuffPost's next chapter