The terrorists thought that they would change our aims and stop our ambitions but nothing changed in my life except this: Weakness, fear and hopelessness died. Strength, power and courage was born. -- Malala Yousafzai
1. No girl should be left behind.
While feminists in the West are upset about pink legos and busy banning the word bossy, millions of girls throughout the world are being denied the most basic human rights. In the developing world and beyond, girls are being trafficked for labor and sexual exploitation, forced or sold into marriage, and deprived of a basic education. Establishing safety, freedom, and options for these girls should top the list of priorities in the women's movement.
2. One cannot control the heart and mind of an educated girl.
The Nigerian girls were pioneers for their choice to continue their schooling in a region where an education is not a forgone conclusion. The parents of these girls bravely chose a unique path for their daughters in a state where only a tiny fraction of the population finishes secondary school. Their specialness makes their abductions all the more heartbreaking. However, it also reveals how threatening an educated girl can be to those interested in gaining control over a society. Educated women are impossible to dominate and derail the terrorists' agenda.
In a Mother's Day address from the White House, Michelle Obama pointed out that educated girls lead healthier lives, have happier families, earn higher wages and build stronger nations. Yet today, 65 million girls worldwide are not attending school.
3. Meaningful opportunities will curtail terrorism.
I want the U.S. Marines to parachute down into the Sambisa Jungle and kick some Boko Haram butt as much as the next person. But our military will never be able to resolve the problem of the growing terror threat in our world. As many take on the essential task of improving education for girls in the developing world, it's equally important to consider how we can create more opportunities for the restless young men throughout these regions. As a global community, we need to think about how to to build a sense of worth, agency and options in the lives of boys so they cannot be converted into killing machines.
4. A tweet is just a tweet.
The explosion of tweets and Facebook status updates with the hashtag #BringBackOurGirls not only demonstrated how many of us truly care, but also how helpless we feel when facing the ugly issue of child trafficking. More than 1.6 million tweets in a week created global awareness and activated government support from many nations. But social media is information, not action. A tweet cannot go out and rescue the girls from the forest.
For those who want to convert their online activism into other forms of action that empower girls, Nicholas Kristof suggested worthy organizations to support in his most recent New York Times column, "What's So Scary About Smart Girls?"
5. Activism is no longer the domain of college students and hippies.
The abduction of so many bright young students from their beds in the middle of the night was so a dramatic and visceral. The images of the masked Boko Haram militants and the accounts of what happened by those who escaped enabled so many to imagine the horror these girls face. The story cuts right to the bone and touched people across all demographics.
Advocates, survivors, celebrities, concerned teenagers, parents and ordinary citizens came together on social media as one unified voice in support of the girls from Chibok. As the fate of the girls remains agonizingly uncertain, it's tempting to turn away from the story altogether. But Chibok is not an isolated incident. According to DoSomething.org, the U.S. State Department reports that between 300,000 and 400,000 children are trafficked across international borders every year. These children are in desperate need of our support too.
Can we use the solidarity we created to meaningfully address this painful issue and help these kids in concrete ways? Like the parents from Chibok, let's pick up our bows and arrows and march through the brush in search of our own lost power and potential. Let's raise our hands in protest of the ways we have all been undervalued; sold for a pittance on the market. Our stories are probably less dramatic, but no less significant. And as we recover the dreams of our own lost childhoods, we can commit ourselves to expanding the rights and restoring the dignity of every child on this planet.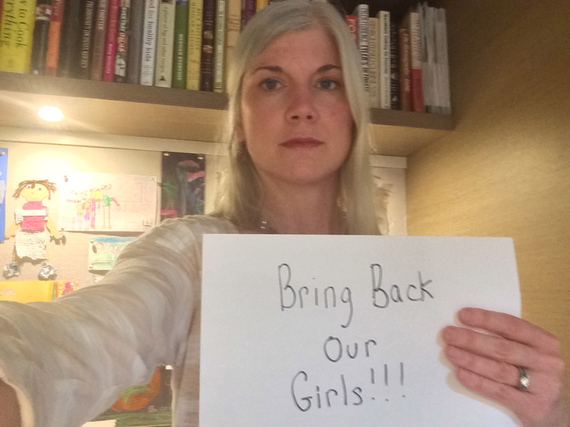 REAL LIFE. REAL NEWS. REAL VOICES.
Help us tell more of the stories that matter from voices that too often remain unheard.