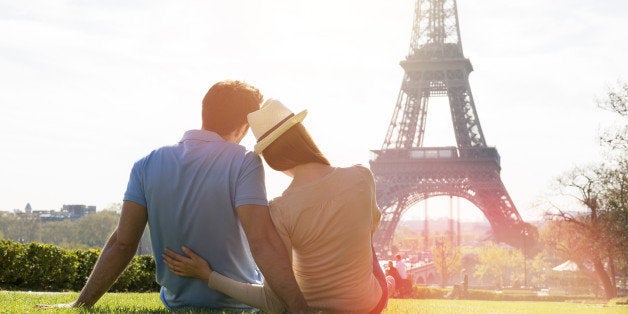 In April, I traveled to Paris for the first time, approximately three months before my 40th birthday. Here I was, almost 40, and making my first trip to Europe. All of my life, I have dreamed of traveling abroad. I never studied abroad in college -- one of my two regrets in life (second to not writing my own wedding vows). Instead, I worked my way through college, fell in love, maintained a long distance relationship, conquered law school, got a job at a bustling law firm, took the bar exam, got married, bought a house and had three kids.
Before I knew it, I was staring 40 directly in the eyes without ever having traveled to Europe and experiencing a foreign culture. Not as in an exotic beach vacation culture (I was familiar with those types of vacations), but as in a historic, defy time, change-your-life sort of destination thousands of miles away.
First, let me say, I loved everything there was to love about this romantic city. The people, the energy, the architecture, the fashion, the coffee and croissants, the feel of the air, the sounds in the streets. It was everything I have never experienced wrapped into everything I always thought it could be. I loved immersing myself in the culture. I felt particularly pleased when I would walk into a store, and the locals would speak to me in French instead of English. For 10 magical days, it was as if I was one of them.
Simply put, I feel as if my trip to Paris cracked open my soul and let new light in. When I returned home, people back home noticed it too. There is a different glow about me now.
The first thing we saw in Paris was the Eiffel Tower. One of the most internationally recognized symbols around the world, this monument was alive, standing tall and providing the best views Paris has to offer. Words cannot describe the feeling I would get when the structure would light up at night. Much like Paris, it never got old or ceased to amaze me.
Of all of things I brought back with me from Paris, here are the five things I remember most:
1. Never Ask for Ketchup with your Fries.
The French take particular pride in their cuisine and fries (or pommes frites) are no exception. To ask for the American additive is asking to take away the authentic experience. Mustard for some reason is acceptable, but I learned that fries are much better in their virgin state without condiments.
2. There is No Such Thing as Take-Away Coffee.
Here at home, I have a daily routine. First thing in the morning, I go to Starbucks and order a short, decaf vanilla latte. It is my favorite part of the day. The baristas knows me and my order without any instruction. I grab my coffee and bustle away. (By "bustle," I mean walk as quickly as I can, coffee in hand, rushing off to somewhere very important. Honestly, I do not know why but I am always rushing off somewhere "important.") In Paris, we asked for a coffee "to-go." In response, we were abruptly told, "there is no take away coffee!"
Coffee, in Paris, I quickly learned is an experience meant to sit and enjoy. It makes sense, just as you should not want to rush life, you should not rush a good cup of coffee either. Take a moment to enjoy the company you share and/or surroundings. There is a good reason that all of the chairs outside the Parisian bistros and brassieres face towards the streets. The best views in life are sometimes directly in front of you with your loved ones by your side. Enjoy it. Savor it.
3. It's Perfectly Acceptable to Show Affection in Public.
In the States, public displays of affection, commonly referred to as PDA, are frowned upon. The same is not true in Paris. Maybe its because you can find romance everywhere you look -- on the cobblestone streets of Montmartre, under the Eiffel Tower, on a bridge over the Seine River, or on the steps of the Sacré-Cœur -- or maybe its because the romance of Paris falls on you as easily as the rain, but its there and you can feel it. Couples walk closer, embrace tighter and kiss longer. When was the last time you kissed your loved one in the rain for no reason? Try it. Find your own bridges. Pay attention to the sunsets. I highly recommend it.
4. When in Doubt, Dress Up.
In Paris, I felt scores more fashionable than I ever do at home. It was as simple as adding a scarf under my jacket or putting on flats instead of my go-to tennis shoes while walking around the city. When you dress better, you feel better and more confident. There is a reason, the French seem so sophisticated. It's because they are!
5. Walk Wherever Your Feet Will Take You.
Before my trip, everybody told me that I would walk everywhere and not to worry about the extra calories from the pastries and wine. They were right. We walked everywhere our feet would take us. Down two stories from the Eiffel Tower, three hundred steps to the top of the dome at the Sacré-Cœur, down miles of corridors at the Louvre, across acres in Versailles, through the Jardin des Tuileries, and across more bridges than I can count over the Seine River. When we could we would even run early in the morning before all of the crowds would gather.
With the gravel under my feet, I felt connected to Paris in an intimate way, as if I was taking steps nobody had touched before. The truth is that millions make this journey every year and will continue to do so for years to come. On this trip though it was my journey and my heart cracking open. It was pure joy to see and experience Paris through my "almost 40" eyes. I am forever changed.
Each night during the last five minutes of the hour, my soul lights up and sparkles a little brighter now, just like the Eiffel Tower does on the other side of the globe, lighting up to shine its beacon upon all.