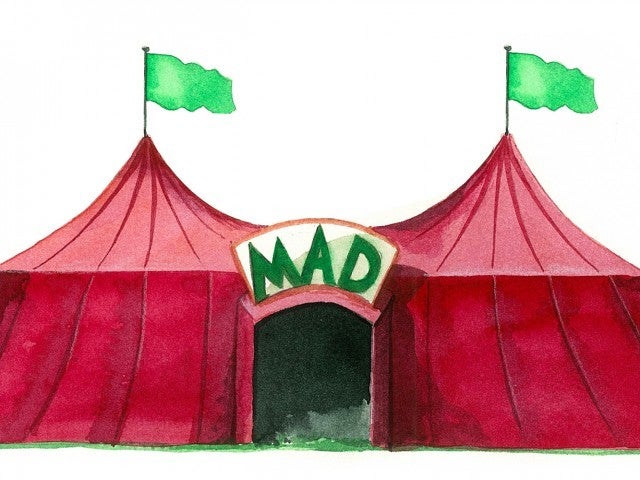 The MAD 5 Symposium took place one month ago in Copenhagen, but I'm still trying to digest the lessons learned and food inhaled.
For the uninitiated, MAD refers both to the not-for-profit organization started by foodgod René Redzepi as well as the yearly symposium put on by said non-profit (the word mad also appropriately means "food" in Danish). MAD's mission is to share food knowledge, and its yearly symposium is just one of the ways the organization spreads ideas.
The theme for this year's symposium was Tomorrow's Kitchen. For two days, 350 chefs, restaurateurs, scholars, journalists, farmers and others in the food world gathered in a large, red-colored circus tent erected on an island in Copenhagen (which attendees were escorted to via ferry). Along with a plethora of delicious food and drink were keynote speakers and smaller breakout discussions lead by fifty-or-so attendees that all explored the ways in which we can take action today to make tomorrow a better place both inside and outside of the kitchen. I was one of the lucky few to lead a discussion session (more on that later).
There was much to learn at MAD 5, but the following are five pieces of wisdom gleaned from speakers that I have especially been thinking about over the last month:
Ultimately at some point, you cannot escape yourself. You are who you are… You don't have to torture yourself to be different—you ARE different. —Jacques Pépin
This sage advice comes from the legend himself, Jacques Pépin, who was MAD 5's opening keynote speaker. He's telling the audience to be themselves (while effortlessly deboning a whole chicken for a galantine). It sounds like something your parents or teachers probably told you back in high school, but the words are worth remembering throughout life. Everyone is their own person--we are indeed beautiful and unique snowflakes.
I still don't know what success is –Angela Dimayuga
This quote comes from Angela Dimayuga, who is definitely a success in many aspects. She's the executive chef at Mission Chinese Food in New York, which was named New York Times Restaurant of the Year in 2012. Angela has been nominated for a James Beard Award and has been profiled in both Food & Wine and Bon Appétit magazines. Though Angela is seemingly successful, she still has the knowingness and understanding that there's no single measure or definition of "success"—it's different for everyone, and as Jaques taught us, everyone is different.
Once you understand your fire you can accomplish anything —José Andrés
This quote comes from a very passionate José Andrés, who stomped barefoot back-and-forth across the stage roaring like a hungry bear as he delivered an incredibly motivating talk. Here José is literally referring to fire, which his father insisted a young José first learn to command prior to handling any ingredients when cooking. But José is simultaneously analogizing fire to motivation: we need to understand what excites us in order to figure out how to keep going. For José, feeding the underserved and fighting food insecurity is his motivation. Changing lives is his fire.
Just change one person —René Redzepi
The above is actually a quote of a quote from René Redzepi's closing speech at MAD 5. He was told these words by José Andrés in a discussion, and immediately afterwards René's daughter came running up to him with a bag of hazelnuts. She had attended a plant recognition breakout session and was the only person to correctly identify the plant from which the hazelnuts came. René's restaurant Noma was named the best in the world for years in a row; the man that has helped shape New Nordic cuisine and popularize the locavore food movement around the globe—he's already changed the world for the better. That his biggest moment in MAD came from the realization that he's changed just one person—his daughter—was powerful and heart-swelling. It was humanizing. You don't have to change the whole world to make an impact—just one person is enough.
One is a small number, but it's something, and something is better than nothing –Omar Mamoon
Yes—I just quoted myself. As mentioned earlier, I lead a small breakout session at this year's MAD Symposium. My talk was about the philanthropic model pioneered by the company I worked for in my past life as a corporate desk jockey that I had adopted with my cookie dough business DOUGH & CO. The idea is that businesses large and small can have a positive impact by simply donating 1% of its profits, 1% of its time, and 1% of its product to mission-based non-profits that are doing good work. In the almost four years from when I first started my business, I've helped raise and donate over $10,000 to non-profits in the Bay Area (which in the grand scheme isn't a whole lot, but is nonetheless something). Though one is a small number, it's a manageable and scalable number, even in an industry with super slim margins. Most importantly, however, it's a number that helps Make A Difference—an accidental and accurate acronym for MAD that I think is the whole point of this thing called life.
Calling all HuffPost superfans!
Sign up for membership to become a founding member and help shape HuffPost's next chapter
This post was published on the now-closed HuffPost Contributor platform. Contributors control their own work and posted freely to our site. If you need to flag this entry as abusive,
send us an email
.