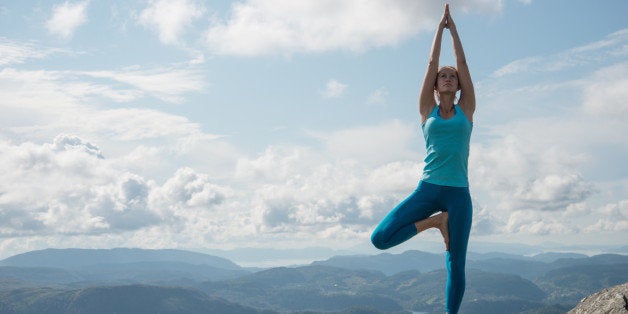 Yoga is a practice. One I began not too long ago, with the intention of getting into shape. Yet, the practice has brought about drastic changes in my everyday life both physical and especially mentally.
I am a married mother of two, a teacher and writer--the chaos of life builds up pretty quickly. My daughter is a cheerleader with games almost every day; my son is on the swim team and in the choir. This, coupled with my one hundred students; my daily routine left me mentally drained, often confused and all over the place with my daily duties. I would forget which child went where on which day, I had a ton of things overlapping in my head and I had trouble keeping up with everything. I was way too proud to get an organizer and found myself rushing to everything last minute.
Over summer break, I was able to calm down and bring normalcy to my life--I decided to try yoga. There was no real reason other than a banner in the studio's window offering one week of free yoga for new yogis. I had always wanted to try yoga and felt that it was a perfect time, and the free week sweetened the deal for me. I could try it out, and if I didn't like it; I never had to return.
When we hear the word "yoga," we usually paint the mental picture of people standing on their heads, bodies contorted in weird ways, exhaustion and fatigue flooding our brains and bodies with the idea of the practice. On the contrary, when I got to class, I realized it was exactly opposite of what I believed it would be.
The instructors were extremely friendly, the environment was calming and serene. The heat was not overwhelming, and there was a lot of time for self-reflection and connectivity. I felt a mental connection to my mind and body. Over the week, I knew that I had to continue my practice. Here are the five life lessons from yoga that changed my life.

1. You are not perfect; it's okay to fail at some things.
Nobody is great at everything. We all have to be taught to do things. We're shown how to do something; then we practice to become better at whatever it is we practice. For me, this meant that sometimes I would mess up the schedule or forget where someone went, but with practice and patience, I forgot less and remembered more. Yoga is a practice, surely I wasn't able to get into a handstand on my first day, but with practice, muscle memory and determination, I was finally able to get there. In life, there will be things we don't get right away, but if we practice and don't give up, the hard thing becomes easier.
2. Balance is needed in everything.
However, balance is not something that is easy to obtain. It sounds simple enough to say to someone "you need balance in your life;" it's another thing to show them how to attain that balance. I learned that balance is about discipline. We have to discipline ourselves enough to limit our time and attention to certain things to create balance in our lives. For me, that meant no naps on the weekends and getting up earlier to get writing done before work.
3. Slow down and process.
We have between fifty thousand to seventy thousand thoughts that go through our heads every day, with all of those thoughts we need space and time to slow them down and process them. For me, there were many brilliant ideas that I would come up with while driving because it was the only place I could think without anyone bothering me. I would forget to write them down because I quickly moved to the next thought. Yoga gave me time to sort through the mental noise of my mind and meditation helped to process my thoughts entirely and harness my creativity more. Yoga helped me write better by allowing me time to mentally develop everything from the characters to the scenes. It also helped me to block out unnecessary, destructive thoughts that didn't aid in my life progression.

4. Yoga improved my flexibility.
In life, there are many rules to follow, some of them make sense and some of them we are like, "what the heck is this even a rule for." For me, I followed every rule--even the ones I didn't agree with. Yoga helped me understand that we can sometimes bend the rules and get the same result. People are not machines and being a bit more understanding and less harsh and go a long way and get more from people, my family as well as my students.
5. Breath is essential to living.
Simply put, if we don't breath, we die. Deep breathing has many benefits in our everyday life that we never think of. For me, sometimes, I get angry with people, thoughts, situations, and the list goes on. Taking a deep inhale, and holding it in during a stressful thought or situation, can help to change the thought and calm the tense feelings. Yoga taught me to control my breath and control my thoughts with my breath it helped to change my
reactions to everything. I always calm down and take a breath before any reaction. It prevents acting too quickly.
I went into yoga for a physical experience and came out with a renewed sense of purpose, new-found mental clarity, a deeper appreciation, and understanding for breathing, more mental space, more flexibility for mankind and a different mental process. Who would have thought all that could come from spending sixty minutes on a mat for five days a week?