So if you had wanted to see the Original Mouseketeers in person back in their heyday (1955 – 1958), what were your chances if you lived outside of Southern California? Slim & none.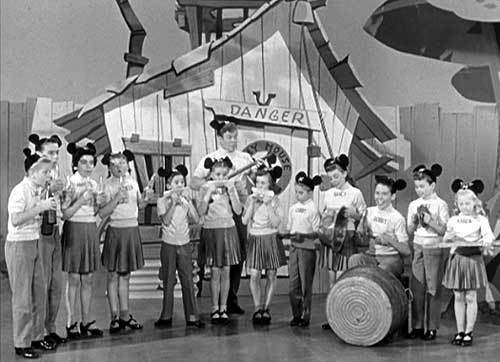 And why was that exactly? To be blunt, "The Mickey Mouse Club" didn't shoot in front of a live audience. More to the point, Cubby & Co. were just too busy rehearsing & then shooting this TV show to make all that many personal appearances when this Disney-produced program was originally on the air.
To explain: Because the weekly "Disneyland" anthology series immediately became a smash when it debuted on ABC back in October of 1954, network executives there quickly exercised an option in the contract that Walt had signed with them back in April of 1953 for a second Disney-produced program. This time around, though, ABC execs wanted something that could air during daytime. A late afternoon show that would take on the then-titans of children's television: Buffalo Bob Smith (i.e., host of the then-super-popular "Howdy Doody" show) and Pincus Leff (i.e., the former burlesque comic who headlined the equally-popular "Pinky Lee Show").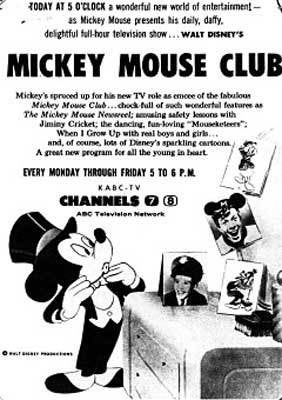 An undertaking of this size – which was supposed to air 5 days a week, Monday - Friday, from 5 – 6 p.m. – would require a huge cast (and an equally large behind-the-scenes production team). Which is why – in April of 1955 – Walt Disney Productions held open auditions for "The Mickey Mouse Club." And of the 500 kids who came out, 19 were then selected to become the Original Mouseketeers.
Production of the first 100 episodes that were supposed to make up Season One of this TV show began the very next month. Because California labor laws limited the amount of time that a child could appear in front of a camera to just four hours a day (with the other four hours that made up a standard eight hour-long work day then being set aside for three hours of school and one hour of lunch & recess), Disney Studios did what they could to maximize efficiency while "The Mickey Mouse Club" was shooting.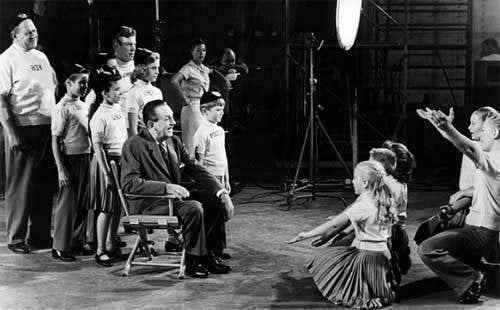 The key to meeting this TV show's daily footage quota (which was crucial if "The Mickey Mouse Club" was actually going to be ready to air in time for its already announced October 3, 1955 premiere date) was dividing the Mickey Mouse Club cast in three teams: Red, White & Blue. With the idea here being that – while the Red Team was in front of the cameras – the Blue Team could be rehearsing and the White Team could be attending classes in Disney's "Little Red Schoolhouse" (i.e., that tiny trailer on the Burbank lot where 12 kids at a time would study Math, English & Science under the tutelage of the official studio teacher). And once the kids who were in the Red Team were maxed out on the amount of time they could legally spend in front of a camera for that day … Well, the Blue Team would then leave their rehearsal hall and head for Stage 1 (i.e., the official on-the-Disney-lot home for production of "The Mickey Mouse Club") to begin shooting while the Red Team – after a break for lunch & recess – would swap places with the White Team in the "Little Red Schoolhouse." And as that group began its studies, the White Team would then head over to the rehearsal hall.
And this was the way things were on the Disney Lot for six days a week (Yes, in order to meet "The Mickey Mouse Club" 's previously announced air date, Studio execs had the Mouseketeers working in front of those cameras Monday – Saturday) during the three year span that this daytime TV variety show was in production. Walt even had these kids working on Sunday during one hot July day in 1955. Though – to be fair here – that was so the Original Mouseketeers could then appear on ABC as part of the nationwide live broadcast of that 90-minute-long TV special which commemorated the grand opening of Disneyland Park.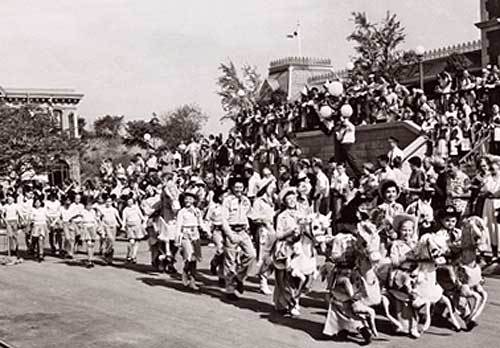 And speaking of "The Happiest Place on Earth" … One of the only times that the Mouseketeers ever got the chance to perform live in front of their fans was the extremely-short-lived Mickey Mouse Club Circus. Which was presented at Disneyland Park from November 24, 1955 to January 8, 1956.
This under-the-canvas extravaganza was present three times a day on weekdays and four times a day on weekends. And the Mouseketeers were prominently featured in this 75-minute-long presentation. They even rode on top of some of the classic circus wagons that rolled through Disneyland Park daily to herald the start of daily performances of the Mickey Mouse Club Circus.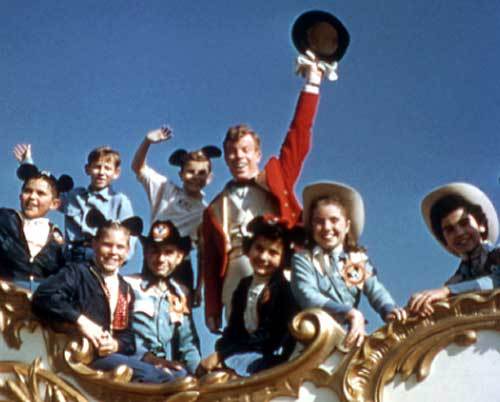 But because this show-under-the-Big-Top was kind of a big flop at the Happiest Place on Earth (As it turned out, people in the 1950s didn't go to Disneyland Park to see circuses. They drove out to Anaheim to check out all of the rides, shows & attractions that Walt had his Imagineers design) … Given the smallish sized crowds that had come to see the Mickey Mouse Club Circus, the Mouseketeers really didn't have a clue how hugely popular their daily TV show (which had premiered on ABC eight weeks earlier) was. These kids just went back to the Disney Lot and – under pretty much the exact same working conditions as they had shot Season One of this TV show – the Mouseketeers shot Seasons Two & Three of "The Mickey Mouse Club" in 1956 & 1957
In fact, for a number of the Mouseketeers, it wasn't 'til they journeyed to Australia for a post-production appearance in May of 1959 (Though "The Mickey Mouse Club" would continue to air on ABC through September of 1959, Disney Studios stopped shooting new episodes of this daytime variety show back in May of 1958) that these kids then learned how truly popular this television program had been. When they were greeted at Sydney Airport by 4,000 screaming fans (And to put this crowd in perspective: When the Beatles flew in from the U.K. on February 7, 1964 to begin their first American tour, the Fab Four encountered 5,000 screaming girls when they deplaned at JFK), these relatively sheltered child stars finally got the sense that they had been a part of something truly significant.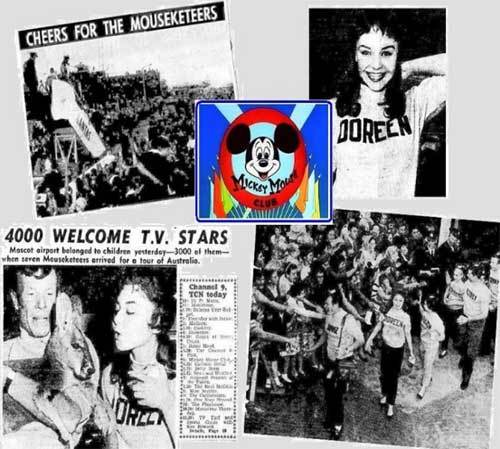 How significant? According to the Nielsen ratings service, during the 1955 – 1956 television season, for the first three months that "The Mickey Mouse Club" was on the air, 48.7% of TV viewers in North America were watching this "kiddie show." Which meant that this Disney-produced program was the highest rated television show on all of daytime at that time.
The reason I bring this specific behind-the-scenes story up now is … Well, five surviving members of the Original Mouseketeers – to be specific: Sherry Alberoni, Sharon Baird, Bobby Burgess, Tommy Cole & Cubby O'Brien – will be at the historic Tivoli Theatre in Downers Grove on Sunday, June 25th. And while they're onstage, these five will be sharing stories about what it was like to work with Walt & singing classic Mickey Mouse Club songs. They'll even be taking part in a panel discussion which will take attendees behind-the-scenes on what it was like to be a member of the cast of this historic television program. And best of all, Sunday's "Magic of the Mouseketeers" presentation is a fundraiser for Creativity Days at the Walt Disney Birthplace.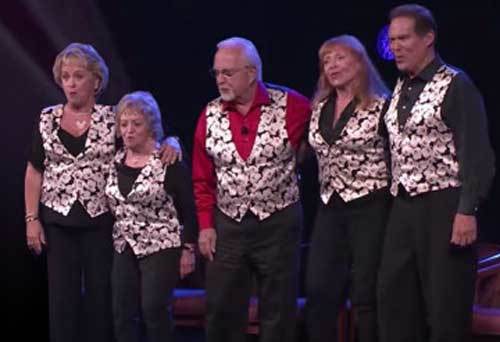 Mind you, if you can't make it out to Chicago this coming weekend, there is also a spectacular Disney-related event occurring on that exact same date – Sunday, June 25th -- at Van Eaton Galleries in Sherman Oaks, CA. Over a thousand Disneyland artifacts will be coming up for bid. (The two illustrations that follow were pulled from the official "Walt Disney's Disneyland" auction catalogue).
If you're more of a window shopper, please be aware that many of the items that are about to come up for bid are now on public display. And if you swing by Van Eaton Galleries today or tomorrow (its exhibition hours are 10 a.m. to 6 p.m. on both days), you can then view the presentation map of Disneyland that Walt used to convince ABC executives to not only fund construction of what – back in 1953, anyway – the Disney Company was calling its " … family fun park," but this is also the piece of paper that sold network executives on the idea that they should produce a weekly "Disneyland" TV series as well as "The Mickey Mouse Club" variety show.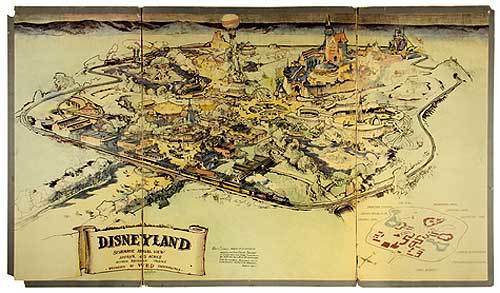 To bring this story full circle: If you look closely at the key for Disneyland's 1953 presentation map, in the place where Tom Sawyer's Island is currently located, what do you see? The Mickey Mouse Club. A "land" at this theme park with a physical clubhouse where fans of this 15-months-away-from-officially-being-optioned-by-ABC-executives TV show could then go and hang out.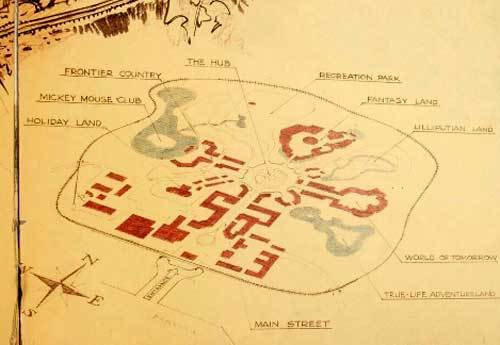 I mean, I know that Walt Disney was supposed to be this really forward-thinking fellow. But planning out something like this so far in advance puts a whole new spin on that lyric from the "Mickey Mouse Club March," "Hey there, Hi there, Ho there, you're as welcome as can be," don't you think?
Related
Popular in the Community