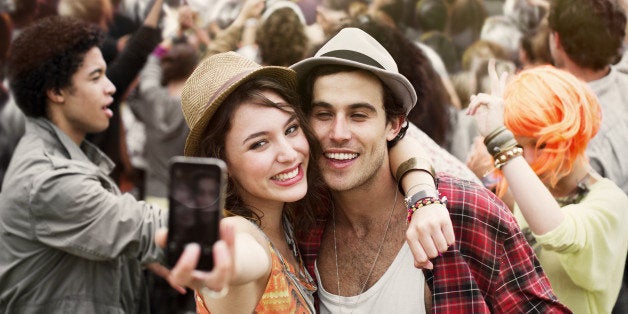 Every female needs her go-to group of girlfriends, but as I approach the big 3-0, it's very clear that women should also have a core group of men (that they're not involved with romantically) to rely on as well. Ladies, meet your must-haves in the male friend department.
1. Straight best friend. You know, the guy that everyone tells you to marry, but both of you are like "we would drive each other crazy if we stepped outside of the friend zone." The guy that has seen you both at your best and your most vulnerable. He's close with your family and spends time with them even when you're not there. You have inside jokes that no one else would understand or find funny. He knows exactly what to say to you when you need to hear it and compliments you when you need to be complimented. He would do, and has done, anything for you. Most importantly, you can always count on him for a random karaoke night and Sunday Funday.
2. Gay best friend. I'm convinced that my gay best friend has a sixth sense. At the exact second I'm feeling funky, he somehow knows without me saying anything and my phone rings. He'll sit on the phone with you for hours, or watch "Country Strong" on repeat drinking straight out of a shared tequila bottle in your pajamas. When you need help with an outfit, or need someone around for an "ugly cry" night, he's the go-to. Every conversation, each of you talks about yourself for a good thirty minutes, and then says "enough about you, let's talk about you" and that exchange happens a good five times before the conversation ends.
3. The relationship expert. Men understand men better than women understand men. I can't actually prove that, but I'd put money on it. Women are notorious for giving shitty relationship advice when it comes to their women friends, because we typically side with each other regardless of the situation. "You didn't do anything wrong, he's just not ready for a relationship" or "You can do so much better than him," and so on. Having a male friend who knows you well, to offer perspective is a totally different conversation. And usually, the male's perspective, while not what most girls want to hear, is on point.
4. Platonic date friend. For me this happens to also be my straight best friend. He plays a lot of roles. Lucky guy. Some of the best "dates" I've been on have been with him. And I don't have to wear heels, or put out afterwards. Right now, we live in different places, but I'm lucky that he plans trips to see me and sometimes work brings him to LA. Most recently, when he told me he would be in town, I asked if he was interested in a Dodgers game. He said yes, so when I went to look for tickets I asked if he had a preference of where we sat. His response was "any seat next to you is the best seat in the house." Before the game, he asked about me before talking about him, gave me several compliments and made me laugh. While we were at the game, he asked if I wanted another drink or something to eat several times, and when I said yes, he went to get it for me, telling me to stay in our seats and enjoy the game. And he understood when it took me 20 minutes to come up with the perfect Instagram caption.
5. An ex. While things didn't work out when you tried being a couple, he has a unique insight to who you are in an amorous relationship. And now that you're broken up he can tell you that, "yea, it's really annoying when you do that."
These five men are invaluable, and with them, you'll never have anything to worry about.