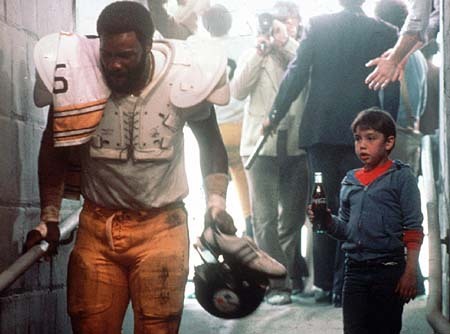 If you grew up in the 80s, or you're any avid sports fan who knows what it's like to idolize a player, you'll recall how magically those three words resonated with a nine-year-old boy face-to-face with Pittsburg Steelers' defensive tackle "Mean" Joe Green.
Coke has always been known for incorporating celebrity endorsements into its advertising, but the brand achieved new heights with this emotional ad, which debuted on October 1, 1979 and was aired again several times, most notably during Super Bowl XIV in 1980.
The well-known television advertisement won a Clio Award for being one of the best television commercials of 1979. In it, Mean Joe appears deflated and injured after a game. But after drinking a Coke from a sweet, young fan, he is revitalized -- and tosses his jersey to the boy as a gesture of thanks.
Aside from the emotional storytelling, the impact that this ad achieved was amplified by Coke's matching of Tier 1 sports figure Mean Joe Green with Tier 1 broadcasting channels. But that was in the '80s. Today, you don't necessarily need to hire a Mean Joe, or have a multi-million dollar TV budget to achieve your desired impact.
It pays for even the smallest brands to combine sports endorsements with the social web, as a Catalyst engagement study shows that sports fans who follow their favorite athletes on social media are 55 percent more likely to purchase something if that athlete mentions it on Facebook or Twitter.
We've scoured the web for five examples of the most creative, results-driven sports influencer endorsements that have aligned brand values with the right sports influencer, reached the right target audience, and generated real results.
Each example points to sports influencer marketing being used in different scenarios. We have big brands, like Foot Locker and Mercedes, working with big stars on integrated campaigns across broadcast and social media; and we have relatively unknown brands achieving significant local market penetration by working with local sports stars, while using a low overall budget by running a social media-only campaign. But however they do it, all of these campaigns are as effective, in their own way, as Mean Joe Green.
Here are the first three of five top sports influencer endorsement campaigns on the web, which all showcase how big brands and big sports names can use social media to effectively mobilize consumers:
"Going viral" is the holy grail of Internet marketing, and Foot Locker knows the secret: big-name sports stars going to ridiculous lengths to keep their gear fresh.
Foot Locker's recent video campaign featured sports figures like James Harden and Stephen Curry. It leveraged both traditional media by broadcasting the star-studded commercials on broadcast and print, as well as social media by uploading the same ads to YouTube and hosting Twitter conversations with the athletes.
Endorsements from names as big as these were no doubt part of the draw of the campaign, which resulted in over 10 million views across three commercials.
However, a big part of its success was also the emphasis put on connecting the sports stars with their fans, while presenting Foot Locker in a great light. Fans were encouraged to take to Twitter using the #Approved hashtag, ask questions of the NBA athletes and otherwise engage directly with the campaign.
The #Approved hashtag went viral, and became a trending topic on Twitter shortly after sports influencers like Lebron James and Carmelo Anthony picked it up and helped spread the word.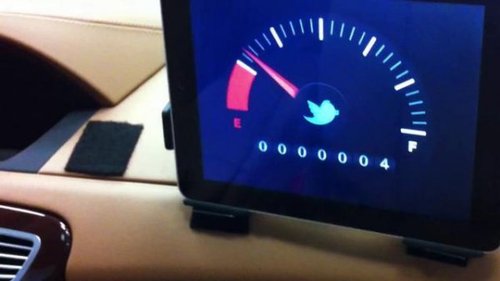 To generate buzz for a new line of luxury cars to be promoted through their Super Bowl campaign a few years ago, Mercedes Benz wanted an endorsement from a big name in sports... but not necessarily the biggest. They weren't looking for the heaviest hitter, but rather someone that was highly engaged with their fans on social media.
In part to reach a younger, more tech-savvy demographic, Mercedes turned to baseball player Nick Swisher. At the time, Swisher had had some luck on the field, but most of his star power was thanks to his huge effort in building up his personal brand online.
They asked him to be one of the four celebrity coaches for their "Tweet Race" event, a social media campaign building buzz up to the big Super Bowl ad. The campaign revolved around Swisher encouraging his Twitter followers to tweet about the Tweet Race, with each tweet earning gasoline for his team.
The campaign ended up generating more than 150,000 tweets and reaching close to 25 million people. It also increased test drives for new Mercedes by 7 percent, and the number of first time owners or leasers by 6 percent.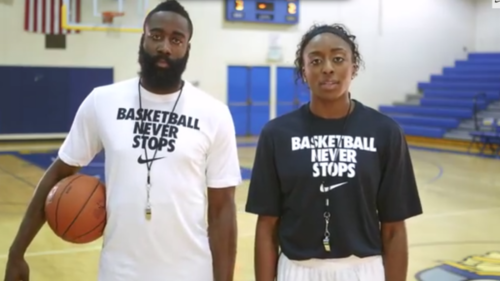 Socks aren't exactly... exciting. Well, not inherently anyway. So when a marketing campaign can leverage sports influencers, harness the power of social media and make us laugh, it's enough to take notice.
This campaign comes to us from Nike. As a household name in sporting goods, they've got big bucks and lots of brainpower to spend on marketing. Still, they don't always go the traditional route.
To sell their new Hyper Elite Basketball Crew Sock, Nike enlisted Houston Rockets' James Harden and Los Angeles Sparks' Nneka Ogwumike as celebrity sports influencers to tout their benefits.
The campaign is smart and flashy, and relies exclusively on YouTube for distribution. Instead of broadcasting sleek, artsy ads during the NBA playoff games, Nike went for humor -- a big selling point, especially when competing with the hundreds of thousands of other YouTube videos uploaded at the same time as the campaign launched.
Filled with quirky one-liners (Ogwumike: "Whether you're on of off the court, stay cool and level-headed." Harden: "True. I wear my socks in the shower."), the videos manage to use two respected sports figures to expound on the benefits of the socks, while retaining that Internet-specific, slightly random humor.
And of course, this campaign brings to mind another YouTube marketing campaign that leveraged the sports celebrity of former NFL wide receiver Isaiah Mustafa -- the Old Spice Guy. Comedy + YouTube + sports endorsements seems to be a winning combination.
In Part Two of our exploration of some of the best sports endorsements on the web, we'll take a look at two campaigns that targeted smaller markets effectively by relying on social media and sports figures with a more localized fan base.
Calling all HuffPost superfans!
Sign up for membership to become a founding member and help shape HuffPost's next chapter