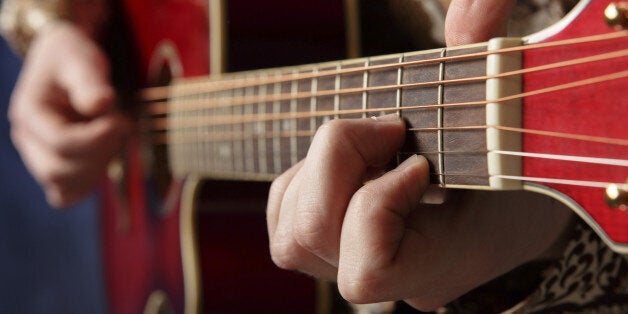 You probably think of NASCAR's storied "Thunder Valley" when you think of Bristol, intersected by the Virginia/Tennessee border. What you might not realize is that it's also the Birthplace of Country Music. In fact, Congress passed a bill officially recognizing it as such in 1988.
The earliest settlers to Appalachia brought with them a variety of musical instruments and traditions, which over the years fused to form country, blues and folk, now considered Americana.
The Birthplace of Country Music (BCM) grassroots organization was formed in 1994 and has been hosting the Bristol Rhythm and Roots Reunion music festival for the past 15 years. The three-day music celebration honoring the area's unique music history as the site of the legendary 1927 Bristol Sessions is set for Sept. 18-20, 2015, and is expecting more than 60,000 attendees, organizers say.
And while most festival goers will flock to the headliners -- Steve Earle and the Dukes, Dr. Dog, Delbert McClinton, Josh Ritter and The Royal City Band, Hot Rize, Rusted Root, Moon Taxi, John Anderson, Dale Watson, Della Mae -- I implore you to check out acts maybe you haven't heard about. You'll be glad you did and you will leave the festival with new music in you CD player. (Even if you don't make to the festival, check out these bands). Trust me. And you're welcome.
The genre-defying Annabelle's Curse hails from Bristol, but don't mistake them for a "local" band. With the release of the new album, "Worn Out Skin," this group is reminiscent of early Fleetwood Mac minus Christie McVie. I have been lucky enough to catch this transcendent, genre-busting five-piece band at several festivals this summer including Rooster Walk and FloydFest. I wrote after hearing them for the first time, "Annabelle's Curse doesn't seem to be cursed as much as blessed with talent." After seeing the group perform several times since, I think that's an understatement. The band's one-sheet doesn't lie: "Annabelle's Curse deftly sways from haunting and ethereal melody to unflinching and unforgettable rhythm and riffs. Like a sweet drink of rare whiskey, or that last delicious bite, Annabelle's Curse entices listeners to gorge on a sound that can neither be wholly defined nor completely categorized. Musically and lyrically, Annabelle's Curse draws from unyielding roots in Bristol. The lyrics -- sometimes haunting, sometimes hopeful -- are consistently eloquent and evocative, rare and irresistible." Voted by fans as runner-up in the "On the Rise" band contest at FloydFest in 2014, this band poised for its national debut and you can say you "saw them when" at BRRR. If you see no other "small name" act on the bill this weekend, make sure you catch one of this group's sets. You will not be disappointed. And have some money set aside for a visit to the merch tent because you are going to want to buy this album.
If you follow my blog, you probably realize that TAUK, which can only be described as heavy instrumental rock fusion, isn't normally my thing. But the sound created by the amazingly talented Matt Jalbert (guitar), Charlie Dolan (bass), Alric "A.C." Carter (keyboard-organ) and Isaac Teel (drums) transcends musical boundaries by bringing together genres as diverse as melodic rock, fusion, gritty funk, progressive rock, ambient, classic rock, hip hop and jazz. The Oyster Bay, New York-based quartet has received accolades from Relix Magazine to Sirius XM Jam On to Jambase. I had the pleasure of interviewing the group in 2014 at Floydfest, where they were a huge hit. Through tireless touring (their words not mine), TAUK has built a loyal fan base at other festival including Bonnaroo, The Hangout Music Festival, Summer Camp, LOCKN', Hudson Project, Bear Creek, Art Outside and The Allman Brothers' Peach Fest. BRRR is going to allow them to build on that fan base. If you like Robert Randolph & the Family Band, Lettuce or Karl Denson's Tiny Universe, be sure to catch TAUK performing.
Sarah and Savannah Church began their music careers in March 2007 after winning a talent competition, WAKG Rising Stars. Recently they have performed at the Blue Ridge Music Center and Houstonfest in Galax, Virginia, to rave reviews. The Norton, Virginia, duo is among the artists selected to perform on "Orthophonic Joy: The 1927 Bristol Sessions Revisited" alongside such musical heavy-hitters as Dolly Parton, Vince Gill, Emmylou Harris and Marty Stuart. Produced by Nashville's Carl Jackson, Orthophonic Joy is still under production and is set to release by early next year. Jackson says, "I've had the pleasure of working with so many great singers in my career. I can honestly say Savannah and Sarah, The Church Sisters, are as good as it gets. I'm not talking about being 'good for their age' either... (14 years old, by the way)... I'm talking about being GREAT singers for any age and compared to anyone. God has blessed these young ladies with so much talent, it's almost unbelievable... and you will be just as blessed to hear them... trust me." If you like After Jack or Alison Krauss, you will love The Church Sisters.
This folk/Americana duet based out of Newark, Delaware, has been creating music together since 2011. If you like The Civil Wars or Mandolin Orange, you won't want to miss this act. The duet won 21st annual Delmarva Folk Festival Folk Hero Contest in 2012 and in 2013 The Honey Badgers released a second EP, "Soul," which they describe on their website as "a collection of songs that we feel relate to the subject of the album. Heart warming and hopeful, we recorded these specific songs to help others find that despite the world being at times cold and heartless, we all still have soul." The Honey Badgers have played their distinctive sound at the World Cafe Live at the Queen in Wilmington and they have opened for nationally touring act The Lone Bellow, as well as local favorite New Sweden.
I haven't heard Mountain Soul live, but I was introduced to their music on PBS, which featured the song "Mountain Soul," and am looking forward to seeing them live. The BRRR website states, "Mountain Soul hearkens back to the heart and soul of southern and Appalachian culture. Songs of love, work, loss, and coal have long been commonplace in bluegrass and country music, but this band's eclectic approach and homegrown songwriting have meshed to become an exciting new sound in Americana music. Brothers Daniel and Cory Kimbro have continued in the dynamic performance tradition they learned from their parents. Jonathan Maness brings the crucial third part to their brother harmony, while incorporating a unique flatpicking guitar style. Mike Seal's refreshing resophonic and electric guitar stylings complete Mountain Souls 're'-definition of Appalachian roots music." If think you would like Balsam Range or Lonesome River Band mixed with some Old Crow Medicine Show, check these guys out.
Popular in the Community