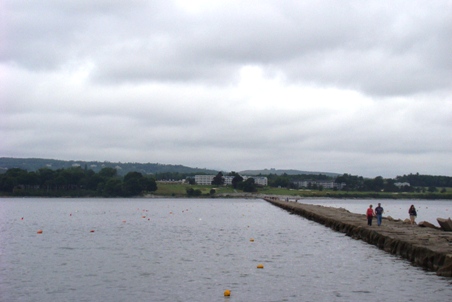 It's hard to miss the golf course at the Samoset Resort in Rockland, Maine. Not even a duffer, I walked the links with a Nestor Miranda Limitado cigar in hand, enjoying the subtly changing view from one hole to the next. Non-golfers can have a blast at this recently renovated property, and the fun isn't limited to looking at the venue for an activity you have no interest in.
If you're looking to dash off from the world for a while, especially if you slave away in the Boston-to-Washington corridor, Maine is an easy place to reach, and once there, you'll quickly realize that it's a world away from the urban rat race. Hide out in the Samoset for a few days, and you'll find plenty of low-stress ways to distract yourself. Here are five to get you started:
1. Explore the lighthouse: Follow the walking path from the resort down to the water ... and keep going. The hike out on the breakwater is longer than it looks, but you'll be rewarded for our efforts with a chance to explore the lighthouse and some great photos of the shore and resort. The notion of walking out on the breakwater at night may seem interesting, and even attractive. Speaking from experience, it's probably not your brightest move, especially when the water is rising.
2. Roast by the pool: Few associate Maine with the summer sun, but for a heat-hater like me, it's absolutely perfect. I was able to sit by the pool and soak up some rays in heat that was sufficient but not oppressive. And since you're hanging out in the country's lobster capital, it almost makes sense to turn your skin a deep shade of red (disclosure: as expected, this leads to pain later).

3. Move your muscles: Joggers can show that the golf cart paths can be used for more than transportation in pursuit of a little white ball, and even a walk through the course is relaxing and enjoyable. Tennis and basketball courts are on hand to let you get as active as you like.
4. Luxuriate: Make your trip a bit more upscale with a stay at the Flume Cottage. Located at the other end of the grounds, across the golf course, you can make your remote experience even more so. Unwind with a dip in the Jacuzzi on the deck, and fire up the grill when it's time to eat - in total privacy.
5. Pursue an agenda of "fat, dumb and happy": There may be more to culinary life than seafood, but you need to put that thought out of your head when you're up at the Samoset. You're in Maine: eat appropriately. This means lots of lobster and buckets of melted butter, which are two foods that truly belong together.