This article comes to us courtesy of InternationalLiving.com, the world's leading authority on how to live, work, invest, travel, and retire better overseas.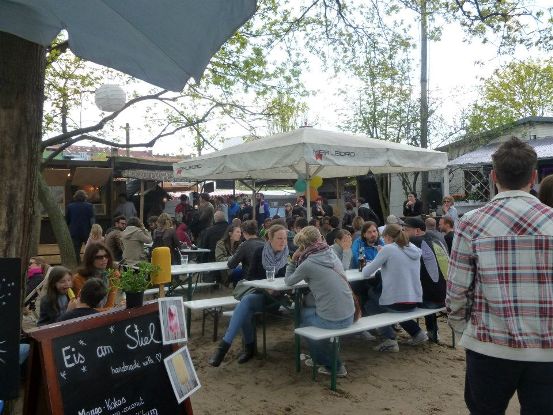 Photo by Nazareen Heazle, InternationalLiving.com

Of all the ultra-cool things about Berlin, Germany's capital, here's what I think is coolest: You don't actually have to be cool to partake of the hip scene. Sure, like anywhere, failing to have neon-blue hair or a withering stare may bar you from certain places. But generally, to experience some of the trendiest restaurants, bars, and clubs, you need only know how to find them... literally.
These days, the places in Berlin with the most cachet are in unmarked locations that offer no clue of the thriving party within or the intensely creative meals being served. So here's a cheat-sheet for five of Berlin's hottest, hidden spots.
Cookies Cream (Behrenstrasse, 55; Tues-Sat., from 7 p.m.). In the heart of the Mitte district, in the former East Berlin, lies a dimly-lit, dumpster-lined alley that's home to one of the most chic, inventive, vegetarian restaurants in the city. Even die-hard carnivores make the effort to track down this well-hidden spot, as chef Stephane Hentschel's creations are so mouth-wateringly fresh and filling you barely notice the absence of meat.
Don't look for the usual vegetarian staples of rice and pasta here. Instead, expect dishes like parmesan dumplings, potato tartlet with fried egg yolk, or Burrata with smoked cauliflower, figs, and baked walnuts, served up in elegant, artistic style. A three-course dinner runs about $40, excluding wine.
KaterHolzig/Katerschmaus (Michaelkirchstrasse, 23; Tues- Sat., from 7 p.m.). If you pass a graffiti-covered, abandoned-looking building while searching for the trendy restaurant Katerschmaus, stop the car... you've probably found it. Katerschmaus (Cat's feast) is located in KaterHolzig, a former soap factory that looks like squatter heaven. Garishly-colored artwork is everywhere and high above your head runs a long clothesline adorned with flapping, grossly oversized garments.
The grungy atmosphere dissipates (mostly) upon entering Katerschmaus, a shabby-chic restaurant filled with wooden tables simply decorated with wine glasses and votive candles. The food is straightforward and delicious, with items such as rabbit ravioli, lamb cutlets, and whole baked trout on the menu (dishes range between $11 and $22). When I was there, each table also had a "poetry menu" from which you could select a poem to be recited by an ethereally-dressed, orange-haired poet.
Bar Tausend (Schiffbauerdamm, 11; Tues-Sat., from 7:30 p.m.). To enter Bar Tausend, either come with plenty of attitude or have a reservation at its restaurant, Die Cantina. Without either of these, it may be tough to pass muster at its unmarked iron door. But if velvet rope-type pretensions don't bother you, check it out.
Hidden beneath the tracks of the Paris-Moskau railway line at the Bahnhof Friedrichstrasse, the club is a haven for Berlin's beautiful people, who can spend the evening eyeballing each other (or themselves) in the mirrored ceiling and walls. The music is always top-notch, ranging from jazz to world, with well-known DJs or live bands churning out tunes.
And lest you think that hyped nightclubs never have decent food, Die Cantina is set to prove you wrong. The restaurant offers a tasty selection of Japanese and Iberian tapas (think miso cod and gambas al ajillo), and fusion cuisine (for instance, foie gras with herbed risotto) for the main. Dinner for two costs about $60 to $80. Don't forget to order one of the bar's legendary experimental cocktails ($12 to $14).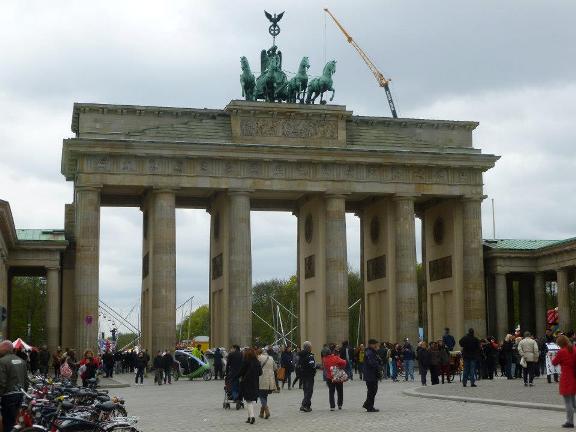 Photo by Nazareen Heazle, InternationalLiving.com
The Grand (Hirtenstrasse, 4, from 12 p.m., Mon-Fri.; from 6:30 p.m. Sat-Sun). Doesn't it figure that an unremarkable concrete building without signs or adornment houses one of the most sumptuous supper clubs in Berlin?
Formerly a schoolhouse, The Grand lives up to its name, with soaring ceilings, elegant chandeliers, and a generous, two-tiered space that recalls the grandeur of the 1920s. Exposed concrete walls add Berlin edge to the place, as does the laid-back, multi-generational crowd. The Grand is the place to go when you can't decide whether you're in the mood to have a good dinner, or linger over a well-made cocktail, or go clubbing. You'll have it all here.
First try dinner in the main room, where the offerings include black truffle risotto, lobster bisque, and Chateaubriand steak (three-course dinners cost about $40 to $65; weekday lunches, $15). Afterward, head to the bar, a room outfitted with leather sofas and high-backed chairs perfect for enjoying a good drink ($12) and good company. On Friday and Saturday nights, hit the club. Berlin's best DJs promise to keep you grooving all night long.
Solar (Stresemannstrasse, 76, from 6 p.m.). It's not easy to have a hidden location in the sky, but Solar manages it. This sophisticated lounge, restaurant, and nightclub is discreetly housed on the 16th and 17th floors of a drab-looking high-rise in Berlin's Kreuzberg district. Once you find the right entrance (unmarked, as usual), a glass exterior elevator whisks you to the club's premises, where you're greeted with wall-to-wall windows offering panoramic views of Berlin.
A DJ on a mobile platform slides up and down between the two floors while guests sip cocktails on chic, white-leather sofas. Reserve at the restaurant to ensure entry during peak times, but note that the food gets mixed reviews. For the best experience, go at sunset for cocktails and watch the city become bathed in a lovely red-gold light.
The information in this article was accurate at the time of original publication.
Related
Popular in the Community