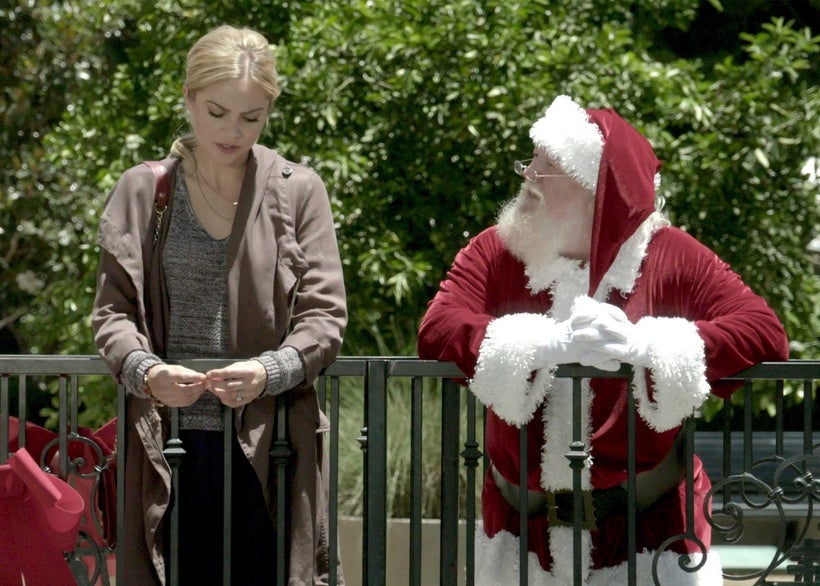 Christmas is just two days away, and that means that you're probably going to want to spend at least some of that time watching holiday films with family or friends. Even though the debate over the best Christmas movie is settled, you may be tired of the same old classics year after year. So may I suggest another tradition: watching all of the cheesiest, made-for-TV holiday films on Netflix. They're the perfect thing to put on in the background while you're decorating the tree or baking cookies: always good for a laugh, teeming with Christmas-related goodwill, and capable of bringing the whole family together over shared hatred of lousy effects, terrible acting, or cookie-cutter plots.
In case you need some help, here are five of the cheesiest Christmas movies you can stream right now on Netflix:
The plot: Career woman Kayla (Karissa Lee Staples) is engaged to narcissistic choreographer Carlton (David O'Donnell), but has second thoughts because her fiance seems to care only about himself. Well, himself and the new version of The Nutcracker he's working on. So when Kayla shares an unexpected kiss with a caterer named Dustin (Brant Daugherty) in an elevator, she has to make a decision between following her head or her heart.
Why It's Cheesy: As if the title alone isn't enough, this film is the perfect example of what makes a terrible Christmas movie: one-dimensional characters (Carlton in particular has no redeeming qualities whatsoever), an awful script, and a predictable plot.
Cheese Factor: 4 gouda wheels
The Plot: Sheriff Rick Langston (holiday film superstar Dean Cain) of Rockford Country, Michigan, is having a hard time getting into the spirit of Christmas. He's lost his job, his ex-wife is preventing him from seeing his daughter, and there's a group of kids in town that keep causing trouble. But when he arrests a home intruder that claims to be the real Santa Claus (Paul Hopper), Rick doesn't know that he's in for a lesson on the real meaning of Christmas.
Why It's Cheesy: It's a draw between the one-note acting, the set that looks like the walls could fall in at any moment, or the relentlessly creepy "Santa" that's less Kris Kringle and more Chester the Molester.
Cheese Factor: 3 cheddar blocks
The plot: The Buckley brothers, relentlessly tormented by middle-school bullies, are forced by their mother to get "payback" by gifting their persecutors with Christmas gifts. Can kindness really win out over hate? Honestly, I really can't tell you; we didn't even finish this one.
Why It's Cheesy: Clearly trying (and failing) to be A Christmas Story, this movie is narrated by an older version of one of the brothers. Also, their mother calls their secret project "Elving," leading to no end of "elf" puns.
Cheese Factor: 5 brie wedges
The Plot: With all of the big names in this title, this movie should have worked: Susan Sarandon! Penelope Cruz! Paul Walker! Alan Arkin! Robin Williams! Instead, it's just one maudlin mess. The story of five people in New York City whose lives intersect on one "miraculous" Christmas Eve, Noel is an incoherent puzzle that thinks it's saying something worthwhile.
Why It's Cheesy: Alan Arkin's character, Artie, believes that Paul Walker's character, Mike, is the reincarnation of his dead wife. Robin Williams appears to Susan Sarandon as she contemplates suicide and convinces her that she's worth something, but then she finds that he's really in a coma? Or something like that.
Cheese Factor: 5 American slices
The Plot: Single mother Wendy (Ashley Williams) brings her daughter Grace (Kylie Noelle Price) to the "big city" in order to make some extra money over the holidays to save her father's failing candy store. She is offered a job at Wolman's Department Store, but the store is managed by the ruthless Teanna (Ashanti....yes, Ashanti) who tries to cash in on Christmas by sacking Santa Claus and replacing him with shirtless hunks. But it turns out that Teanna has fired the real Santa, and Wendy must restore the true meaning of Christmas to the store while simultaneously falling in love with the store owner's son, Tom (Jon Prescott). So much to do for the holidays!
Why It's Cheesy: Did I mention that there are shirtless men gyrating around Santa's chair, and that Wendy falls in love with the store owner's son?
Cheese Factor: 3 shredded parmesan handfuls
Enjoy and happy holidays!
REAL LIFE. REAL NEWS. REAL VOICES.
Help us tell more of the stories that matter from voices that too often remain unheard.
This post was published on the now-closed HuffPost Contributor platform. Contributors control their own work and posted freely to our site. If you need to flag this entry as abusive,
send us an email
.