Keep an eye on the skies, Illinois--it's officially tornado season in the Midwest and other tornado-alley states, which usually runs between March and June. But over the past few years, more tornadoes have touched down in Illinois outside of this timespan than during the peak spring season. Sixty-nine percent of reported twisters between 2012-2014 were concentrated within a five-day period, according to the Daily Journal.
The unpredictable nature of these storms makes it harder to forecast and more dangerous for those on the ground. The last three violent tornadoes in Illinois -- classified by the National Oceanic and Atmospheric Administration as F4 or F5 on the Fujita scale or F-scale -- occurred in the months of November and February, when temperatures normally are too low to produce such storm systems.
Nov. 17, 2013 - EF4 touches down in New Minden at 12:04 p.m. leaving two dead and two injured.
Nov. 17, 2013 - EF4 touches down in Washington at 10:59 a.m. leaving three dead and 125 injured.
Feb. 29, 2012 - EF4 touches down in Harrisburg, Ridgway at 1:34 p.m. leaving eight dead and 95 injured.
Here are five of the worst tornado disasters in Illinois history, according to NOAA:
Locations: Carrollton, Springfield, Riverton, Chestnut, Cornland
Casualties: 21 dead, 60 injured
Intensity: F4
This was the result of two separate tornadoes. The first one began in Missouri and moved into Illinois near Hardin, and moved across Carrollton before lifting west of Springfield near Loami. Eleven people were killed in Illinois. The second tornado touched down on the southeast side of Springfield and moved northeast, destroying Buffalo Hart and much of Cornland. This tornado killed 10 people.
Location: Mount Vernon
Casualties: 24 dead, 80 injured
Intensity: F4
On the ground for about 20 miles, this tornado devastated the southeast half of Mount Vernon, damaged or destroyed 300 homes and 50 businesses. Overturned wood stoves ignited many fires.
Locations: Plainfield, Joliet, Crest Hill
Casualties: 29 dead, 350 injured
Intensity: F5
The worst of this tornado affected the Plainfield and Crest Hill areas, where F5 level damage produced losses around $165 million. Three schools were destroyed (school was not in session at the time), and millions of dollars in damage also occurred to shopping malls and apartment complexes. An overview of the disaster can be found at this link, courtesy of the Chicago NWS.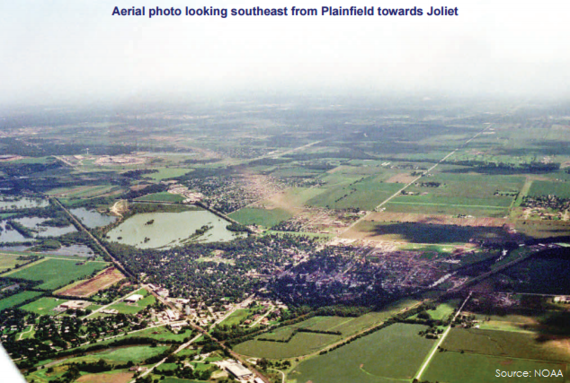 Locations: Albany, Colo, Coloma, Tampico, Shabbona
Casualties: 31 dead, ~110 injured
Intensity: Unknown
Originally called "The Great Tornado of the West," this was later determined to be a complex family of tornadoes. The majority of the 124 overall deaths from these tornadoes occurred in Iowa. The Illinois casualties mostly occurred with a tornado crossing the Mississippi River at Albany, later affecting areas northeast to near Sterling and Dixon. A separate tornado further east killed 8 people. An overview of the disaster can be found at this link, courtesy of the Quad Cities NWS.
Locations: Alton, Bunker Hill, Fosterburg, Gillespie
Casualties: 33 dead, 449 injured
Intensity: F4
This tornado touched down in the early morning near Alton and moved northeast. The death toll included 19 at Bunker Hill, 9 at Fosterburg, and 5 at Gillespie. The tornado destroyed about half of Fosterburg and 80 percent of Bunker Hill.
Check out the five biggest tornado incidents in Illinois history at Reboot Illinois, including storms that hit Springfield and Chicago and one that injured more than 600 people.
Sign up for our daily email to stay up to date with Illinois politics.
RELATED:
[Descriptions and images courtesy of NOAA]
REAL LIFE. REAL NEWS. REAL VOICES.
Help us tell more of the stories that matter from voices that too often remain unheard.