That persistent burn in the gluteus maximus paired with thin-air may not be comfortable, but keep hiking. There's a prize, and you'll have to earn it.
A summit view is like no other. It spans 360° and almost never looks the same in photos because the magnitude is hard to capture. One sure thing: it's worth the work to get there. Luckily, my hometown of Salt Lake City has many peak hikes within a short drive.
All of these hikes include some "butt toning" uphill sections, so take them slow if you've logged a little too much couch-time lately or aren't used to the elevation.
Here are five favorites to get you started, in order of difficulty:
Distance Round Trip: 4.7 miles
This is my favorite spot to enjoy a sunset overlooking the Salt Lake City skyline. The summit is totally cleared, providing an unobstructed view. There is an abandoned tower at the top, but it is unmaintained and likely dangerous, so I strongly suggest you don't climb it. The hike meanders up a canyon and around the mountain, providing variety and views the whole way. Pack a headlamp for the hike down if you stay for sunset. I don't usually need it, but it's always better to have it handy. Also, pack a warm layer or windbreaker as the summit is often breezy.
Trailhead: Located on the east side of the University of Utah on Colorow Road near the Historical Museum. Park along the road.
Difficulty: Moderate, only because the distance is short. Sections of the hike are steep and will build your glutes. The elevation gain of 2,184 will likely wear you out.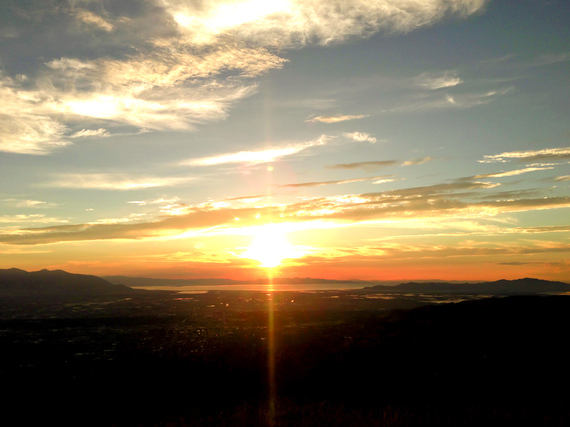 PHOTO: Mount Wire View, Erika Wiggins
Distance Round Trip: 5.5 miles
The hike up Grandeur Peak is nearly as scenic as the summit. It winds gently uphill, delivering new angles on spectacular canyon views all the way. Once you top out, enjoy a snack overlooking the Salt Lake Valley on one side and Mill Creek Canyon on the other. I visited on a marginal weather day and found it even more interesting thanks to wispy clouds blowing up the canyon.
Trailhead (Church Fork Route): There are several routes to this peak. This one begins in Salt Lake City's Millcreek Canyon. The trailhead is 3.2 miles past the fee station on the north side of the road. Parking fills fast so expect to park on the road unless you arrive early. This trail is dog friendly and they are allowed off-leash on odd days.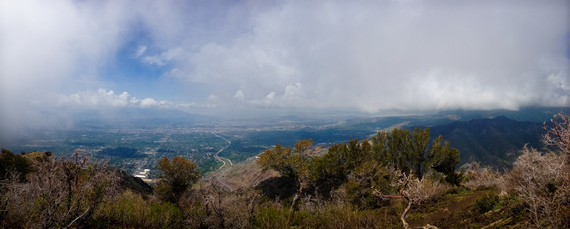 PHOTO: Grandeur Peak, Erika Wiggins
Summit Elevation: 10,241'
Distance Round Trip: 7.5 miles
This was one of the few hikes to make me utter "What the ____!?" Near the summit, there is a knife-edge scramble that looks much more intimidating than it is, trust me. Once I climbed just a few feet up, I realized it was rather docile. Soon after, I topped-out at the summit and was speechless. The view is a complete stunner. Pack a lunch and stay a while. If you really want a spectacular hike, time this one for midsummer--the wildflowers rock!
Trailhead: This route begins at the Butler Fork Trailhead , roughly 8.2 miles up Big Cottonwood Canyon on the left.
Difficulty: Strenuous. This is not an easy hike. It gains 3,061 feet in under 4 miles, with most of the climb realized within the first and last miles of the hike. It's a legit butt burner. The elevation will be a challenge to those not acclimated to the thin air at altitude.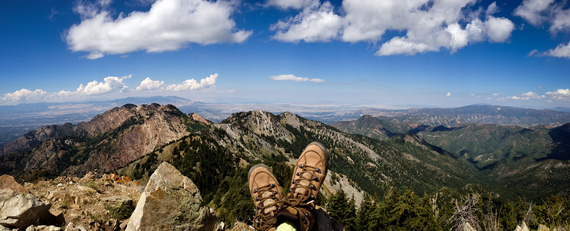 PHOTO: Mount Raymond View, Erika Wiggins
Distance Round Trip: 7.5 miles
Hike this Salt Lake City classic during Fall or early Spring before temperatures climb. It's exposed and the sun will roast you during summer. During Winter, the trail is snow-covered, but is typically packed and passable with micro spikes. Check avalanche conditions if you opt to hike this one in Winter. The trail is wide and easy to follow, with some light scrambling near the summit. The views are considered some of the best in the area.
Trailhead: The trailhead is located on the east side of Wasatch Boulevard. From 4500 South, head south on Wasatch Boulevard for roughly 1.6 miles and look for a sign marking the parking area.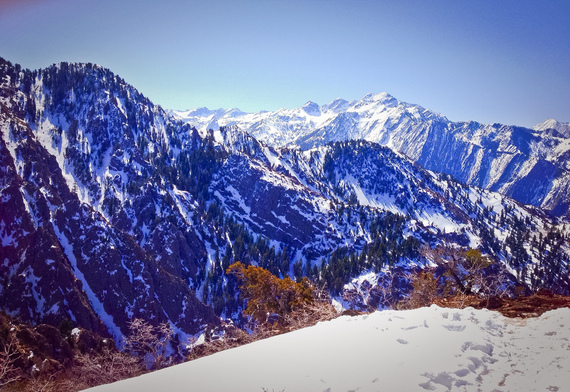 PHOTO: Mount Olympus, George Osmun
Summit Elevation: 11,326'
Distance Round Trip: 10.0 miles (There is conflicting info on the exact distance)
Wildflowers, scrambles, and unlimited views--what's not to love? Pfeifferhorn is often called a mini-Matterhorn and was listed as a "Backyard Everest" by Backpacker Magazine in 2011. Along the way, you'll pass Red Pine Lake, which is a worthy destination of its own (Read more about this lake and others in my post: Five Breathtaking Hikes Near Salt Lake City). By four miles into this hike, you'll encounter ridge-top views of Box Elder Peak and Mount Timpanogos. Past this point, prepare to scramble along some exposed areas, although there are routes to avoid the exposure if it gives you the willies. Expect to encounter snowpack well into Spring/Summer. If you want hike this in Winter, be prepared with avalanche gear and a good briefing.
Another option is to backpack this route, overnight-ing at one of the attractive lakes along the way and bagging the peak in the morning.
Trailhead: From Salt Lake City, take I-215 south until you reach the 6200 South exit. Turn right onto Wasatch Boulevard and follow it to the intersection with Big Cottonwood Canyon. Continue south up Little Cottonwood Canyon for another 8.6 miles to the White Pine trailhead on the south side of the road.
Difficulty: Strenuous butt-kicker
Now that you have a list of hikes offering full on in-your-face views, get out there and enjoy a workout with a prize. Then...let me know how you liked it! Either leave a comment here or reach out on Twitter: @active_explorer.

PHOTO: Pfeifferhorn View, B. Brelje via Flickr Creative Commons
Related