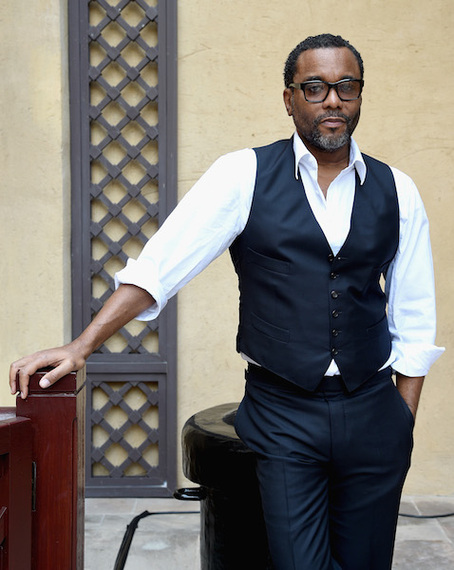 Just in time for the ideal reflections on the new year ahead, I sat down with filmmaker Lee Daniels on a terrace overlooking the splendid Arabian Gulf during the recent Dubai International Film Festival. Daniels served as Jury President for the Muhr Feature Competition in Dubai and turned out to be the best interview, the kind that simply "shut it down" for me -- as Rachel Zoe would put it. In fact, after speaking with Daniels, I found it difficult to interview anyone else. Probably because, through his great wit, the wonderful self-mocking way he talks about his work and himself, I learned so much, I didn't really need anything more. Here are some of his wisdoms worth sharing.
Be altruistic, it will challenge and inspire you.
Lee Daniels' upcoming foray into television is the highly anticipated Empire, set to premiere on Fox on January 7th. Starring the divinely talented Terrence Howard as a former street thug turned hip hop king, now CEO of Empire Entertainment, alongside one of my favorite actresses Taraji P. Henson, the drama series takes the audience "right to the edge of Netflix, almost HBO, to the edge of your seats for primetime, and then lets the mind wander," Daniels disclosed, though still proving (barely) acceptable for its primetime network slot. So why did Daniels choose to create his first TV series for FOX and not, say, HBO or Showtime where he may have enjoyed more freedom? Well, it turns out, for very un-selfish reasons, "I did it because my family can't afford cable, you know. And I really wanted my family to experience television, my television." When asked why not buy his family cable instead, tongue in cheek, he replied, "I got a lot of family. I mean... That's a small city!"
Watch more British TV, it's groundbreaking.
While still on the subject of the upcoming Empire, Daniels admitted he's inspired by European television, but particularly British comedy and drama series. He described Absolutely Fabulous as the "be all, end all Bible," a place where everyone should start their Brit TV viewing, to then continue onto "Helen Mirren's Prime Suspect" and Idris Elba's everything on television. When asked why he thinks British TV is so far ahead of the competition, he first admitted "it's that wit, and it's also the actor, because the actor is far more sophisticated." Pushed further, Daniels revealed "it's something about the truth. I live for telling the truth, and though I'm sure there are a lot of liars over there, I don't see it on screen."
Find your own truth, it can change your life.
Speaking of truth, after his set up I couldn't resist asking Daniels what had been his personal truth while in Dubai, what he was walking away from here -- these crossroads of East and West -- knowing. His answer is what I live for in my writing, and a glorious example of how film can change the world. "I'm gonna tell you the truth," he started, "I'm 55, you think you know everything there is to know," then continued, "and what I've learned is that I have been brainwashed; that I have been brainwashed since a child about the Arabic culture, I have been brainwashed and I'm embarrassed about it -- I'm ashamed." What did he mean? He explained, "I just think that we have a very specific view of the Arabic culture that is not one of peace." Dubai, and the films he watched while at DIFF changed Daniels, so that now his view of the cultures of the Arab world has become, "that they're a peaceful people; that the injustices and the atrocities that have happened are insurmountable; that... America does not lend the support that they should. And... it's not right."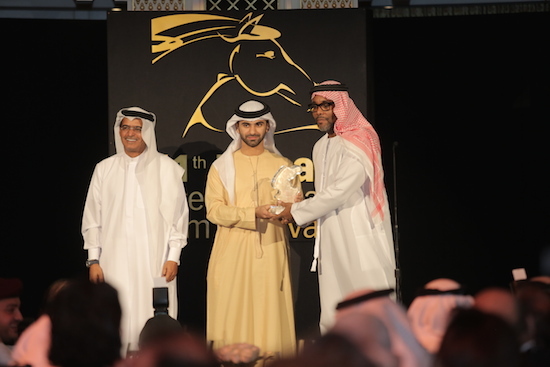 DIFF Chairman Abdulhamid Juma, H.H. Sheikh Mansour Bin Mohammed Bin Rashid Al Maktoum and Lee Daniels
Give and you shall receive, even if only a new way of thinking.
Inspired by the Dubai International Film Festival, Daniels and his fellow jury members, which included Lebanese actress-director Nadine Labaki and US actress Virginia Madsen, thought of ways to give back. Daniels admitted "I thought about doing something possibly here, because I've been so impressed by it." As a self-described kind of "arrogant American that thinks you know everything," at the end of the experience of presiding over a group of exceptional people, after they had handed out their awards, chosen their favorites, Daniels thought "what can we as filmmakers give back to the Dubai Film Festival? I'm always into giving back." And as a group, "we unanimously came up with the idea that what we should do is say okay, you should be more selective, the films should be a little better." He laughs about it, saying they all acted as though they "were at Sundance or something..." But then Daniels learned that the cinema industry in the UAE has barely been around as long as the ten year-old film festival and he changed his tune. "That was the most powerful thing I think I've heard ever... Ever," he said of what DIFF Chairman Abdulhamid Juma told him in reply to his suggestion. "He said that this is all new, that cinema is new, they're like children in that," Daniels continued, "especially the documentary filmmakers that have gone to Israel to do things, and the crews and the actors, not only are first time filmmakers, but are putting their lives on the line. Their lives on the line!" The reply left Daniels once again in admiration, he confessed, and thinking, "oh my God, you know, this is the truth. This is not just cinema. This is something beyond cinema."
Listen to your mother, she always knows best.
The story of how Lee Daniels' The Butler came to be is quite special. Daniels' explained, "my mother said to me, she said, I don't understand you, you make movies about pedophiles; why can't you make a movie like Tyler Perry?" Daniels continued, "she says, the people at the church think something happened to us." So, Daniels admitted, "I made The Butler to shut her up." Well, mom was right because The Butler was the one film that in the US "made money, it made back its money like crazy." Something different from the previous trend, as typically Daniels' films do better in Europe than at home. It's a fact he tongue-in-cheek attributed to his own sensitivities, when he said, "I'm a little Euro, a little homo, a little ghetto, and so my experience in how I view the world is through those three prisms." On awards night at Burj Al Arab, Daniels dressed in a traditional Emirati white thawb and wore a red and white keffiyeh headscarf, proving that the food, film and great atmosphere of Dubai had turned him a lil' bit Arab too!
Photos courtesy of the Dubai International Film Festival and Getty Images, used with permission.
Popular in the Community