Our lives can be stressful, chaotic and drama-filled. All of us are in information-overload; bombarded from all directions with noise, distractions, notifications and content from our friends and family, online and traditional media, our smart phones and other devices. Add to that the litany of stress and anxiety created from personal, family, work place, community, national and world events; it is a wonder how we keep it all together and function in our daily lives.
So, how do we find that elusive work-life balance? How do we cultivate more joy, peace and mental, physical, emotional and spiritual well-being?
So, how do we find that elusive work-life balance? How do we cultivate more joy, peace and mental, physical, emotional and spiritual well-being? Here are five practical strategies to consider implementing right now!
1. Design and Follow a Daily Ritual
Adopt a daily ritual to start your day in a positive mindset. Show up every day: Mentally, Physically, Emotionally and Spiritually. Now more than ever it's important to get up, do your morning mindset ritual, get dressed for success and get to work! Some suggestions:
Morning meditation or prayer
Exercise, stretch, take a walk
Review your goals and say your affirmations
Eat a healthy breakfast
Review your day's tasks and schedule
2. Take a Digital Detox
Take a break from ALL of your devices and disconnect from the Internet and Social Media for a period of time. Try one or more of these ideas:
Don't check your smart phone, emails or go online for at least an hour after waking up each day
Do your daily ritual instead!
Commit to turning all cell phones off during meals
Block out time at least once a week to unplug
Schedule a minimum of one day a month to disconnect
Try a digital detox week where you disconnect from your social media platforms and minimize use of your digital devices.
Read Thrive by Arianna Huffington  
3. Get More Sleep
Adequate sleep is a key part of a healthy lifestyle, and can benefit your heart, weight, mind, and more. How much sleep you need each day varies between the experts but generally the recommendation ranges from 6-8 hours (more for children and teens).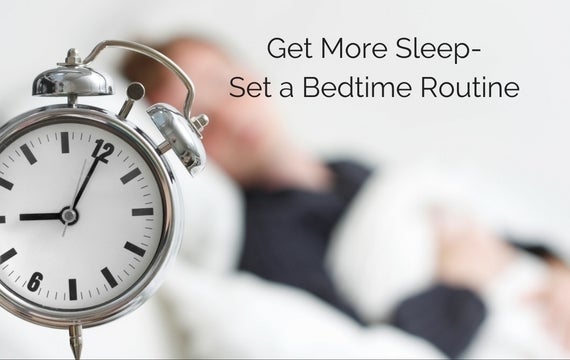 Go to bed at the same time every night
Get the same amount of sleep each night
Practice a relaxing bedtime ritual (warm bath or shower, aromatherapy, listen to music, podcast or meditation for sleeping)
Design your sleep environment to establish the conditions you need for sleep. Know the best room temperature for you. Your bedroom should also be free from any noise or light that can disturb your sleep.
Avoid eating, talking on the phone, or watching TV in bed
Try not to lie in bed worrying about things
Allow 2-3 hours between your last meal of the day and going to bed
Avoid alcohol and caffeine for at least 4 hours before sleep
Sleep on a comfortable and supportive mattress and pillow for you
4. Practice Mindfulness & Meditation
One basic definition of meditation, or mindfulness meditation, is focusing on doing one thing at a time – which brings us to the present moment. Distraction has become our new reality in a world where we are constantly checking and sending email, texts, and our social media updates.
Learning to quiet the mind has undeniable benefits at a time when our attention is on overload and overwhelm from multiple sources all day, every day.
Reality Check…Meditation can be as easy as just focusing on your breath!
Check out these articles and links to meditation resources:
At WBNL Coaching, we believe that getting up and getting out is an important part of reaching alignment and connection. In order for you to fire on all cylinders you need to have an open mind & be refreshed so that you are ready to take on the world. When you have truly identified what you love to do a magical thing can occur. Work and play can become synonymous.
We've found that most of the best ideas occur when you allow yourself to get away from your office and computer. Move around, get inspired by nature, take a hike – do whatever leisure time activity you enjoy. Americans are notorious for not taking enough time off. It is a part of the corporate structure that is stifling creativity and productivity. Block out time to get away and take a break. It will recharge you and you'll find that you are happier, more rested, and more eager to get back to work.
Some ideas to Get Up & Get Out!
Just move your body
Yoga
Daily exercise routine
Stretching exercises
Walking meditations
Walking meetings
Watch a sunset or sunrise
Take a daily walk
Participate in sports
Connect with nature
Go for a hike
Schedule and take vacations
Do more weekend getaways
Take a day to go explore and have fun
Need some inspiration and travel insights? Visit http://wanderingbutnotlost.com/

REAL LIFE. REAL NEWS. REAL VOICES.
Help us tell more of the stories that matter from voices that too often remain unheard.
This post was published on the now-closed HuffPost Contributor platform. Contributors control their own work and posted freely to our site. If you need to flag this entry as abusive,
send us an email
.