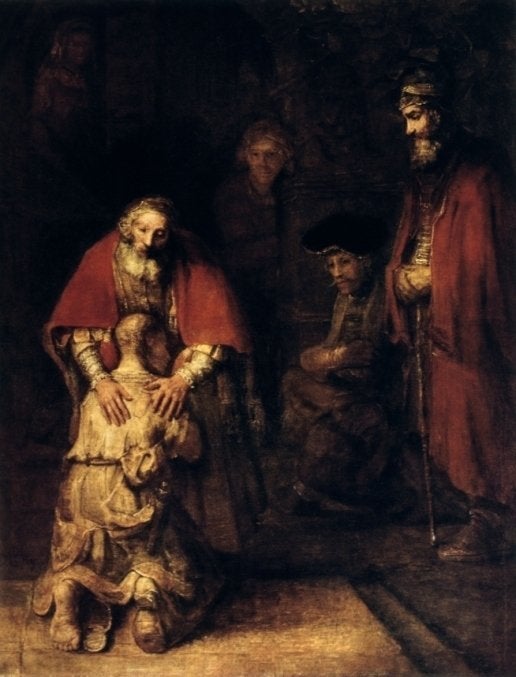 To honor Father's Day, the most topical paintings are perhaps those portraying the Prodigal Son, based on a parable from Luke 15:11-32. After foolishly leaving his father, the prodigal son wastes his inheritance on prostitutes and stoops to the level of professional pig feeder. Finally, he elects to return and tell his father, "I am no longer worthy to be called your son; make me like one of your hired men." The father forgives, orders that a calf (Luke's symbol, interestingly) be slaughtered and even instructs his other (now jealous) son:
"My son ... you are always with me, and everything I have is yours. But we had to celebrate and be glad, because this brother of yours was dead and is alive again; he was lost and is found."
After poring over hundreds of Prodigal Son paintings, here are five trends I've identified:
Wrestling for Forgiveness
Clearly the Prodigal Son is most relevant to Christians, but just as one can often find vestigial references to the Madonna and child in Jewish depictions of mothers and children, the same can be said of fathers and son and the Prodigal Son. Chagall, who famously (or infamously) turned the Crucifixion into a symbol of Jewish suffering and victory, also painted his own Prodigal Son. Many depictions of the Prodigal Son, like this one by Alphonse Legros, can easily be confused with depictions of the Wandering Jew. To many artists, the Prodigal Son has truly been an interfaith fellow.
It's All About the Raw Emotion
Call me sentimental, but seeing depictions of the Luke narrative
just touch me in a way that other works don't. Forain's work is sketchy rather than polished and detailed, yet it is tremendously powerful. For me, the image evokes a scene somewhere between Robert Frost's "
" and Samuel Beckett's
. On this Father's Day, I'm sure many people will be experiencing a unique blend of emotions, which might simultaneously include relief, comfort and respect, as well as a bit of a taste of the Absurd.
Popular in the Community