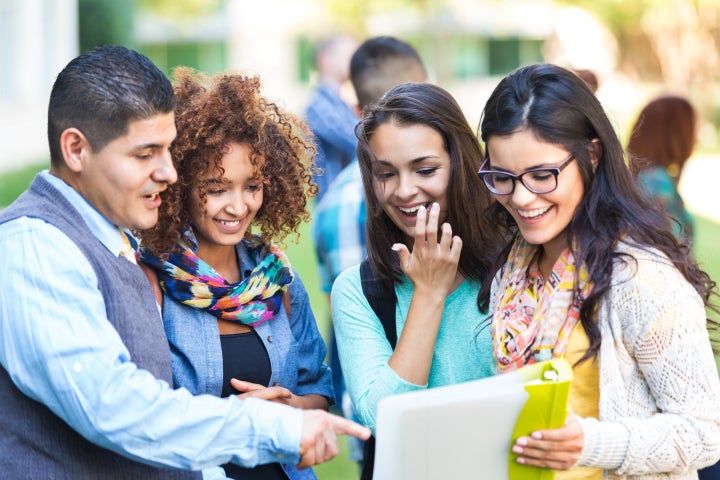 Spring break is college touring time, the annual ritual where the families of high school juniors make visits to universities.
Whether you set out to make it a semi-vacation or just a road trip that frays nerves and tests patience, one thing is clear: Lots of families don't ask some very important questions of the schools they are touring.
1. What is the four-year graduation rate?
But insist that they tell you about the four-year rate ― and prepare to be shocked. At California State University, Los Angeles, just 9 percent of students graduate in four years. Similar ― and even lower percentages ― are found in state universities around the country. The College Board lets you check this data if the admissions officer doesn't have it handy.
Spending six years in pursuit of a diploma that historically was achieved in four is a big deal. That's two more years of tuition, housing costs, meals, transportation and often, two more years accumulating more debt.
Even just the delay in entering the workforce has a toll. The University of Texas in San Antonio reported that the total salary and value of benefits earned in the seven years since starting college was $133,100 for a student who graduated in four years, versus $51,280 for one who took six years to get a degree.
Also, be sure and ask for the reasons why it takes six years to graduate. While it is true that sometimes students change majors, meaning some of their previously accumulated course credits won't count toward their new degree path, very often the fundamental issues related to graduation delay are tied to the university's budget.
The reasons a guide gives will, in part, give you a pretty clear picture of the school and its financial priorities. Are there impacted majors in the field your student wants to study? How readily available are classes? Will the college accept AP classes taken in high school for full credit or require they be repeated? Will your student need to take any remedial classes?
Every school is different. Some even offer a four-year graduation guarantee ― meaning if a student can't finish up in four years, the balance of their tuition is waived.
Just remember: When you're doing the math to determine a school's affordability, don't just multiply by four if graduation within four years isn't likely.
2. What percentage of graduates find a job quickly?
3. What portion of the admitted class will be filled with early decision and/or early action applicants?
There are three ways to apply for admission to most colleges. The first is early decision, which means that if accepted, you must attend the school. If your student really has just one top school she wants to go to, applying early decision may give her an edge on getting in. Schools like these applicants because they are definitely attending. But be forewarned: Early decision applicants commit without knowing what, if any, financial aid for which they will be eligible.
Early action applications, on the other hand, are non-binding. Students receive an early response to their application but do not have to commit to the college until the normal reply date of May 1. There is very little downside, if any, to applying early action when it's offered.
Regular admissions give students more time to complete their application and make sure all their ducks are in a row. But they will hear later and have to make a decision in less time.
Some schools like to fill up their admissions slots with early decision or early action applicants, so knowing what percentage of the class will come from early applications can be very useful in assessing the chances your student will be admitted. For example, as reported in Time: At Vanderbilt University, students who applied in an early pool had a 24 percent acceptance rate; for the regular pool, it was 8 percent.
4. What is the college's admissions yield?
The yield in college admissions is the percent of students who choose to enroll in a particular college or university after having been offered admission.
Every school admits more applicants than it knows will attend. Colleges don't want to be left with empty spots and they know that not everyone who applies is genuinely keen on going to that particular school.
The yield is used by college admissions offices to decide how many students the college should accept. For students, understanding the college's yield rate can help assess your chances of getting accepted.
Typically, a higher yield rate equates to a more desirable school. Colleges with relatively lower yields – sometimes because they're the "safety schools" for a number of students ― may be an easier reach.
Yield also comes into play when an applicant is waitlisted. It's another good tool to estimate the chances of getting an admission offer.
5. Did you catch my name?
"Demonstrated interest" is one of the admissions criteria used by many competitive colleges and it refers to ways that an applicant shows how serious she is in any given college. A student who visits the campus gains a leg up on an equally qualified student who merely talks with a representative at a college fair, according to research by three economists at Lehigh University. Inside Higher Ed magazine noted how this policy favors wealthier students, who are more likely to be able to afford a trip to check out a college.
But the practice still thrives. Data from the National Association for College Admission Counseling shows that 16.9 percent of four-year colleges deemed demonstrated interest as having "considerable importance" in admissions decisions, and another 33.3 percent see it as having "moderate importance." That is far below the importance given to grades, but well above work experience or how the student did in an interview.
So if you are touring a campus soon, make sure they take note of your attendance.