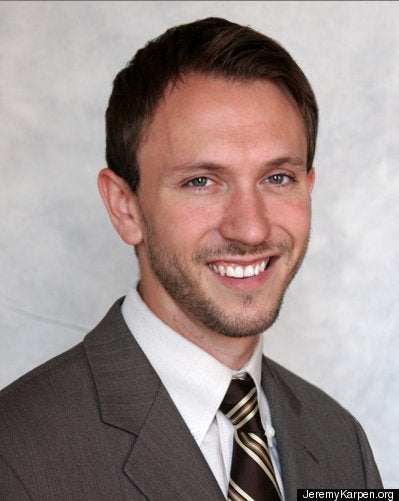 As HuffPost Chicago reported last week, Jeremy Karpen is a Green Party candidate for State Representative in the 39th District, which covers Logan Square, and parts of Hermosa, Avondale and Belmont-Cragin.
He's proving an unlikely challenge for the district's four-term incumbent, Maria Antonia "Toni" Berrios, a Democrat and the daughter of Machine power-broker Joe Berrios.
Jeremy is a licensed professional counselor who works at the Mercy Home for Boys. Raised in Minnesota, he studied Psychology, Philosophy, and Legal Studies at Macalester before moving to Logan Square and pursuing a Master's in Forensic Psychology.
He spoke with HuffPost Chicago at his campaign offices on Fullerton Avenue.
What prompted you to run for representative from the 39th district?
Two big things. One is the work that I do; I'm a therapist, I work with at-risk boys and their families. The biggest frustration there is that our problems are failures of the social system. Issues around housing that seem insurmountable, like affordable housing, navigating the healthcare system--kids have coverage through AllKids, but their parents still don't.
The other reason is the schools. In Chicago, we have some of the biggest inequities in school funding, since it's tied to property taxes. The poorer the neighborhood, the poorer the school. As the state hasn't honored its commitment to pay 50 percent of the school budget, we're sacrificing the schools.
Rather than being a janitor cleaning up the failings of the state, I'd like to be working on a legislative level, so when you give a referral to a family, you're making sure there actually is a mental health clinic, there is a hospital you can go to.
On your website, second on your list of priorities after "mass transit" is "single payer health care." Do you feel like you're tilting at windmills with that one? Or is single-payer a realistic possibility for Illinois?
It is a bill that we have (House Bill 311), so it's concrete in that sense. Mary Flowers is the sponsor. There are a number of legislators who have at least signed on, although it's not getting much traction. The only things that do are the things that Michael Madigan feels are safe enough to bring up to a vote.
We missed a bit of an opportunity in the midst of Obama's discussion about healthcare. What's hard right now is that people are burned out about it.
Here in Illinois, we have a lot of leadership that knows how to make this work. It's just a matter of changing people's perception of what health care is. The average person believes that it should be nonprofit, but they've been led to believe that it's more expensive that way.
Unfortunately my opponent sits on the biotech committee, her major donations came from pharmaceutical companies and pharma PACs, and yet she's a cosponsor of House Bill 311. Everyone who talks to her about why she's not being more active on the bill, she won't answer them.
It is a longer shot, but its worth fighting for, and if we don't fight for it, we won't have the conversations that start leading us down that direction.
You're running as a young white man, trying to replace a Hispanic woman in a district where Hispanic families are slowly being displaced by young white people. Is that at all complicated for you?
It sucks; the feeling sucks, obviously. I can't tell you the amount of thinking and soul-searching that had to go into the decision to run in the first place, the number of people I had to get permission from. It was told to me, if you're gonna do this, you need to do it right, you need to go around to key leaders in the community and get some kind of passive consent, for them to say they agree with what you're trying to do.
But I think folks have been very receptive. I don't think a lot of folks in the community know that she's the first Puerto Rican woman state representative, because they just don't know who she is. They've met us and when we talk to them and explain that this goes beyond identity politics to working for the community, that helps them recognize that, look, we need some one who's actually interested in what's going on here, who doesn't just pay lip service to it. Making sure that we have all the literature as bilingual, making sure that we have canvassers that are bilingual, we are reaching out to that community. Does it make it harder? well, yes.
The big thing is just being able to tell folks that I recognize that I'm not from this community, I wasn't born here, but I love this community. I'm staying in this community. I'm gonna invest in the community and I value the diversity in the neighborhood.
I'm sure this is gonna insult some folks, but if this becomes the next Wicker Park, it's not gonna feel like home.
As far as I can tell, there are no Greens in any state legislatures in America. What would it be like to be the first Green in Springfield?
Lonely. It would put a lot of pressure on me to represent an entire party, which I'm not capable of doing. But it would make sure that people believe it's possible, that anyone with a smaller amount of money can go out and win an election. This one would be a big story, being able to win against the daughter of Joe Berrios, who is a symbol of the Democratic machine, and everything that is wrong with the machine, it would be a moment of media attention and a platform to say, "here are the things that are wrong in Springfield, and you're right that I can't get done everything I want to get done but here's where I'm gonna start."
Last question: if you were to replace Toni Berrios in the State House, would you be helping or hurting that institution vis-à-vis the annual House vs. Senate softball game?
Oh dear lord, I would not be an asset whatsoever. I am the most uncoordinated man on the planet. When I was a kid, I played Little League, and my most eventful game ever was when I got hit in the eye with a baseball. I got to keep this blood-covered ball for years.
REAL LIFE. REAL NEWS. REAL VOICES.
Help us tell more of the stories that matter from voices that too often remain unheard.