Will Overman may be the busiest man in Americana music. I used to think Jerry Douglas was until I met Overman, who is the front man of his band of the same name, which is affectionately referred to by fans as WOB.
The 21-year-old sociology major at the University of Virginia works part-time in a soup shop and spends every other spare minute writing songs -- songs with lyrics and melodies that belie his youth -- booking gigs and marketing his band's music, which has been described as "amped-up" folk rock.
Musically and lyrically, the band draws from its Virginia roots, producing a rare combination of enticing harmony and straight-ahead, hard-charging rhythm and riffs. Or, as one fan describes it, "hearty as a home-cooked Southern meal."
The band is composed of Overman, on guitar and vocals; Daniel McCarthy, guitar; Brittney Wagner on vocals; J Wilkerson on bass; and Christopher Helms, drums.
Overman, who made it past two rounds of The Voice in 2014, was winner of the 2013 University of Vermont Battle of the Bands and a finalist in the Hampton Roads Sea Level Rising Artist Songwriting Contest.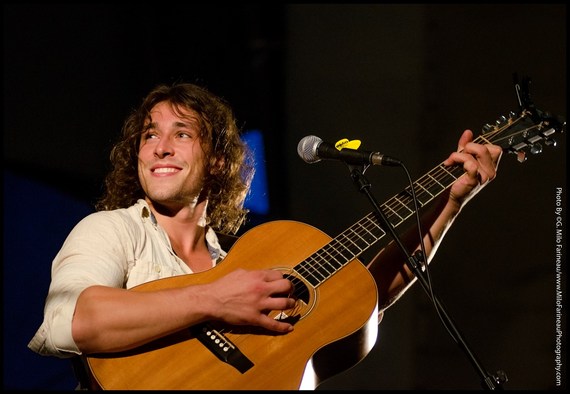 Drawing comparisons to The Avett Brothers, who are among Overman's main influences, and Jason Isbell, WOB carries an unwavering commitment to its music -- and to its fans. "Our biggest goal as artists is forming a connection with those listening," Overman says.
If you are in Philly or NYC this weekend, you are in luck because you can hear the band perform live and be among the first to "discover" this genre-defying group of talented young aritists that has up until now been playing mostly in the wilds of the commonwealth of Virginia. All that is about to change. With a new album coming together for a spring 2016 release, Will Overman Band is headed for a music festival near you. In fact, I was fortunate enough to "discover" the band at its Rooster Walk debut in May and I've been hooked ever since. You will be too. But while we both wait for the new album, we'll have to be content with sampling their original EP, "Die Where I Began," or catching the busy group perform in Asheville, North Carolina, or Roanoke, Virginia and many points between and beyond. I caught up with Overman in between classes and gigs before he sets off for this weekend's whirlwind Eastern Seaboard mini-tour and got him to slow down long enough to answer the following six questions.
How long has the Will Overman Band been playing together? I moved to Charlottesville in August 2013. I had sent out a Craigslist ad looking for musicians and that's how I found Daniel McCarthy. He hasn't killed me yet or tried to harvest my organs, so I'd say that's a success story for Craigslist. Danny and I played with various people for a few months, but Will Overman Band didn't really form until early Spring 2014. That's when we met Christopher Helms and Brittney Wagner. I had a friend back in Virginia Beach who had told me about a buddy of his who was a drummer in Amherst County, Virginia. So I reached out and scheduled a practice. This guy pulls up in a Volvo station wagon, one of those that looks like a tank, with Grateful Dead stickers all over it. He whips out his kit, starts laying down a beat and that was all she wrote. Meeting Brittney was even more serendipitous. We had this incredible singer with us for a short time, Jen Tal, but she unfortunately couldn't stay with the band. She happened to have this friend however, who had this angelic voice, you guessed it, Brittney. The only thing we were missing was a bass, then we found J Wilkerson, who joined us in April. He was the missing piece.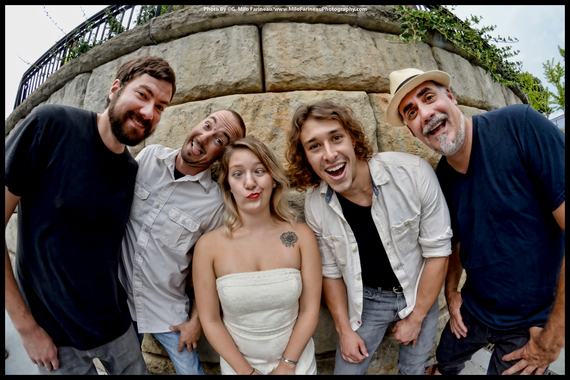 You are a junior at UVA who works part-time in a restaurant and yet you do all your own show bookings, promo, etc. How do you manage it?
I reckon I just do it. Music is my main passion, it always has been and always will be, so that's my first priority. And as hard as it can be, I love every aspect of the work that it entails. One day we'd love to have someone booking for us, a team doing our promotion, etc., but that's not the case right now, so we just keep on chugging like we know how. As far as school, it's difficult to remain focused but I'm a firm believer in finishing what you started and I intend to do just that. I'm lucky to be able to go to college, a lot of people don't get that opportunity, and I try and never forget that. And lastly, as far as work. Let's just say I've got a pretty cool, understanding boss. It's a lot to juggle, all three, but then again every musician out there who is trying to make it is struggling just as much as the next guy. For me it's music, school and working in a soup shop, for others it's music, waiting tables and teaching guitar lessons. We're all in it together, all on the same long, haggard, ride.
You are playing in Philly and NYC this weekend for the first time. How did you score these gigs and where do you find the time to travel?
I've scheduled my classes in such a way that I have Fridays off; a four-day school week allows for a lot more travel time. I booked all of these gigs using the same tactics I use to book all of our gigs, lots and lots and lots of emails and networking. Lining up these shows was a little more difficult than other shows. When you haven't played an area before, why would someone book you? It's hard to convince a talent buyer if you can't guarantee a draw. But I'm fortunate to have a lot of friends up in NYC who are in bands, so lining up the bill for the show this Saturday at Fontana's was a little easier than lining up the show on Friday at Connie's Ric Rac in Philly, where I know less people. Hopefully that changes after Friday!
Where does the inspiration for your songs come from?
My songs come from everyday life. By that I don't mean I only write from experience, rather, they are derived from a feeling, a smell, something I see; things that happen in my everyday life. I'm currently discovering how to push myself as a songwriter by writing other people's stories, not just mine. By connecting sentimentality or a feeling I have had within myself, with the story of someone or something else, I think that is a songwriters ultimate goal. Because once you connect those two things, you achieve a song that connects to an audience in a genuine way. So maybe that's where the old soul comes in. I've always loved artists who truly connected with their fans, who write the songs and perform them as if every word they say, they mean, because they do. I love that, and I strive to do that every time we perform. Everyone has their childhood band; the group that grows up with you, for me that was The Avett Brothers. I've taken their sincerity and tried to add it to my music as much as possible. And then there are all the great wordsmiths. The most important part of a song, for me, are the lyrics. So the John Prines, the Guy Clarks, the Townes Van Zandts, the Josh Ritters, the Steve Earles have always pushed me to write more articulately.
You say the band is poised to break out on the festival circuit this year. What makes you think that?
I say that because we've not only been working really, really hard to get our name out there and spread the WOB word, but the time is right. It takes a while to get into the festival circuit, you've got to gain popularity, and as always in the music world, you've got to pay your dues. Last year we competed for a spot at Floydfest and lost out to our good friends Welcome to Hoonah, who went on to win the fan competition. We were fortunate enough to play at Rooster Walk 7, a great boutique festival outside of Martinsville, Virginia, that we hope we'll get to play again. The strides we've made, the hard work we'll continue to put in combined with our debut album coming out this spring, we hope to be a major part of the 2016 festival circuit.
Calling all HuffPost superfans!
Sign up for membership to become a founding member and help shape HuffPost's next chapter