You know that saying "nice guys finish last"? As in, the guys who do the right thing, treat people -- and specifically women -- well, and hold the door for ladies and stuff, they always get screwed over. It's one of those cosmic rules, right?
Who gets ahead in the world? The douche bags. The guys with a lot of gel in their hair who are pretty good looking who probably rowed crew at Harvard, work at Barclays and still brag about it when they're 30. The guys who hook up with one girl and then her best friend the next night while girl number one is buying them both a drink because, damn, sluts! The guys who don't call, don't text, don't even check to make sure you got home okay when they were too busy to make sure you got in a cab that night. Those guys who think treating people with respect or some semblance of humanity makes them look weak. And they generally get away with it because, life? Those guys get ahead, finish first. And then, hopefully, if karma gets around to it, they get arrested at some point for fraud or hiring hookers or exposing themselves on the 6 train. But until then, they finish first.
But it's the flip side too. The nice girls, they finish last too. And I'm not talking about the nice girls who look like something out of "People of Walmart." I'm talking about the good girls who people look at and say, "Jesus, why are they single?" The girls who do go for the guys that care and make efforts, are just the girls a guy should want to marry. But they don't. Guys keep them on the back burner and keep it casual in case, you know, Kate Upton decides to hang that night. Which is totes possible because hey, you're a senior accountant at Citi. You know people. And when Kate Upton doesn't call, instead they marry horrible women who grow up to be sedated housewives who are constantly trying to pitch their inability to work a stove as a reality show to E!.
So what do we have here? Nice people finish last. Done. Conclusion. Fin.
Now I'm not going to harp on the guy part of it. You guys are bro, you get it. Some of you, if not most, have hearts and know how to treat a lady I think. Hell, I call my guy friends when I need a heart to heart or a pick me up after a dude turns into a total butthead. But for the life of me, some of you guys pick the worst vaginas ever to lock it up with, and I can't understand why.
So before you go thinking the girl you just met who with 19 pounds of makeup on and a tight dress is the girl you should marry because the butt selfie she posted on Instagram looks great, think about these five scenarios before you do it. And realize nice girls don't do this, mainly because they don't have to.
5. Don't Date Gold Diggers
Why do I even have to put this on a list? Shouldn't you guys just know this? I work in a pretty dude dominated bar in Midtown Manhattan. Lots of not-so-attractive guys in suits making out with and paying for women who if you took off their makeup and took out their hair extensions, would look like that meth head who actually signed the release to be shown on the show "Cops." Women who use anyone for money? Those aren't good people. I have never in my life asked a guy to pay for anything. I pay for my dinners unless a guy fights me to a point of embarrassment in front of the waitress. I never ask for gifts. And I certainly would never take my boyfriend's credit card and go to town on it. Women like this? Why? Is the sex really that worth it? You can jack off into a towel and not only is it cheaper but it's probably got more of a personality than women who use men for money.
These women are scammers. And yet you're throwing your money at them like they're the only lady bits in the world. Don't. Don't date gold diggers. Don't date women who are more impressed by your car, your apartment and your bank account than they are by your ability to simply have a cool conversation and do the right thing. Because if 2008 happens again, you're chick will be gone a lot faster than that case of the clap she gave you, and all your money will have gone out the door with the absurd shoe collection you bought her from Bergdorf.
4. Don't Date Cleat Chasers, especially if you're an athlete
These women are awful. Sure, they're probably hot. They live in Arizona or LA or Miami, they're blonde and tiny. But when you're hooked up to a girl whose only quality is her looks -- no substance, ambition or depth -- who is hoping to use your name to parlay their C-list looks into an MTV or Oxygen show, or some kind of gig where their boobs and butt make them 'good at it, you know you're screwed because they really have no other life skills and can't sustain their clothes shopping habit on a 35K a year salary as an office manager.
These girls don't love you. They love winning. They love knowing some athlete picked them. If it wasn't you, it'd be your third baseman. Your defensive lineman. Your goalie. And they love the attention. Anything for attention. Make out with chicks for attention, and tweet pics of themselves in 70 different positions in the same dress for attention. Look at their Instagram -- any pictures with friends? Pets? Family? Little old ladies? Nope. Just 900 selfies in a mirror with a tight dress on. I'm sure she is super modest and has loads to converse about. Pick the girl who loves the guy, not the attention the guy's job brings. If a chick has a laundry list of crazy that's laid out on websites like Baller Alert, Deadspin or The Dirty, maybe think twice about whether or not she's a good girl with good intentions.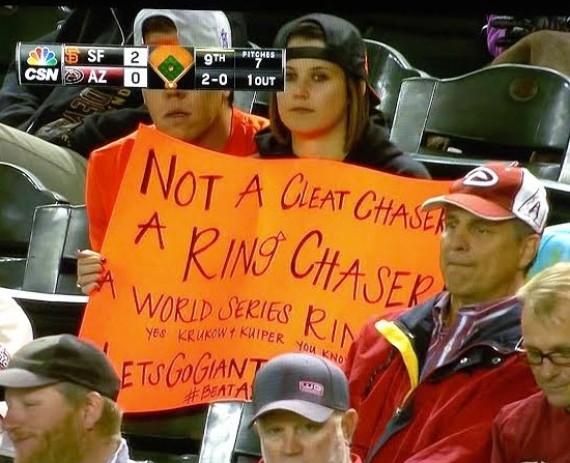 3. Don't Date The Girl Who Wants To Get Married On The Second Date
Marriage is one of those elusive things to me. I can rarely get a guy to buy me a second beer, yet some chicks get rocks on the second date. It baffles me. But I do get it. And sometimes, if not most times, I assume a guy puts a ring on a chick because he gets it. Because she IS it. Because she's not the gold digger, cleat chaser, bad person who is using you for sperm so she can divorce you, marry the pool boy and get alimony and child support so she never has to work. That you figured that out for yourself after years of dating or whatever. I feel like some guys are smart. But then there are the girls who are smart enough to not let their bats**t flag fly until the second that marriage license is signed. I've heard horror stories about women who hours after saying I do, are going off the paranoia deep end accusing their husband of hitting on bridesmaids, or getting angry over Maxim Magazine subscriptions, or spending their husband's money on things like bags shoes and clothes at rates that made the dudes from "Wolf of Wall Street" look frugal.
These women are like their own personal cottage industry. And when the guy wises up and divorces her, you'll see her wandering around the party cities like Miami and L.A. looking for a new bank account to use. And guys will learn. Just don't be the guy who, once the real girl comes out, goes into denial that the level of normalcy she presented pre-ring was as real as that pair of fake boobs you bought her.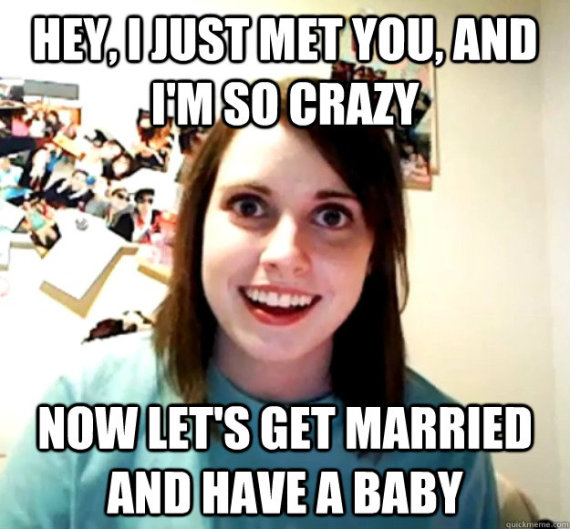 2. Don't Date Chicks That Can't Hang
I'm a dude's girl. I like sex, sports and beer. I scream at my TV during playoffs, I talk about baseball and hockey, my guy friends talk about blow jobs and farts around me, I take shots and I dance awkwardly. I was always the girl the boys brought out because I just could hang. Don't date the girl who can't hang. She doesn't need to know sports. She doesn't need to drink beer or be a bro, but you know that scene in "My Best Friend's Wedding" where Cameron Diaz's character is uncomfortable at the karaoke bar, and then all of a sudden she sings a song so badly but everyone cheers and she gets so into it and has the most fun ever? Date a girl like that.
Date a girl who doesn't get mad if you want to go have a couple beers with the guys, date a girl who has herself together enough to not feel slighted if it's boys night out, and date a girl who is cool enough that hey, you COULD bring her to dude's night out! That your friends like, that your friends can talk to, respect and laugh with. The girl who sits with her arms and legs crossed because all the attention isn't on her and her mini dress and how cute she looks when she's taking duck face selfies? Run. Run far far away!
My best friend Christine is getting married this September. She and I have known each other since we were 13. If she and I ever got married, "Absolutely (Story of a Girl)" by Nine Days would be our wedding song. But she is marrying HER best friend as well (not me, tragically ha). A guy she went to Lehigh University with, who started out simply as her buddy. They were honest to God friends. Buddies. Amigos. And when graduation rolled around, and New York City and finance came calling, I will never forget sitting down with her in Union Square when she said "I have to tell you something. I'm seeing someone. It's Dave."
Several years later, I don't think I remember Christine without Dave anymore. They are the couple who you know didn't just meet at a bar or go on a Match.com date. They know each other. Everything about each other. But they're still just the buds you hang out with as a group because they don't pull the lame couple shit that makes you never want to hang with couples. And they've cared for one another long before there was nakedness and intimacy. And to me, that's the girl you should date. The one who was there before the drunk sex or the "she's so hot" or the awkward "should I text her?"
Friendship has to come first. You have to know that the girl you are gonna be with, maybe even marry, was there before she really had a reason to BE there (relationship wise). The girl who cared because she simply cared about YOU, not you and her together or how it looked to other people. You don't have to date every platonic girl friend you have. But don't count them out. Realize that sometimes the person who knows you the best through friendship might be the chick who will see the best in you when you need it in a relationship. People stick around for a reason. And it can be a lot freakin' easier having awkward first time sex with someone who has probably already held your forehead when you puked from too many Coco Locos in the Dominican on spring break junior year.
Don't discount your friends as being the girl who deserves the love. You'd be surprised to know that the best relationships are usually the ones that are built on some kid of firm foundation of messed up "know you better than anyone" friendship.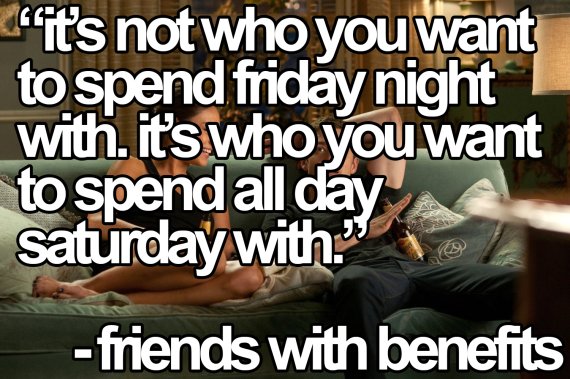 Related
Popular in the Community