It's true, in this 21st-century European-inspired "David and Goliath" story, David has won the fight: the Greeks said "no" in Sunday's referendum, calling on their government and its lenders to become innovative and find viable solutions to its debt. And yet the battle ahead for Greece is only beginning against a giant who seems to have grown too big for his own boots.
In the meantime, the strongest weapon in this battle and the healthiest component of the Greek economy, tourism, is being badgered by its own. Instead of taking a unified approach towards safeguarding Greece's leading product, Greek tourism officials and sector bodies have been sending so many mixed messages it's no wonder tourists are baffled.
Instead of tapping into the positive press on travel to Greece - indicatively titles which ran in most of the international press last week include CNBC's "What Greek turmoil? Tourists still flocking there", the Daily Mail's "British tourists vote yes! Holidaymakers ignore financial crisis as searches for flights to Greece soar by 16%", the Guardian's "German tourists in Greece: Everybody has been so kind", USA Today's "Greece tourism unaffected by financial crisis", Fortune's "Greece's best weapon for an economic recovery? Its good looks..." - the friendly exchange rate and the even friendlier deals, Greek tourism sector representatives put their foot in their mouths by calling for a "yes" vote in the referendum and to the stringent austerity measures which foresaw among others a 23 percent (from the current 6 percent) increase in VAT on accommodation and the abolishment of a special reduced tax status for the Greek islands, where tourism is a leading source of income.
And guess what... the Greek islanders, where most of the country's prime summer tourist destinations are located, voted massively against the debt-reducing measures imposed by Greece's international creditors. To demonstrate, according to Interior Ministry data, on the Ionian islands, which include summer hotspots Corfu and Zakynthos, 67.74 percent voted "no", 62.73 percent in the Cyclades, which include Mykonos and Santorini, 64.84 percent in the Dodecanese, which include Rhodes and Kos, and a massive 69.87 percent on the island of Crete.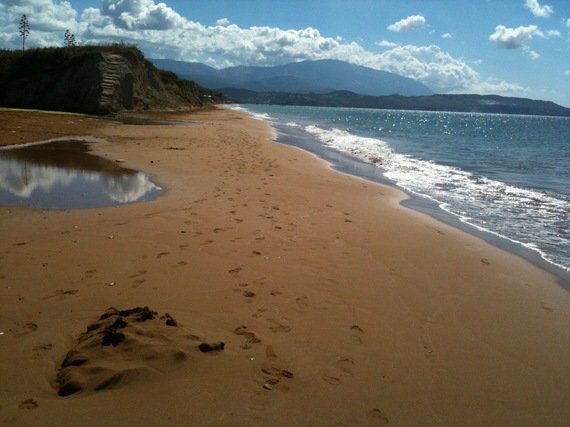 So is Greek tourism in dire straits following Sunday's staggering "no"?
1. Greece has and will continue to be a leading tourism destination as long as its natural environment is safeguarded. The beauty of Greece's beaches, the genuine lifestyle on the Greek islands, the diversity of Greece's mainland all offer potential holidaymakers a unique opportunity to get away, chill out and experience something new.
2. Professionals have begun to diversify bringing in revenue and tourists by organizing parallel activities and happenings including local festivals dedicated to everything from local PDO (protected designation of origin) vegetables to sporting events like Spetses' famed mini-marathon. Events include vintage car races, international regattas, marathons, extreme sport challenges, film fairs, music festivals, and even the reenactment of medieval jousts.
3. Greek tourism was a breadwinner in the late '60s and '70s, when Greece was truly a poor nation with even poorer resources and lacking ideas, cash and infrastructure to make things happen.
4. Young entrepreneurs who share a love for their homelands or their parents' homelands are returning to promote local products, everything from extra virgin olive oil - which was until recently sent in barrels to Italy only to be rebranded and sold as Italian - and baby artichokes to sun dried tomatoes and the famed Chios mastic.
5. And finally, Greece has the infrastructure in place, state-of-the-art airports, ongoing and far-reaching ferry services, luxury cruise liners, operational ports, a plethora of private yachting companies, tour operators planning custom-made holidays and so much more to cater to the increasing needs of today's travelers.
As history has shown, life does go on the next day whatever the previous day may have been. Instead of taking their roles as Cassandras too seriously, Greece's top tourism brass should focus on doing what Greeks do best, which is offering hospitality to their guests and expressing faith in their product. And there are hundreds examples of this across the country with hotels like the historic Spetses Poseidonion Grand, luxury resorts like the Costa Navarino, tiny agro-tourism units like Crete's Milia mountain retreat - to name but a few - being awarded and lauded for their services. This did not change in these past five years of financial turmoil and it will not change after a resounding "no" to economic blackmail and groundless measures.
Work may be required to gain lost ground, but far from the stereotype that many international media benefit from reproducing, Greeks have never feared working hard for something, most of them already do. By creating havoc with mixed messages and elusive statements, tourism officials who claim to be working for the best of Greek tourism have only revealed political affinities and have failed to show confidence in the efforts of tourism professionals across the country who have already in this crisis period faced insurmountable hurdles to create enterprises of the highest standards, offer care of the highest caliber and promote their country in the toughest of times.