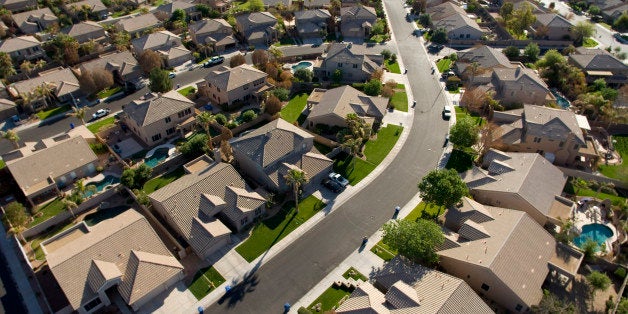 It was seven years ago this summer that my family and I moved to the suburbs. We loved the city but left it behind for the typical reasons. My wife and I decided we needed more space. We thought the boys should have a backyard. And we had no intention of drinking past 10.

We've adapted very nicely to the suburbs. The boys play in the backyard. My wife loves planting and killing flowers. And I'm happy to have a driveway.

While I love the permanent parking spot, I still can't seem to adapt to the suburbs. I'm just different.

1. You ever walk around the suburbs around 5 p.m. on a weekend in the summer? I guarantee you'll smell barbecue faster than you can say white picket fence. But there's no barbeque in my backyard. Not an in-ground, electric or even a hibachi. And I don't even want a barbeque. I'd rather microwave my food and be done in minutes or leave the food in the oven and walk away. I want to eat when I want to eat and not wait for charcoal to reach the proper cooking temperature. I don't care how authentic the food tastes.

2. Since when did toilet paper qualify as an item needed for a disaster supply kit? Why the hell else do my suburban neighbors feel a need to buy 24 rolls of toilet paper at one time? Then if there's a sale -- 48 rolls of toilet paper for $14.99 -- families go together armed with the coupon from the store circular each one buying the limit of two packages. I think this is the real reason people want a two car garage. The toilet paper has to go somewhere and the sink in the bathroom is filled with 400 ounces of mouthwash and the three foot tube of toothpaste that was on sale the previous week. Not a problem for me. I'm uncomfortable buying in bulk. So, I'll stick to the four-pack of toilet paper or maybe go crazy and buy the 8 pack. By the way, my one car garage has ample room -- because there's no toilet paper in it!

3. In the suburbs, you don't need a calendar to know the time of year. All you need to do is check out the home decorations. People don't just put up a few lights before Christmas or a Jack O' Lantern prior to Halloween, or a Turkey poster leading up to Thanksgiving. No, no, no. Holiday decorating is serious business. There's the 14 Santa Clauses on one lawn, the mock mortuary, and the recreation of the Indians and Pilgrims sitting down to a feast. Why doesn't anyone recognize Arbor Day. Why not call the gardener in to re-landscape in celebration of that most special of holidays? At my house before, the calendar is a must because we don't decorate every holiday as if hoping to make the cover of House Beautiful magazine.

4. Does size matter? Surely it does to some. Just look around the parking lot at your kids' school and count the number of SUVs and minivans. The number is so high that the Count from Sesame Street would be unable to figure it out. Really, now does everyone need a huge car to schlep around their 2.1 kids? There's only one time a year that I want to trade in our Honda Accord for an SUV or minivan. When we drive towards our rented vacation home for one week the boys sit squished with suitcases on their laps. Then, I feel bad about the size of the car. But it passes and therefore, I'll pass on the SUV and minivan.

5. We live in Jersey. So, of course we have a huge mall near us. One could satisfy their every need -- clothes, furniture, electronics, kitchen ware, linens, and then there are the other three wings - under one massive roof. Yet if it weren't for the Cineplex, I'd have zero interest in going to the mall. No matter the day or hour, parking is impossible. Once inside the mall the throng of people is so thick that Barry Sanders in his prime could not have navigated through. Not for me. I'll stay away from the crowd thank you very much.

Yup, I'm not sure if a city lover like me will ever fully adapt. I think my neighbors know it too. Why else do real estate agents keep calling me and offering to sell my house?
Popular in the Community