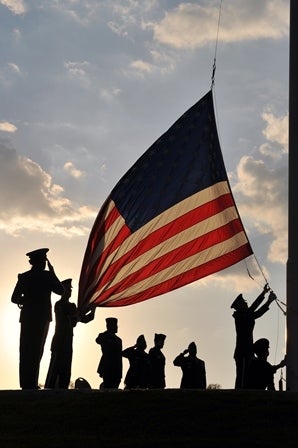 During my father Theodore Schweitzer's 21 years of service in the U.S. Navy, our family lived in Japan, Guam, Hawaii, California, and Virginia. My father also served on the U.S.S. Lexington and the U.S.S. Oriskany. After 21 years of service in the U.S. Navy, he retired from Naval Air Station Oceana in Virginia as a Chief Warrant Officer.
As a veteran, my father worked as a JROTC instructor at Maury high school in Norfolk, Virginia for one year. Then our family moved to Ohio, where he worked as a veteran in the Dayton school system for a total of 17 years.
As a senior Navy JROTC instructor, the curriculum he taught included Naval history, customs and traditions, oceanography. astronomy, and navigation. Soft skills taught included leadership, responsibility, perseverance, and respect for authority. His students would stay after class to ask him questions about how to be a successful in daily and military life.
Theodore L. Schweitzer taught his Navy JROTC students a tremendous amount and these leadership skills will be passed down to future generations. Schweitzer is an example of veterans using their military service to educate and enlighten the younger generation.
Last year, 453,000 veterans were unemployed, according to Bureau of Labor Statistics. When employers examine certain required skills for open positions, it's difficult to translate military skills to civilian life. The Military revealed that companies refrain from hiring heroes due to lack of skill translation, stereotypes, and concern for adaptability.
While it's certain military skills don't equate to a college degree, it's important to acknowledge a unique skillset. To dispel stereotypes and address concerns about adaptation, interviews can provide a gateway into a veteran's professional profile.
Here, employers can learn about a veteran's past, and future goals beneficial to aiding in transition to a new work culture. Below are five reasons to hire a veteran using Third Space Thinking by Ernest Wilson, a professor at the University of Southern California:
Adaptability: The military aims to train adaptable individuals that are capable of handling any situation. This has been a conversation since 2014 in Win in a Complex World, a document by the U.S. Army. It's best for employers to be patient, yet understanding when it comes to giving a soldier the necessary and adequate time to adapt to a new work environment.
Competence: From combat to disaster relief, soldiers analyze and react to diverse situations, applying quick problem solving techniques involving creativity. Wilson mentions employers are looking for people able to act quickly and effectively, a skill most soldiers have.
Team Players: As training comes around, members of all branches are pushed through physical and mental training. Any business that plans to excel, needs a team that is able to push, assist, and encourage healthy competition against each other. Stew Smith, a Tactical Strength and Conditioning editorial board member, said these traits are found in military training.
Curiosity: Employers look for people who want to expand their knowledge and learn new things, an ideology taught in the military. These traits include: asking questions, joining in meaningful conversations and finding better ways to achieve goals.
Leadership: Of all the skills learned during a military career, leadership is one that leaves lasting impacts. The Business Insider collectively gathered CEOs affirming how their time in the military taught them the necessary skills to be successful. Boots to Business also helps veterans utilize their skills to create their own businesses, an indicator for companies to acknowledge.
Some veterans expressed that their work within the military has carried over into civilian life more so than attending college, according to the Military Times. Education is important, although invaluable experience is a trait that should also be taken into consideration.
Sharon Schweitzer, J.D., is an award-winning entrepreneur, cross-cultural trainer, and the founder of Access to Culture. In addition to her accreditation in intercultural management from the HOFSTEDE Centre, she serves as a Chinese Ceremonial Dining Etiquette Specialist in the documentary series Confucius was a Foodie, onNat Geo People. She is regularly quoted by BBC Capital, Investor's Business Daily, and Fortune. Her Amazon #1 Best Selling book in International Business, Access to Asia: Your Multicultural Business Guide, (3rd printing), was named to Kirkus Reviews' Best Books of 2015. She's a winner of the British Airways International Trade Award at the 2016 Greater Austin Business Awards.
Support HuffPost
The Stakes Have Never Been Higher
Related
Popular in the Community