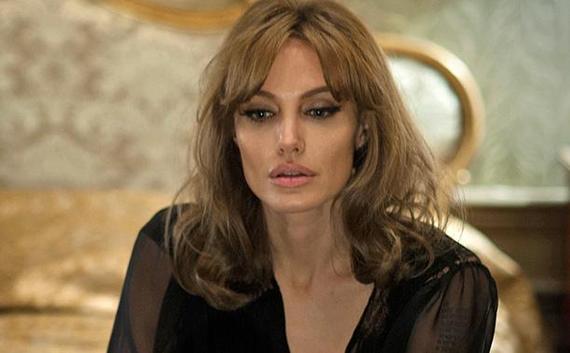 Oh, to be back in the 1970s when opportunities to experience real cinema were more frequent and the likes of Paramount Pictures studio chief Robert Evans brought a kind of elan to the screen--something that feels absent in much of today's modern cinematic servings.
But, what's this? In the much talked-about By The Sea, filmmaker Angelina Jolie Pitt delivers a daring spectacle indeed. The film hearkens back to the 1970s and to those dramas that took their time to unwind. The outing also smacks of a luscious European production with its simple yet remarkable cinematography and sparse dialogue.
Will it be a box office hit? Probably not. But it is a kind of arty gem that's worthy of consideration.
By The Sea takes place in the early 1970s, in and around a remote village on the French Mediterranean coastline. It revolves around the emotional undoing of a stylish couple, Roland and Vanessa Bertrand (Brad Pitt and Jolie Pitt--married in real life as we all know).
Pitt morphs into a kind retro Robert Redford here. Meanwhile Jolie Pitt, donning over-sized designer sunglasses, fabulous dresses, elegant shoes and sun hats, embodies a kind of downtrodden Jacqueline Bisset in search of emotional CPR. He's a writer. She's a former dancer with some serious angst--she's having a tough time accepting something haunting. He's come to the villa to write. She's come along to ... well, that's unclear at the beginning of the tale however by the time a much younger couple--newlyweds (Mélanie Laurent and Melvil Poupaud)--enter the drama, our dear Vanessa wipes off her smudged mascara and finds something in which to keep herself occupied--voyeurism.
Some critics have been scathing about this outing--acting as if their first-born had been taken away from them while they were imagining themselves on a set of a movie they have no idea how to produce. Whatever the fuss, I was enthralled by the spectacle. Here are five reason why.
It's Moody: The unspoken provokes more interest in the first 30 minutes of the film. We're taken in by the simple yet effective elements--the glances Roland and Vanessa offer each other, or the vacant stare Vanessa forces herself to endure, staring out into the sea ... as if she's waiting for a new life to arrive right there on the shore below. The tone Jolie Pitt sets from the beginning builds until the film's last frame, despite some creative bumps along the way.
It's Sexy: The Pitts aren't bad on the eyes. Neither are co-stars Mélanie Laurent and Melvil Poupaud. Collectively, these characters, along with the stunning setting, add to the provocative drama, which is at times, both perverse and captivating with its rich mental foreplay and visual prowess.
It's Stylish: Beyond the obvious--that Jolie Pitt is magazine-cover gorgeous--the film she has created feels as if its been ripped off of the pages of a glossy magazine. That's not a bad thing when its back up with some grit. Here we experience a kind of living, breathing moody Vanity Fair piece about a troublesome marriage complete with Annie Leibovitz glossies.
Less is More: At least when it comes to dialogue. And this is not a dialogue-driven film. Actually, that works in the film's favor. The lead characters' marriage endures a wicked dark night of the soul and neither of them have much enthusiasm. Why bother with peppy dialogue when the alternative is much more realistic if not refreshing. Instead, Jolie Pitt trims the fat off a concept and a script that, in the hands of another screenwriter, may have been entirely verbose. What we're left with is the gritty stuff; things that go unsaid--there's tension and unsettling feelings and somehow, it all coalesces to memorable ends.
Open Your Mind: It's not a reason. It's a friendly suggestion to moviegoers prior to heading into the film. This is not your garden-variety drama. And goodness knows that, these days, when we're asked to sit still and disengage from our Smart Phones for more than 10 minutes, it can quickly turn into a conundrum. Our minds, our brains have shifted so dramatically that we're prone to just keep them busy. We're hard-wired now to want to be entertained--like, every minute of the day ... as if we don't consume enough from the pop culture smorgasbord the world already provides us. (Hey, I drank the Kool-Aid, too. Just sayin') Regardless, there's something to be said for letting go and following the flow of this curious creative offspring from Jolie Pitt. The filmmaker manages to create an experience here. As I sat watching the tale, I found myself more drawn into the complexities of these characters rather than infuriated by the pace at which things were unfolding--or not. Jolie Pitt seems to relish bringing things to a slow boil and gives birth to a rare kind of cinema we simply are not used to finding in today's current filmmaking climate.
By The Sea opens in select cities Nov. 13.
Calling all HuffPost superfans!
Sign up for membership to become a founding member and help shape HuffPost's next chapter