"This one's yours!" says Derek, my Surf Simply instructor. It's sunset at Playa Guiones in Nosara, Costa Rica. We've just paddled "out the back" together for the first time. The week's swell has been larger than expected, so we've tackled the inside for several days, practicing drills and spills on whitewater waves at Surf Simply's weeklong camp. I arrived in Nosara an advanced beginner, so during this, my last session, the ride on a perfect unbroken wave is, thus far, hard fought. I've tumbled over the falls, mastered Surf Simply's signature "turtle dive" (not just a roll) to battle intimidating sets, and I've mentally channeled, to no avail, Michael Phelps for my "turbo paddles" to propel down bigger waves. But thanks to new skills learned, video analysis, and Derek's enthusiasm, my confidence has skyrocketed. We're not leaving this session, I've stubbornly told him, until I catch a perfect ride. But first, a Top 5 Surf Simply primer:
The Coaches. For a newbie who's first surf lesson was in Hanalei Bay with Bill Hamilton (Laird's famous stepfather), the bar started high for instruction. Yet Surf Simply's coaching exceeded all expectations. Founded by British ex-pat Rupert "Ru" Hill, weeklong camps lasso top global coaches and a unique approach to instruction. Surfing is taught in technical terms yet applied via common sense, with intensive video analysis and daily drills practiced in two surf sessions a day. During Costa's off-season, the Surf Simply team leads "pop-ups" in Peru, France, and Indonesia. Check out their podcasts--continued surf inspiration.
The Break. Ah, Playa Guiones! No crowds. No intense lineups. No dangerous reefs or sea urchins. This beach break is made for beginners, yet has enough energy and sassy swells for advanced riders, too. Surfers of all levels will find plenty of challenge and reward.
The Social Studies. An eclectic, enthusiastic mix of beginner surfers to skilled wave riders included the founder of an NYC-based tech start-up, a romance author, a young British couple, an older San Diego couple, a doctor, siblings, and a British marine. Only 12 students per week stay in private bungalows at Surf Simply's cozy boutique headquarters, which makes for an ideal group dynamic.
The Food. Cuisine by by new Executive Chef Denis Madrigal is as notable as Nosara's playful break. Fresh fish is served daily, and meals can be catered to gluten-free and various diets. Madrigal and Hill are developing their own organic garden and greenhouse, while Lulu, a 70-something-year-old baker and surfer, handcrafts the best muffins in town.
The Locale. Still considered somewhat off-the-beaten-path (though residential development is prevalent), Nosara remains sleepy and seductive. The tiny town of Guiones hugs an inspiring stretch of Costa Rican coastline. Don't miss La Luna Restaurant for sunset views, local ceviche, and passion fruit mojitos. For non-surfers (or on a down day), zip lining, horseback riding, mountain biking, or simply lounging are the only demands of the day.
But back to my sunset ride. Just in the knick of time, before our end-of-session whistle, a set lines up. Not too big. Just right. Derek smiles and nods. "Let's get into position," he gently says. I point the board at 6 o'clock to the shore. My nerves are on fire, as is the setting sun, which casts a come-hither haze across the playa. I want to catch this wave as much as I don't want to let my coach down. I count off exactly what Derek's been hammering home all week. Five "runway" paddles. Next, three "turbo" paddles. One. Two. Look back at the wave. Gulp. THREE. A rush of momentum. My pop-up. Adjust the feet. Head up. And suddenly, I realize I've scored. As the wave takes me, time suspends. I ride it all the way to the shore (eureka!) and give a little fist pump to the coaches on land. I glimpse back to Derek, who's masterfully caught his own sunset wave. He grins wildly at me, both hands raised in triumph.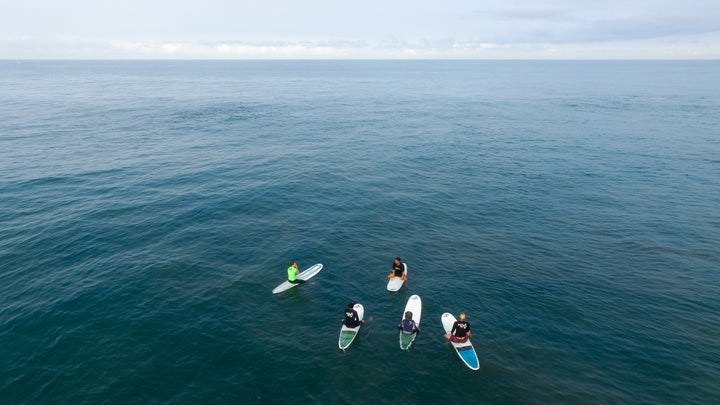 Related
Popular in the Community