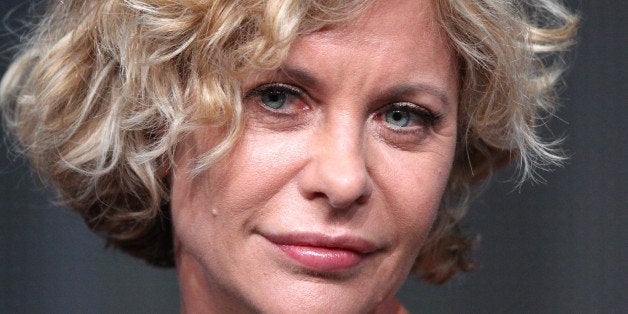 So I like it when people tell me the truth. Except for my hairstylist, Katie. I have created a special exemption to the truth-telling rule just for her.
Katie does a terrific job with my hair. But even better is that Katie understands that the unvarnished truth for a female client who recently reached her (very) early '60's may not always be the best way to go. Tactful, but direct, that is Katie.
She handles my five top FAQ's with ease.
I ask Katie this same question on nearly every visit. I am pretty much obsessed with my forehead. When I look in the mirror, my wide forehead beams back at me with over-sized prominence. At least five minutes of every hair appointment are taken up with a discussion of what to do to minimize my forehead. With me often suggesting that soft, feathery, to-the-side bangs would be just the ticket.
Last year when Michelle Obama made national news with her new forehead-covering fringe, I took to pestering Katie even more than usual about getting bangs cut.
She looked at me in the mirror and said kindly, but firmly:
"Nancy, I want you to like me. You will not like me if I cut bangs for you."
Even though I very much want Katie to like me, I can't get off the subject of bangs.
On a recent visit, the ever-patient Katie took out her own hand -- and then spread her fingers across my forehead.
"See, Nancy, I am measuring your forehead. It is about 3 and 1/2 fingers wide. If you had a four finger-wide forehead, I'd consider bangs. If you had a five finger forehead, bangs for sure. But you are only three and and one half fingers wide."
Scientific evidence. No bangs for now.
2. "How will I look if I stop coloring my gray hair?"
I have been coloring my hair since my 40's. I got my first gray hairs in law school. (not a coincidence). Coloring my hair back to its earlier brunette incarnation has been a constant.
Now that I no longer have to show up at the law firm office every day, maybe the time has come to let Mother Nature take over.
How would I look with gray hair?
This is a slightly tricky question, which Katie gracefully evades by pointing out that my natural hair color is by now actually all white, not gray.
Lovely! I am now not only aging rapidly, but I have white hair, too!
Then I think, maybe I could be a blonde?
How far is white from yellow on the color wheel, anyway?
Before I get too excited, Katie looks at me in the mirror and tells me that blonde is not going to happen.
I am going to stick with brunette for awhile longer.

3. "Will you cut my hair short in the summer?"
Every summer, I look with jealousy at women with cropped hair. It looks so modern and fresh. The wash-and-go look has never worked well for me. Perhaps if I cut it all off, I can join the hip crowd that is liberated from the electronic tether to their blow-dryers.
Katie side-steps this question as well. She points across the street, where a very popular place called "DryBar" has recently opened. Blow-outs only, no hair cuts. And free champagne!
Women pay $40 just to get their hair blow-dried in a styles such as the "Straight Up," the "Manhattan" and the "Cosmo".
My hair is stick straight, I grew up about an hour from New York City and I once drank a Cosmo.
So I will stick with Katie's subtle hint that now is not the time to return to the pixie cut I loved as an 8-year-old.
4. "Can you make me look like Meg Ryan?"
Ever since I saw When Harry Met Sally and You've Got Mail (movies I have seen so many times I could recite them line by line), I have wanted to have my hair cut to look like Meg Ryan's.
Tousled, shaggy, seemingly effortless; an iconic look.
One that my stick-straight hair was going to find hard to emulate.
But I am nothing if not persistent.
"Katie, can you cut just a few layers, wave it a bit and see if I come out at all looking like Meg Ryan? C'mon, give it try. How awful can it look?"
Katie, who has heard many, many clients before me tell her they want their hair to look just like a celebrity's hair, ducks this question entirely.
She changes the subject: "So what are you reading in your book club, Nancy?"
5. "Do eyebrows eventually turn all gray (or white!)?"
After I see Katie, I venture to the back of the salon to see a young woman who does my -- let's call it, "facial" waxing. Soft-spoken, 30-something Sherry casually mentions to met that a single eyebrow of mine is completely white. Really, I hadn't noticed? Instead of plucking it out, she tells me she will tint it darker.
As she prepares the tint mixture, it occurs to me that this could be a glimpse into my eyebrow future.
"Not always", she says politely.
"Is that the truth?", I ask, seeing her try not to laugh.
Sherry smiles,"No it's not. Do you want the kind answer or the true answer?"
"Your eyebrows will eventually turn the same color as your hair."
Yay, something else to look forward to! White eyebrows to match my hair.
***photos of my latest hair cut are available upon request***
http://www.wittyworriedandwolf.wordpress.com
Calling all HuffPost superfans!
Sign up for membership to become a founding member and help shape HuffPost's next chapter