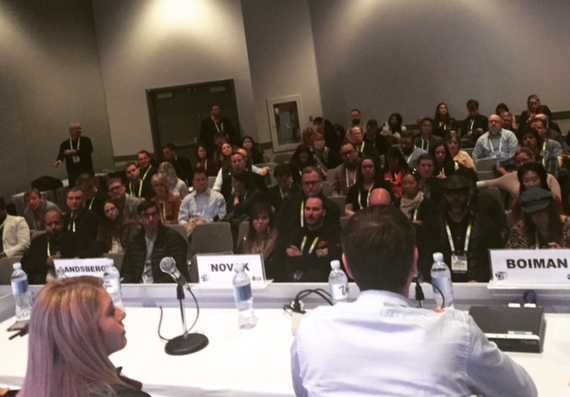 As we kick off the New Year, here are five trends in social media that are worth paying attention to, (as discussed on Jan 5, 2015 at the CES Digital Hollywood panel I moderated):
1)Technology Trumps Segmentation

In 2015, segmentation will become 'old school', in lieu of technology that gets to know people better, powered by data and continual testing. As David T. Nguyen, Ph.D., Digital Customer Research and Development, Lead, Accenture explains, "The way we think about segmentation is not dynamic enough for the world in which we live, and the changing environments, attitudes" - but there is ample data to support technological systems, that are as flexible as people are.
The successful convergence of context, content and targeting involves moving away from traditional segmentation, that forces people into static buckets, and towards technology that gets to know people better. This will seriously impact how marketers think about their customers and audiences, and will require greater variations in creative and messaging to accommodate these consumer insights.
Monica Lay, Senior Product Marketing Manager for Advertising Solutions, Adobe
further explained: "It's not just social data that we should be looking at -- it's also search data, web data, and the interplay of all these sources", that can drive better personalized optimization, powered by the right ad technology.
2)Content Evolves Away From Broadcasting, Towards Personalization
"The biggest myth I would like to bust", said Oren Boiman, CEO and Co-Founder of Magisto, "is that social media is about broadcasting".
In 2015, content and experiences will become more personal, so that the net effect of social marketing is in the sum of millions of one-to-one relationships. As data from multiple sources are integrated more smartly, creatively and dynamically, the opportunity to reduce waste and enable content and offers that are specific to people's behaviors and preferences will expand, and the impact will multiply.
Every action taken across social networks (and even beyond them when we consider the potential of retargeting, and Facebook's acquisition of Atlas) is measurable, and capable of informing the context, preferences and values of the individual.
"I want the offer for the tall, soy, caramel macchiato", explained Nguyen from Accenture, "because that's how I like my coffee".
3) "Distributed Digital Experiences" Will Trump Platform-centricity
Powered by technology, creativity will fuel better "narrative containers", according to Marc Landsberg, CEO of Social Deviant. The conversation will move from "let's make a video for facebook" to "let's fill these containers with story elements which will insure their share-ability and relevance."
The impact of this will be felt in how social media and TV relate to one another. Social media will be designed to work together with TV, and vice versa - not just to be a way to measure TV audiences. Right now, most broadcasters and cable networks think of the value of social media inasmuch as it drives TV viewing, and social TV data can even impact the price of TV spots based on services from Rentrak and Nielsen.
But in the year ahead, advertisers and programmers will find better ways to bring the two platforms together, for content-rich forms of deeper programming and story world experiences. Social will be valued for its potential to drive program discovery, viewer loyalty, deeper content engagement as well as linear and online TV viewing.
4)Social Media Native Advertising Is Bought and Sold on Guaranteed Results, Not Just Content Creation
The power of pairing popular Youtubers, Instagrammers, Vine video creators with Fortune 500 brands mainstreamed in 2014, with content creators commanding serious dollars for inclusion in their coveted feeds or channels. Historically, creators have been compensated based on creation, but the future will be in guaranteed campaign outcomes, such as views, impressions, clicks, and sales.
"The largest follower, subscriber or fan base does not necessarily equal the greatest reach or engagement", explained Natalie Novak, Agent, Digital Media Department, United Talent Agency. This will tip the scales in favor of valuing talent that is the best fit for a brand, and will mark a powerful shift in the talent endorsement ecosystem.
5)Messaging and the Ephemeral Web Mainstream, and E-Commerce/Social Converge
It is official -- Snapchat is here to stay, reaching 100 million users in 2014. Many marketers have already begun dipping their toes in the waters of the ephemeral web, with Facebook's acquisition of WhatsApp highlighting the importance of messaging.
Even while measurement, accountability and target-ability remain a question-mark, the appeal to reach the millions of millennials flocking to these and other like channels is too powerful to ignore. The Square partnership has also left many retail marketers wondering about the potential of Snapchat from an e-commerce perspective, mirroring the path of messaging apps internationally like WeChat, who derive a majority of their revenues from e-commerce sales.
As Facebook's feed directly de-prioritizes 'promotional posts' (as explained in their Nov 2014 blog post) this leaves plenty of white space for marketers to explore platforms where the value exchange is clear, and directly, unapologetically tied to sales and product messaging.
Support HuffPost
The Stakes Have Never Been Higher
Related
Popular in the Community