Earlier in the day, the three honorees of the Hellenic Post series, "Distinguished Personalities," took part in a press conference where a video was presented outlining their achievements and where they were presented with the their new stamps that were officially released to the public on September 1st.
During the discourse, the criticism of both Greek-American laureates, John Catsimatidis and Peter Diamandis, towards the Greek government's restriction of television licenses were noteworthy. Together, they were quick to stress the absurdity of the decision of a government in a nation blessed with a historically free movement of ideas and a free press, while also pointing out that today's technology can easily overcome any attempt to impose restrictions or prohibitions in the field of broadcasting. Indeed, Catsimatidis noted that there are some 300 television channels in the United States and he could not comprehend the Greek administration's stance on this issue. Costa- Gavras, on the other hand, showed more tolerance, stating that any government has the right to set regulations with respect to the functioning of the media. At the press conference, the President of ELTA, Frosso Stavrakis, noted that the Greek Post Office agreed to honor "diakekrimenoi" (those who excel) even while alive because of the belief that the living can inspire. She also stated that ELTA, in co-operation with IFG, will continue the idea of putting prominent Hellenes of the Diaspora on a stamp, who, through their work, shine a bright light on Greece.
IFG's President, Aspasia Leventis, stressed that the task of choosing a personality to be awarded a stamp is a very difficult one and is based on the criteria of morality and Philhellenism. During the evening, the first honoree, Peter Diamandis, recognized for his pioneering scientific work, said that he, himself, is a "grammatosyllektis" (philatelist) and felt excited by the honor bestowed upon him by his country of origin. He also discussed the great challenges, efforts and the speed by which technology is revolutionizing human life.
John Catsimatidis, acclaimed for his entrepreneurship, stressed that his parents and ancestors would be deeply thrilled by the honor and that he is content that his children, Andrea and John, are so proud of their Greek origin.
Costa-Gavras, acclaimed for his work in humanities and the arts, thanked ELTA and quipped that, as a stamp, he will have the opportunity to travel to parts of the world he had never imagined. Also, he suggested that distinguished Hellenes around the world be found to recognize and honor.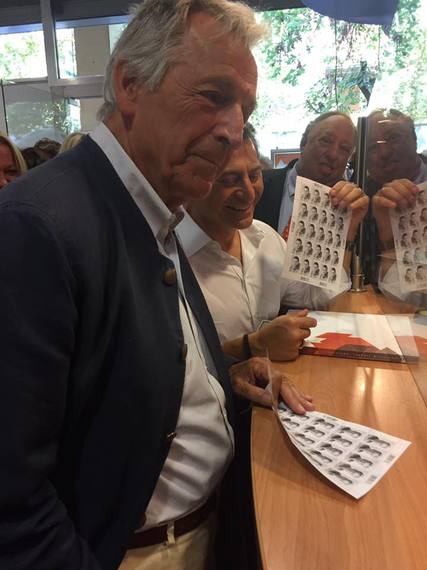 Costa Gavras buying his own stamp
Catsimatidis was asked how Greek-Americans could help Greece in these difficult times. He replied that, in order to encourage investment, it would require guarantee mechanisms be put in place and that the New York Congresswoman, Carolyn Maloney, who is in Greece with him, is working on ideas in that direction. He also noted that the current mass exodus of scientific minds from Greece is a wound that must be closed, as the country will be stripped of its talent, and that something must be done in order to ensure they remain and return.
Peter Diamandis said that he does not want to listen to words about a "Greece of the glorious past" but that he seeks a country with new visions that will build opportunities for its citizens and attract Greeks from abroad to invest in it.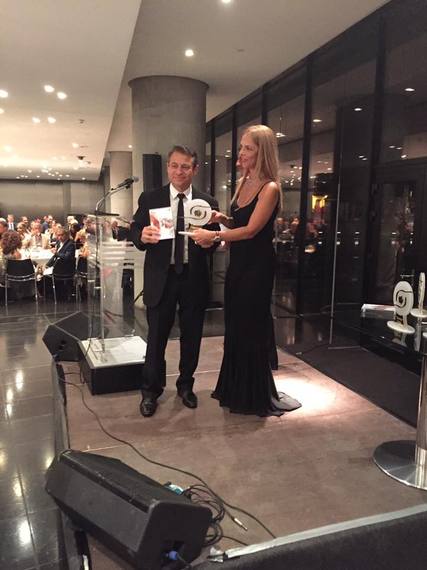 Peter Diamandis receiving his award form the president of the IFG, Ms Aspasia Leventis
During the award ceremony, at the urging of Aspasia Leventis, along with the very able support of the Mayor of Marathon and television persona, Ilias Psinakis, IFG received pledges for two medical ambulances (valued at 75,000 euros each), one from the Greek businessman, Dimitri Kontominas, and another from John Catsimatidis, as part of IFG's drive to raise funds for six of these vehicles.
The ceremony was masterfully presented by the writer and journalist, Yorgos Archimandrite, while a heartwarming musical interlude was performed by the beloved Belgian songwriter, Salvatore Adamo, who was accompanied by his daughter, Amelie.
Calling all HuffPost superfans!
Sign up for membership to become a founding member and help shape HuffPost's next chapter