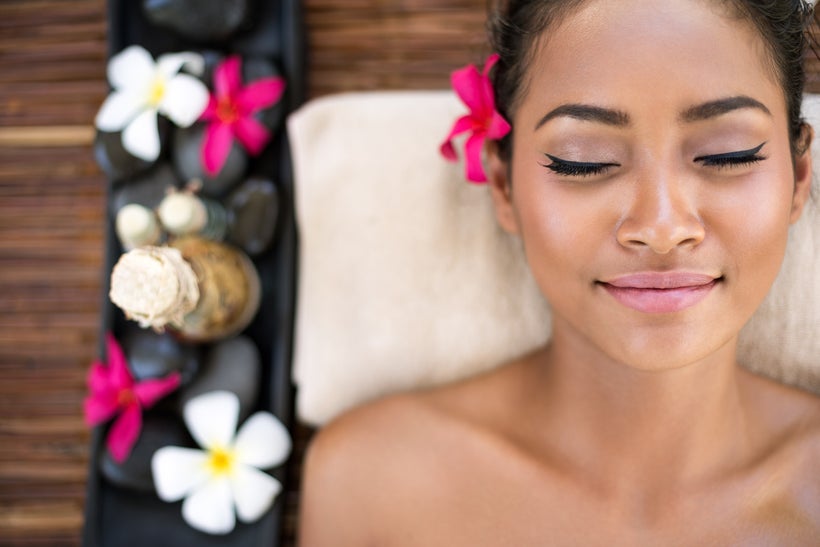 Valentine's Day. It's coming. It's been coming since the morning after we welcomed in the New Year. It's been taunting us in every hue of red and pink from the aisles of every superstore, everywhere. But this Valentine's Day, I have something different in mind from the usual romantic dinner and box of chocolates.
Don't get me wrong, it's not that I am spending this Valentine's Day single. I've got a built-in date by the name of "husband" ready to take me to dinner wherever I want – and I love him for that.
But it's this thing called empowerment that has me feeling as if I need to celebrate a bit differently this year. It has me feeling like the average box of chocolates and standard bouquet of red roses just aren't going to cut it. It's this thing called self-love that makes me want to grab every woman I see and tell her to celebrate Valentine's Day with herself because the love within her is the greatest love she'll ever know. It's this thing called "I love everyone in my life so hard every single day that now I want to spoil myself for once" that has me feeling as if I can make this Valentine's Day the best one ever, all by myself.
Whether you're single, married, divorced, or even nursing a broken heart, the only person you're going to need to celebrate this upcoming day of love with is yourself. I'm not saying drop the potential dates you've got lined up, but I'm definitely saying to take some time to honor yourself and celebrate the incredible being that you are – because I've got the perfect self-love activities to help you fall in love with yourself all over again this Valentine's Day.
And if you've got a significant other wondering why you're choosing to indulge in yourself, by yourself, tell that lover of yours that you have to love yourself first – and hard – before you can continue loving anyone else
Here are the five steps to celebrating Valentine's Day like the empowered woman that you are.
Step 1: Drop the idea that you need someone else to celebrate with you. You don't. You're all you need – trust me. Even if you're coupled up with the most romantic and generous person on earth, you're not going to feel as loved as you should if you don't love yourself.
Step 2: Don't believe the hype. Social media, especially around the holidays, is a big, fat, fallacy. It's all fake. The guy showering his girlfriend with fancy purses and diamonds could very well also be the guy who has a penchant for other women. Don't believe the hype, and don't compare yourself to others. The harder you love yourself, the less you'll care what those around you are doing.
Step 3: Say no to plans that don't excite you. Does an empowered woman spend time with those that don't interest her much just to fill a spot on the calendar? No way. Would an empowered woman accept a date on Valentine's Day with someone she's just not that into? Absolutely not. It's always better to be alone than in bad company. Always.
Step 4: Stay yes to things that do excite you! Make plans to do something decadent with yourself. Make plans to splurge on yourself. Make plans to enjoy your alone time like crazy. Not sure what it is you can do? Try a spa day. And if you really want to spoil yourself, follow my lead here*:
*Book that spa day at one with the most fabulous spas you'll ever set foot in – one of the top 25 in the world, to be exact. Book yourself a day at the Eau Palm Beach Resort and Spa in Palm Beach, Florida. Make sure to ask for the Queen of Hearts, a facial and massage experience complete with your own private soaking tub, since you're the queen of your own heart. Then simply sit back and let the cupcakes and champagne wash over you as you think to yourself "I don't need anyone but myself today!"
Step 5: Repeat these steps as many times as you need to throughout the year.
Just like your significant other should love you hard on the other 364 days of the year, you should indulge and invest in yourself regularly. It's what an empowered woman does, after all. And you my dear, have all the power to be empowered.
Calling all HuffPost superfans!
Sign up for membership to become a founding member and help shape HuffPost's next chapter
This post was published on the now-closed HuffPost Contributor platform. Contributors control their own work and posted freely to our site. If you need to flag this entry as abusive,
send us an email
.