Not for nothing have some of the world's most famous authors dwelt literarily on and physically in the islands of the South Seas, the mystic beauty of their soaring jungle-clad precipices and palm-girt atolls and the outsized personalities of their outsized denizens serving as muse and inspiration. Here are some of the South Pacific's lesser known literary locations.
Mention Robert Louis Stevenson, and most people will say Treasure Island. Pressed further they might try Samoa, where the Scottish writer spent his final years under the Samoan name of Tusitala, Teller of Tales.
But few are likely to offer up Abemama, a tiny speck of just over 10 square miles in the republic of Kiribati, 10 feet above the turquoise waters at its highest, just 150 feet across at its narrowest. Pedantically speaking, it's not even in the South Pacific since it's 20 miles north of the Equator.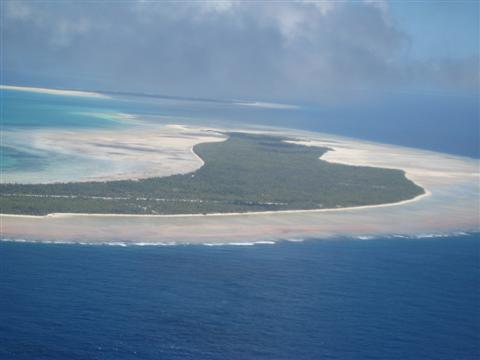 Abemama from the air
But physically and spiritually it's everything you expect of a South Pacific atoll, and it was here in 1899 that RLS spent several months, befriending and befriended by one of the more colourful of his characters, King Tem Binoka, immortalized in In the South Seas, his posthumously published collection of essays and articles.
For RLS, Tem Binoka was a would-be Pacific Napoleon, the tyrant of a tiny island seeking to expand his empire over the larger atolls of the then Gilbert Islands until the British thwarted his ambitions.
The much-wedded king, who spent his evenings playing cards with his wives, was also a trader who put visiting ships' captains in three classes -- 'He cheat a little,' 'He cheat plenty,' and 'I think he cheat too much.' He would not deal with those he thought overly cheated. His royal seed still reigns, if not rules, to this very day.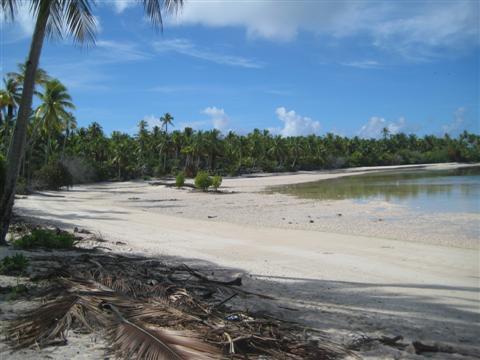 Island beach
King Don, Tem Binoka's great-great-great-great grandson, arrives outside the atoll's pub, a concrete block building with a green door, aboard a motorcycle, in undershirt and shorts, a crucifix around his neck. Abemama is the only place in Kiribati that still has a king. Don has no political power but wields traditional influence among the atoll's 3,500 inhabitants, and further afield. He's in his late 50s, with glasses and a full head of grey hair.


King Don on shore of his sceptered isle
Yours Truly has managed to hitch a ride on a plane from Tarawa, Kiribati's main atoll, chartered by Australian aid workers, one of whom now asks Don what it feels like to be king.
"Like a dog with no teeth," His Majesty retorts, noting that his title is no more than a word.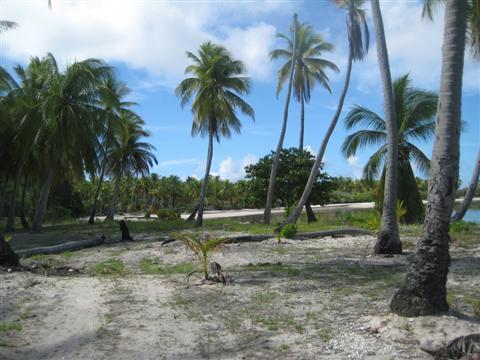 Abemama, looking 'inland'
We chat away outside the pub, beneath a huge full moon and the equatorial stars as the towering palms etch their dark silhouettes onto the horizon. King Don agrees to accompany us tomorrow on a tour of his realm.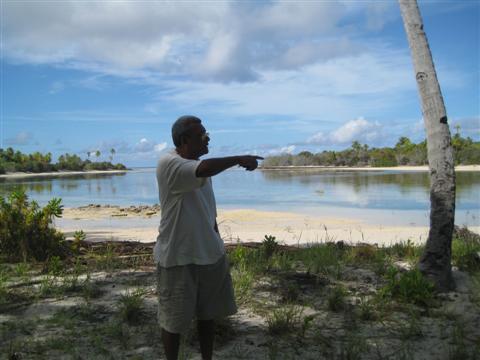 King Don points out a site
The Aussies, briefed on island customs, bring blocks of tobacco to leave for the spirits by the base of trees. That is until King Don set us right.
"We don't do that here," he says from atop our crapped out flat-bed truck. "It's only done off shore on Biike Island. The locals are obviously putting out a false story to rip you off. As soon as you go, they'll nip out of the trees and take the tobacco."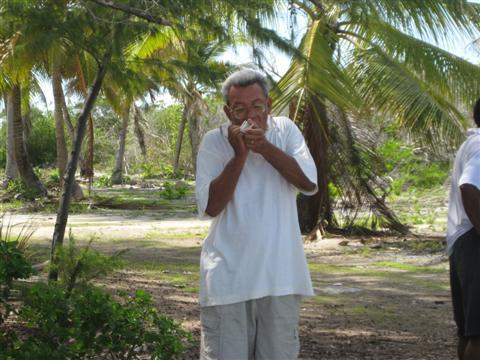 King Don restocks his pipe
Between the sites of his ancestors' doings and those of the World War II American invasion, he's having a ball, forever filling his pipe as he tells all. He succeeded to the throne on the death of his father, King Paulo, in 2003. He's had six wives. "When you're young, you make mistakes," he says.
We pass Tem Binoka's tomb under the palms near the shore. It's in a bit of a shambles. It used to have a roof, which collapsed. Now nobody dares fix it -- they're too scared of his spirit to touch anything belonging to him. Nearby a small square of concrete is all that remains of RLS's house.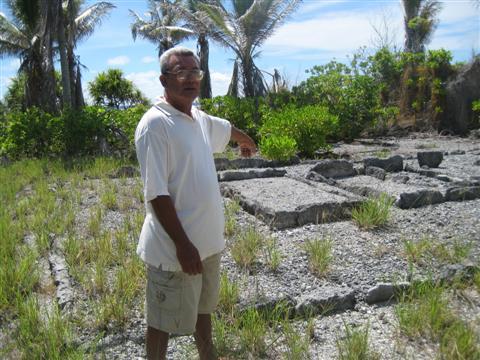 King Don at Tem Binoka's grave
RLS described Tem Binoka, who Don says died from syphilis brought by European and American whalers, as something out of Dante, one day wearing a woman's dress, the next the uniform of a captain, the next a traditional lavalava sarong.
Befriended though he was, there must have been many aspects of great-great-great-great grand-daddy that RLS did not approve of, Don says, including his use of a human rooster -- a man forced to live up a palm tree and crow every morning when the sun poked above the horizon.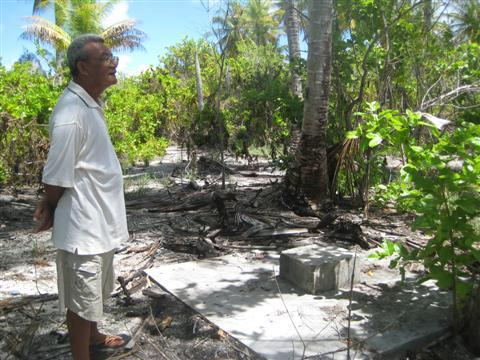 King Don at remains of Robert Louis Stevenson's house
Because a lady is present, His Majesty gives us what the Aussies call the G-rated tour. He doesn't broach what is perhaps Tem Binoka's most famous legacy to his atoll -- its nation-wide sobriquet as the University of Oral Sex. One of Binoka's women had sex with a French sailor and went into raptures when the king asked her what it was like. Intrigued, he ordered the sailor brought to him to do an encore.
An avid learner, the king was from then on an ace at oral sex. As he enjoyed the self-given right of deflowering every virgin in his realm, he passed his skills on to his subjects who were as avid learners and practitioners as their ruler, thus earning the atoll its academic honorific.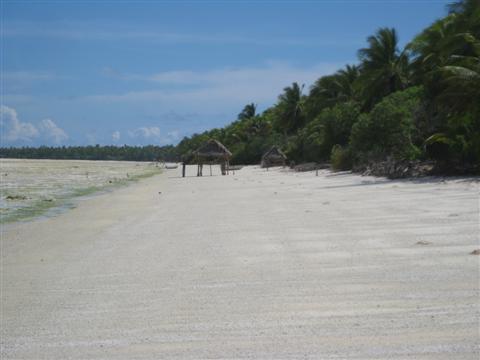 An Abemama beach
Mention Herman Melville and most people will say Moby Dick. But few are likely to offer up Nuku Hiva, a mountainous island in the Marquesas in the far eastern reaches of French Polynesia, where the American author lived among 'noble cannibals' for three weeks in 1842 and found the material for what was his best-selling book during his lifetime, Typee.


Nuku Hiva's drier section
Today there is no royal descendant to recount tales of those who captured Melville after he deserted a whaler, but the views through flowers over Taipivai valley, which gave its name to his bestseller, are as spectacular as ever, as is much else on the 154-square-mile island.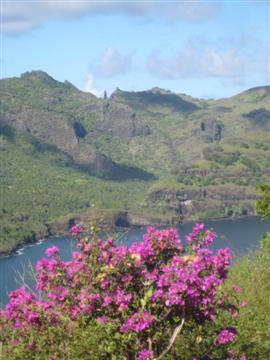 View above Taipivai
It is a magnificent place of huge volcanic pinnacles, spires, towers, spines, canyons; in parts it's dry, in others lush with exuberant vegetation, huge ferns, multiple fruit, enormous grapefruit plunging from trees, sour sop, star fruit, mango, pawpaw, flowers in every shade of purple, red, pink, white, yellow -- a true Garden of Eden.


Nuku Hiva view
And killer coconuts, too: suddenly there's a hugely heavy thud. A massive coconut has crashed to earth just a few feet away. Then another, and another. Get one of those on the head and you're a goner.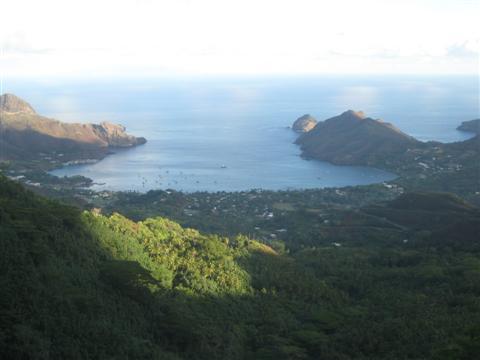 View over Taiohae
In the north-east the little village of Hatiheu basks on a turquoise bay against the backdrop of the Needles, a massive craggy outcropping with jagged claws tearing at the darker blue sky.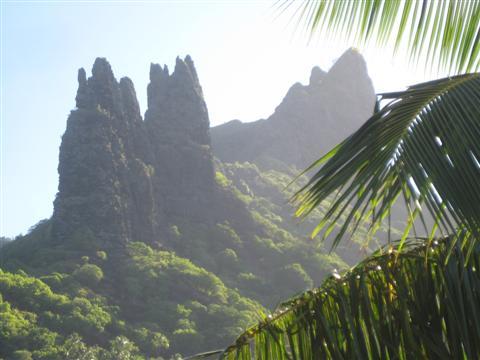 The Needles
In the south,Taiohae, the capital, lazes at the end of a narrower inlet against soaring mountain walls of deep green.


Taiohae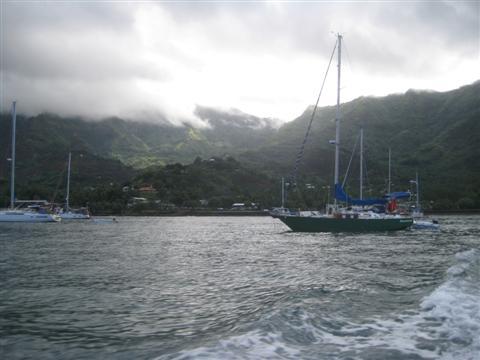 Boats in Taiohae harbour
To the south-west, hike for hours from Hakalea Bay into rain forest and narrow gorges with escarpment walls towering 2,000 feet, ford three rivers beneath furrowed moss-covered folds of granite, crab-walk over slippery boulders (yes, I bite the dust three times), don helmets against falling rocks, and you'll come to Vaipo waterfall coursing 1,150 feet down the cratered sides of encircling cliff walls.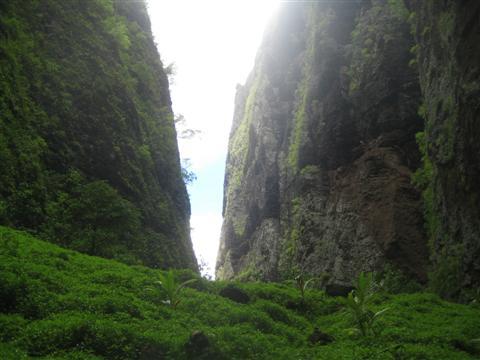 Gorge on way to Vaipo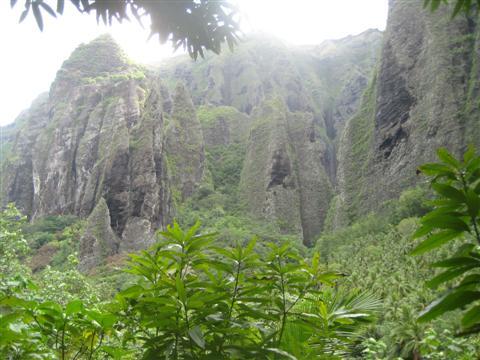 Scenery on way to Vaipo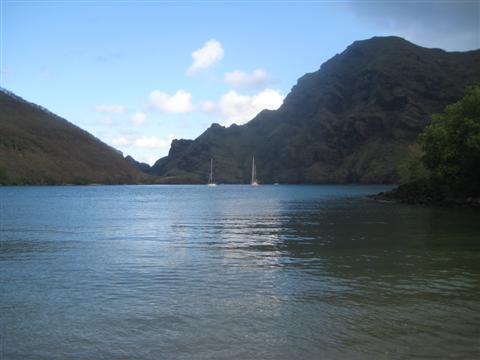 Hakalea Bay
Mention The Mutiny on The Bounty and most people will say Tahiti or Pitcairn. But few are likely to offer up Tubuai, in the Austral Islands, in the south-west corner of French Polynesia, where Fletcher Christian and his fellow mutineers, would have found a permanent home, after dumping Captain Bligh and Co overboard, and never moved on to Pitcairn Island had the locals not continually attacked them.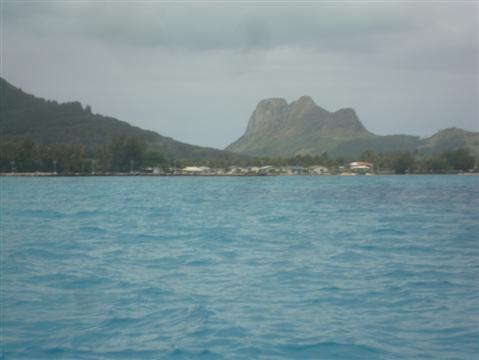 Tubuai from the lagoon
All that now remains is a green patch of grass and weeds where Fort George, the mutineers' stockade, once stood. If you look hard enough at the grass, they say, you can see the marks where the posts were driven in -- which is a damn sight more than Yours Truly can see. You must need X-ray eyes.


View from where The Bounty's Fort George once stood
Nearby, Bloody Bay earned its name when the locals took arrows and lances in their pirogues to battle the musket-armed Bounty, staining the azure waters carmine as they fell like nine pins.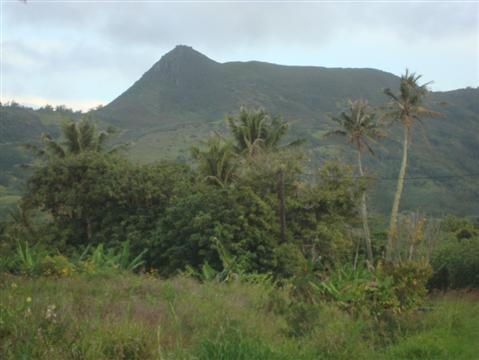 Tubuai view
As elsewhere, Tubuai is hyper-beautiful: 17 square miles of giant crags and pinnacles, lush vegetation and palms, an incredible variety of brilliant flowers, a lagoon in a myriad hues of turquoise, green islets on the surrounding reef -- and a six-man canoe speeding along in practice for an inter-island regatta. The ruins of maraes, ancient stone religious shrines, line the shore.
Yet but for the locals' animus, Mark Twain's The Great Revolution in Pitcairn would have been The Great Revolution in Tubuai , and Errol Flynn, Clark Gable, Marlon Brando and Mel Gibson would have been cavorting on some ersarz Hollywood Tubuai instead of some ersatz Hollywood Pitcairn.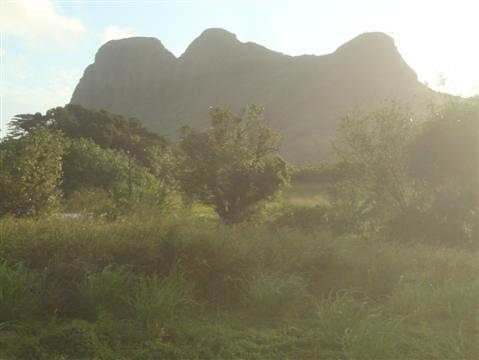 Another Tubuai view

Bali Hai
Mention James Michener and the musical South Pacific, and most people will say Bali Hai. This is a trick question, since Bali Hai, where Bloody Mary does her business with U.S. troops, is a mythical island. In Michener's book it stands for Ambae in Vanuatu, near Espiritu Santo where he was based in WWII.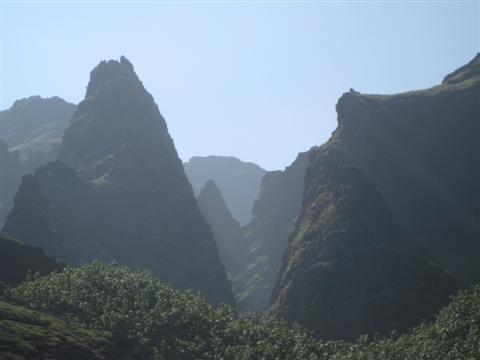 South Pacific goes north, Kaua'i's coast
The film avoids the South Pacific altogether. It was shot in the North Pacific on the north coast of the Hawaiian island of Kaua'i, at Hanalei Bay, with Mt. Makana standing in for Bali Hai's volcanic cone. But the scenery is none the less spectacular, with mountains plummetting down to the sea in fluted escarpments, vast valleys of green, craggy canyons and plunging waterfalls.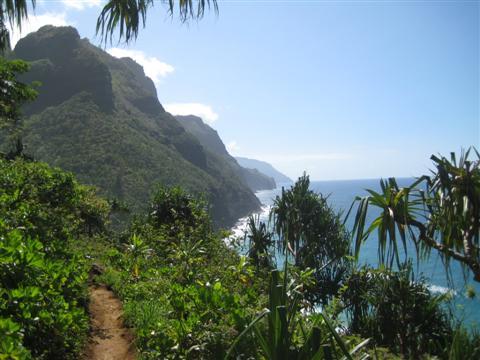 Hawaii's Bali Hai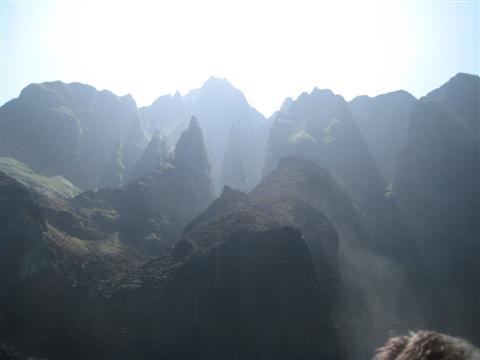 Another Kaua'i view
Here on Lumahai Beach you can wash that man right outta your hair at the very spot where Mitzi Gaynor did likewise in 1958.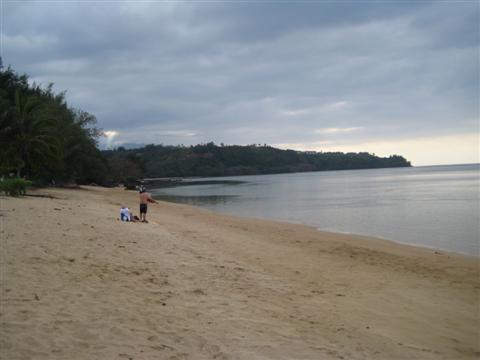 Here Mitzi Gaynor washed that man right outta her hair
Ah yes, Treasure Island, where we started all this. RLS never gave a clear location, and for all his love of the South Pacific, none of the spots posited by others comes anywhere geographically close.
Some suggest the Caribbean's balmy warmth, like Norman Island or Dead Chest rock in the British Virgins, or Cuba's Isle of Pines (now the Island of Youth). Others prefer far more frigid climes, like Fidra in Scotland's Firth of Forth.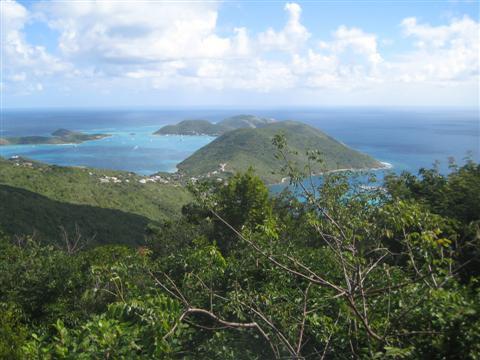 British Virgin islands, Virgin Gorda
Yet others go even further north, close to Norway, to Unst in the Shetlands, because RLS's map of Treasure Island could, if you squint hard enough, bear a faint resemblance to that windswept isle.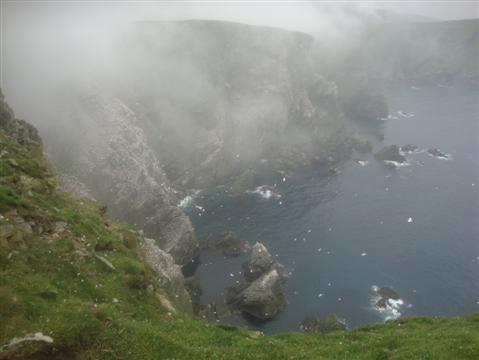 'Balmy' Unst
In which case, for all Unst's mystic beauty you might want to let your imagination run riot and plump right back into the South Pacific anyway.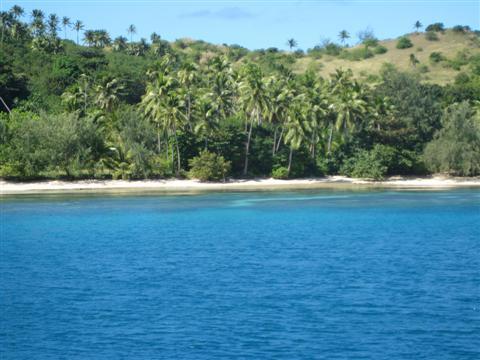 Like here, back to the balmy South Seas