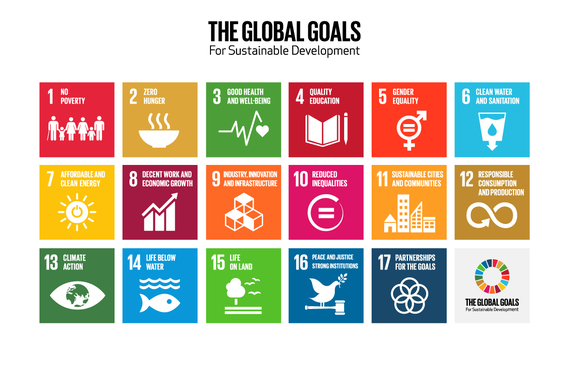 The U.N. Sustainable Development Goals (which hopefully will become known as simply the Global Goals) launch this week - signed in New York by 193 heads of state. The 17 goals lay out the steps we need to take to address two huge challenges: eradicating extreme poverty and ending climate change. The challenge now for the development community is to translate a complex set of ambitious goals into smart communications and advocacy strategies so that they become well-known to the general public and are supported as much in the private sector as they are by government and development organizations.
Job one is shifting to a rich storytelling and content strategy and getting beyond numbers - like 17 (goals) or 169 (targets). We have to tell stories of real people, lifting themselves out of poverty, to illustrate how important the Global Goals are to the future for everyone around the world. Historically, the development community has talked too much about itself and its mission. Today, the most effective communications will come from talking about those we serve and how our support dramatically improves their lives.
There are several proven ways to shape stories and narratives to match people's worldview and to counteract skepticism that we can draw from to help make our collective communications more effective. Here are five guiding principles for telling compelling stories about the Global Goals:
Fishing, not fishes: Stressing self-reliance is critical. How often have we heard people lament a dollar spent abroad when there are so many problems at home? Showing a hand-up and not a hand-out helps mitigate negative reactions. Our stories need to feature - and celebrate - the active role people are taking to achieve greater self-reliance through our development programs and, ultimately, building their own futures.
Never pity: Anyone who has traveled in Africa, as I have, undoubtedly has a story of people's ingenuity and resilience in even the direst of circumstances. Our stories must show people's daily determination, personal pride and unwavering persistence. This is not only the right story to tell, but is particularly effective in engaging skeptical audiences.
Progress in context: Progress stories are the proof points that the Global Goals are achieving real results. But, progress alone isn't the story. We have to be careful to place all of our stories in a wider context. Progress will only be sustained by local leaders taking charge of their own communities.
Show what we stand to lose: The message is simple: we can't stop now. Momentum is a wonderful force. The stakes are incredibly high, especially for climate change. There will be real consequences to not meeting these goals.
We're all in this together: Show that responsibility - and risk - is shared. People never want to go it alone. They want to see that the Global Goals are truly global and that the private sector, civil society and governments are coming together to add their expertise. And, most importantly, jointly shoulder the responsibility and hold each other accountable.
These are fundamental truths that can strengthen the effectiveness of our storytelling - and accelerate our shared progress in achieving the Global Goals.
Disclosure: Weber Shandwick works with various agencies within the United Nations.
Calling all HuffPost superfans!
Sign up for membership to become a founding member and help shape HuffPost's next chapter