It can be next to impossible to keep up with and sort through all of the healthy eating trends these days. The low-fat, low-carb, sugar-free, paleo eating plans are confusing, and it is hard to know which to trust because they change so quickly. At any given time there is likely a new book on the bestseller list touting the latest and greatest way to eat healthy. In my experience, fads come and go, but what continues to resurface is balance and moderation. As a working mother I know that it can be a struggle to find the time and effort to eat the way I know we should, the way I want to and the way that makes us feel our best. We all have moments of breaking, whether it is a catered-in work lunch, needing to quickly get the family fed, or having a friend send homemade cookies to sample for a new burgeoning sweets business, the key is knowing that every day is a new day and every meal is another opportunity to make a healthy choice. If we focus on eating more plant-based, whole foods, try to fill our plate with a variety of color, and prepared the majority of our meals at home, we can rest assured that we are on a healthy-life track. Being together in the kitchen, sitting down to a family meal, and feeding my family healthy food are things that I prioritize. It gives me joy to see my kids munch on veggies and it sends me to Jupiter and beyond to hear that my son's friend now brings hummus, pita chips and veggies in his lunch because he was introduced to it at our house. Over the years, I have found some surefire tricks, shortcuts and general guidelines that make staying on track much easier to do.
This one can make or break me for the week. If I carve out some time over the weekend to meal plan for the week ahead, the difference is astounding. Sometimes I involve my family in the meal plan preparation. This can be especially helpful with kids because I have found that they are more likely to eat what I make when they feel like they had some input into the decision making process. They each love to be the one to write the simple weekly meal calendar and they get excited since they know what to expect, especially if it is one of their choices. This simple activity also helps prevent waste; when I look at the big picture I find more ways to incorporate leftovers and stretch my grocery budget. Additionally, it helps to balance out what we eat over the course of the week; for every meal the goal is for half of your plate to be filled with fruits and vegetables, a quarter with whole grains and a quarter with lean protein. Keep that same goal in mind when filling your grocery cart. A rainbow of colors from the produce isle should make up the bulk of your groceries; the rest should be whole grains and lean protein. And don't forget that lean protein does not have to be meat; There are plenty of plant-based protein sources as well, including beans, legumes, vegetables, tempeh, tofu and more. According to Common Threads Cooking for Life Handbook, a resource packed with easy to understand information and quick tips that every cook can use to make their kitchen a healthier and more affordable place, we should aim to eat three to four different colors of vegetables and fruits in each meal to get a variety of nutrients!
Often times we somehow forget that we are going to eat dinner until five minutes before we are ready for it. Desperation eating is eating that moment when you realize you are hungry, which often leads to grabbing the quickest, easiest thing to satisfy that hunger. I have learned through experience that the more advanced preparation I can do the easier it is to throw a tasty, nutritious, weeknight meal together and avoid making poor choices based on convenience. When you get home from the grocery store, put everything away in the pantry and freezer, but keep your vegetables out and get out your cutting board. Cut your veggies into small, usable sized pieces and store them in your fridge in airtight containers. I like to use glass jars or clear plastic containers so I can easily see what is in them and grab them to get eating or cooking. I cut veggies into sticks for snacking; cubes for a stir-fry, tacos or roasting; dicing for other recipes such as chili, spaghetti sauce, turkey burgers, or meatloaf, depending on what my meal plan for the week includes. Having clean, washed and ready-to-eat fruits and vegetables in the refrigerator means you and your family can grab those for easy snacks. I keep the trimmings and not-so-pretty parts for stock that I try to make every other week. My friend Domenica Catelli (aka Momalicious), inspired me to always buy the good homemade bread from the bakery and make sandwiches right after you buy the bread and freeze it. The sandwich keeps everything else cold in the lunch bag and defrosts by your child's lunchtime. Another bonus is that it is easier to throw together lunch in the mornings; and as they get older they can participate more until they are getting their own lunches ready.
Without a doubt the most essential kitchen tool that everyone needs is a good chef's knife. It doesn't need to be too fancy or expensive. Keep it sharp by using a steel sharpener, or you can have it sharpened at any cooking supply store. Keeping your knife sharp not only makes it easier to use but also makes it safer to use. Don't run the knife through the dishwasher and make sure to keep it somewhere it will not get banged up, such as a knife block. It is important to practice safe knife skills and use proper technique. Below are some of the basic techniques that our certified chef instructors teach to Common Threads participants. Kathleen Flinn, author of "Burnt Toast Makes You Sing Good" and many other cookbooks, has a great video demonstrating some of these skills that can be found here.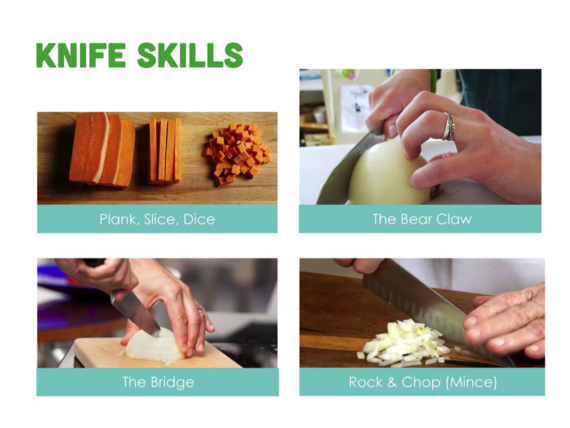 Cooking in batches is a huge time-saver. Set aside part of one day each week, for me Sunday works best, to do some batch cooking. Tomato sauce, beans, rice, and many meals can all be made in batches and frozen to use later. I like to make the batch items while I'm chopping vegetables to add to meals throughout the week. Learn to roast a chicken, unless you are a vegetarian, which can also be stretched to last several days and incorporate into various meals.
Michelle Bernstein shared two, easy-to-follow recipes with me that are always safe bets. One of the recipes, Michelle's own and personal go-to, involves prepping a whole chicken right when you get home from the store. Trim your chicken of all fat, rub it down with olive oil salt and pepper, and let it sit in the refrigerator for a day. On the next day, fill a stockpot half full with unsalted chicken stock and throw the chicken in. Bring the stock to a boil; add dill, your chopped vegetables and squash. Remove the vegetables once they are soft and cool on a rack. Once they are cool put them in a Ziploc and you have your prepped veggies for the week! When the chicken is done -- pull it, let it cool and put in a storage container to use as needed for meals. The possibilities are endless. You can use it with tacos, stir fry and, of course, use some for the soup you just made -- just add some whole wheat pasta or brown or wild rice to your stock and you have a flavorful and healthy soup. The other recipe, which Michelle Bernstein assures me works every time, is from Marcella Hazan and can be found at the end of this article.
I usually make a large batch of brown rice on Sundays; we have some that night with dinner and then my daughter (who is "over sandwiches") eats it all week in her lunch. I also make a big egg white frittata on Sundays; I use 12 egg whites, my prepped veggies (peppers, onion, tomatoes and spinach), and some good sheep milk feta that, when stored in a tight screw top Tupperware, lasts a significant amount of time. That is breakfast for that morning and lunch for a couple of days; served along side a simple kale salad that I also throw together on Sundays. Kale is such a hearty green that it is great for prepping before you are going to eat it and it holds up great, as opposed to most salads. Wash and dry the kale and then massage an entire bundle of it with salt, pepper, and one tablespoon each of olive oil, orange juice, and vinegar. It is delicious, full of nutrients and usually stays fresh till Thursday. Throw some roasted pumpkin seeds or nuts on for a little crunch and there you go!
5. Make things easy on yourself
Try to think ahead in order to simply the process. Think about and research meals you can make with one pot, in the slow cooker, or on a sheet pan. I have taught my closest girlfriends some of these recipes and they in return share their new easy fast go-to meals. Use parchment paper when possible, for cooking on a sheet pan and to cook fish in, sealing in the flavors and juices and making clean up easy. Plan meals with common ingredients in order to maximize your groceries and save time. For example, if you prepare a whole roast chicken one night, plan chicken tacos for the next night and chicken stir-fry for the night after and you are already halfway there. Use your chopped up vegetables and add them to a healthy portion of whole-wheat pasta, using a salted pasta water and chicken or vegetable stock to create a flavorful sauce, for a filling and nutritious dinner. If you feel like you need something a little creamier with your pasta, try adding feta, gorgonzola or goat cheese to taste. Those cheeses can go on top of your salads, be made into sandwich spreads and in your frittata.
It definitely takes a bit of thoughtful planning and preparation, but it doesn't have to be too difficult. By setting aside a little bit of time in the beginning of the week you can set yourself and your family up for healthy options all week long. Think of it as an investment in your family. And once the week wraps up instead of going to a restaurant on a Friday night, where you will be served huge portions of food with questionable ingredients, likely leave feeling uncomfortably full, and spend too much money; try welcoming the weekend with a simple, healthy meal in an environment where you can truly enjoy each other's company.
• 3- to 4-pound whole chicken
• Salt, to taste
• Fresh ground black pepper, to taste
• 2 small lemons
1. Preheat oven to 350 degrees.
2. Wash the chicken thoroughly in cold water, both inside and out. Remove all the bits of fat hanging loose. Let the bird sit for about 10 minutes on a slightly tilted plate to let all the water drain out of it. Pat it thoroughly dry all over with cloth or paper towels.
3. Sprinkle a generous amount of salt and black pepper on the chicken, rubbing it with your fingers over all its body and into its cavity.
4. Wash the lemons in cold water and dry them with a towel. Soften each lemon by placing it on a counter and rolling it back and forth as you put firm downward pressure on it with the palm of your hand. Puncture the lemons in at least 20 places each, using a sturdy round toothpick, a trussing needle, a sharp-pointed fork, or similar implement.
5. Place both lemons in the bird's cavity. Close up the opening with toothpicks or with trussing needle and string. Close it well, but don't make an absolutely airtight job of it because the chicken may burst. Run kitchen string from one leg to the other, tying it at both knuckle ends. Leave the legs in their natural position without pulling them tight. If the skin is unbroken, the chicken will puff up as it cooks, and the string serves only to keep the thighs from spreading apart and splitting the skin.
6. Put the chicken into a roasting pan, breast facing down. Do not add cooking fat of any kind. This bird is self-basting, so you need not fear it will stick to the pan. Place it in the upper third of the preheated oven. After 30 minutes, turn the chicken over to have the breast face up. When turning it, try not to puncture the skin. If kept intact, the chicken will swell like a balloon, which makes for an arresting presentation at the table later. Do not worry too much about it, however, because even if it fails to swell, the flavor will not be affected.
7. Cook for another 30 to 35 minutes, and then turn the oven thermostat up to 400 degrees, and cook for an additional 20 minutes. Calculate between 20 and 25 minutes total cooking time for each pound. There is no need to turn the chicken again.
8. Whether your bird has puffed up or not, bring it to the table whole and leave the lemons inside until it is carved and opened. The juices that run out are perfectly delicious. Be sure to spoon them over the chicken slices. The lemons will have shriveled up, but they still contain some juice; do not squeeze them, they may squirt.