Yes, I know we're in the throws of Milan Fashion Week after already completing London. But, I'm still basking in the memories of my own experience of being at more than 40 shows at New York Fashion Week. Now, I write beauty so backstage is where my stories live. Of course I attended a few shows, but for me, the real magic was watching the models morph into the designer's spirit animal before the show.
After reliving the week by browsing my photo diary (see slideshow at the bottom), I came up with my top five fashion week revelations:
1. If you're a beauty writer backstage at fashion week, you will interview the makeup artist and hairstylist hall of fame. Between makeup artists like Tom Pecheux (above) and Diane Kendal and hairstylists like Orlando Pita and Sally Hershberger, these legends have prettified every major celebrity and model. We're talking hundreds of magazine covers and international campaigns. I've read about these icons' artistry for decades, and I got to ask them about their inspiration and watch them perform their craft. Like I tweeted out, "Getting to interview makeup artist Tom Pecheux was like my husband playing catch with Jerry Rice."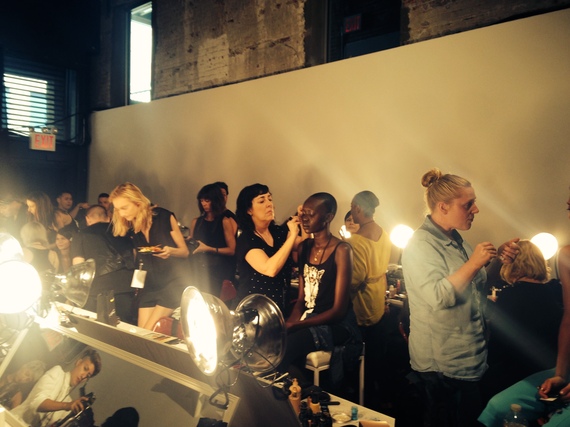 Photo by Janna Mandell
2. Holy fuck those lights backstage are hot. I was sweating like a whore in church basically the entire time. I just couldn't understand how the models' makeup didn't melt off their face. In fact at times I was pretty sure I was the only one shvitzing. There must be some secret to staying cool and shine free backstage because I can assure you I gave every powder, blotting sheet, and anti-shine primer a chance to make me look like I wasn't having a hot flash. Spoiler alert: nothing worked!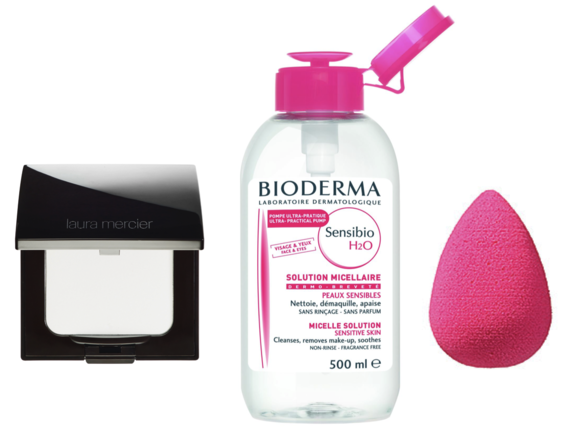 3. I saw the same three products on every makeup artist's table regardless of which makeup brand sponsored the show. So, basically if a brand like M.A.C. or NARS sponsors a show, you guessed it, the makeup you hear about is of that particular brand. But, after close inspection of several makeup artist workstations I noticed three constants -- Beauty Blender, Bioderma Sensibio H2O makeup remover and Laura Mercier Invisible Pressed Setting Powder.
The Beauty Blender makeup sponge was used to apply, blot and blend EVERYTHING. From dipping Beauty Blenders in foundation and moisturizer to give skin a dewy finish to cleaning up black eye shadow that had fallen under the eye, Beauty Blenders were the MVPs backstage.
A model's skin can get pretty angry after being scrubbed and spackled numerous times a day. And, it seemed like every makeup artist I saw cleansed the models' faces with Bioderma Sensibio H2O makeup remover, a French import known for its ability to remove the most stubborn makeup even on the most sensitive skin.
Even at shows sponsored by rival makeup brands, I saw the Laura Mercier Invisible Pressed Setting Powder being used to control shine and give skin a soft focus finish. Whether swept along the t-zone with a kabuki powder brush or blotted with a Beauty Blender under the eyes, this powder was everywhere.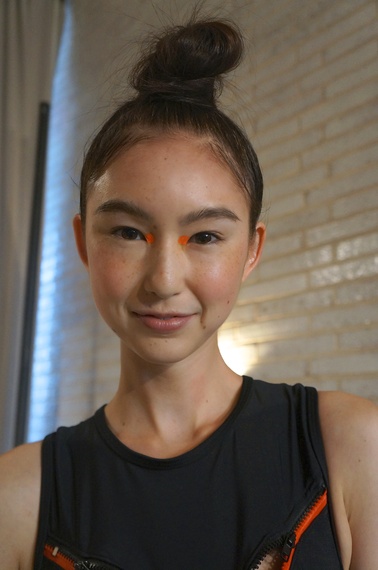 Photo by Janna Mandell
4. 99 percent of the models are incredibly adorable and sweet. I thought for sure the models would be bitchy because they're so beautiful (and I assumed hungry) but most of them have this childlike sweetness to them. And, it doesn't matter if you're holding up a $15,000 camera or an iPhone they will stop what they are doing to give you a killer pose. (See the slideshow below for further evidence)
5. Models eat! For sure I thought I would see models chomping orange juice-soaked cotton balls or nibbling tissues, both model myths I'd heard through the years. You better believe as soon as the catering spread was set up backstage the models were shoving anything they could find in their mouths.
Check out the slideshow below to see more backstage moments from New York Fashion Week!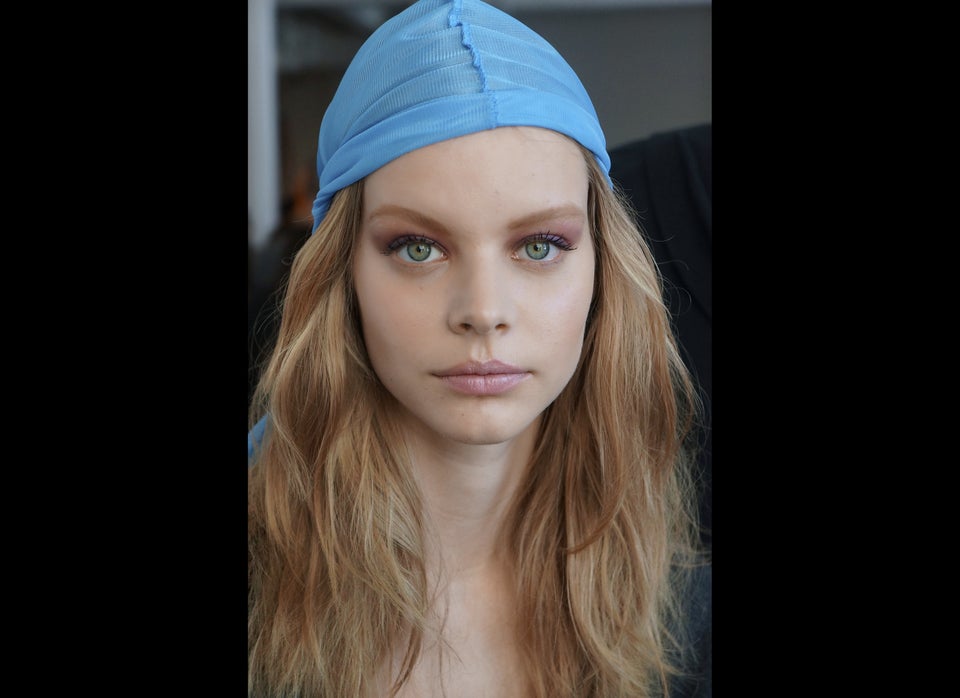 Backstage New York Fashion Week Spring 2015 Beauty Photo Diary