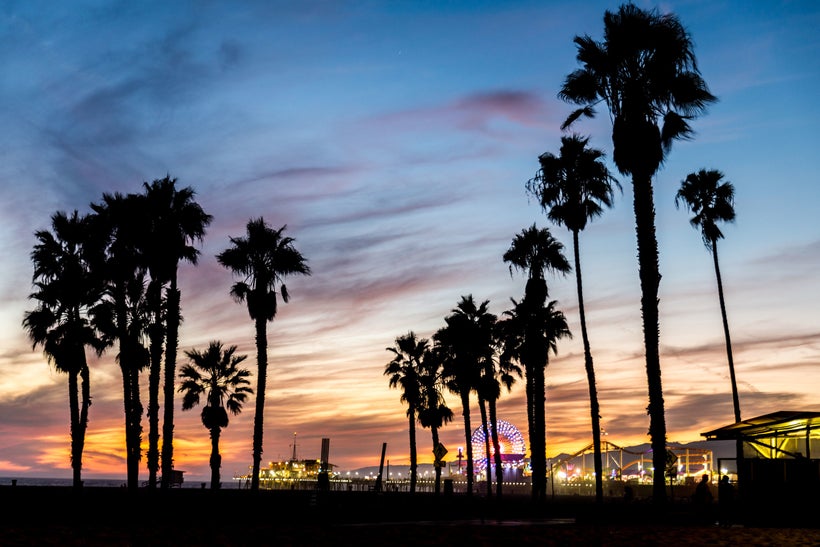 Who wants to live in a valley when you can live on the beach?
That's a question that more and more entrepreneurs are starting to ask themselves thanks to the high cost of living in Silicon Valley and the fierce competition for tech talent. In contrast to Palo Alto and Menlo Park, Silicon Beach – an area of west LA with a high concentration of startups – is more approachable and often more accessible.
Part of the reason for this is that while tech still plays a big role in the Silicon Beach scene, it's a more diversified and all-encompassing type of tech that plays into other industries, such as tourism, entertainment and finance. While Silicon Valley is all Adobe and Cisco, Silicon Beach is all Snap Inc, Buzzfeed and Hulu.
Both locations have their own specific scene and their own unique vibe, but Silicon Beach is earning a name for itself that's pulling in entrepreneurs from all over the world and rightfully making it one of the hottest destinations for tech startups on the planet. Let's take a look at five things you need to know if you want to understand why.
1. The people are incredible
There's a perception of LA as being full of failed actresses working in coffee shops, cynical Hollywood types who'll rip off their own grandmother and people with fake body parts and even faker personalities. But that's simply not the case, especially amongst the tech scene.
The truth is that there are occasional bad apples everywhere, but Los Angeles is no worse than anywhere else and you'll find no shortage of fascinating founders and insightful entrepreneurs who fill you up with ideas and inspiration.
Perhaps it's the weather or something in the water. Whatever it is, you're sure to find that most people are friendly, whether you're waiting in line to buy a bagel or whether you're networking at an exclusive event.
2. The traffic isn't as bad as people think
Sure, getting trapped in traffic during rush hour can be a bit of a nightmare, but that's the same in any major city. The key to surviving it is to learn to think outside the box. Many founders and entrepreneurs work skewed hours so they don't get stuck in the 9-5 commute, or they use their time in the car to mentally prepare for the day and to clear their mind on their way home.
Another option is to use public transport or to hire an Uber so that you don't have to worry about paying attention to what's happening on the roads around you. That way, you can grab a book or a laptop and get something productive done on the commute. And don't forget that it might not be too long until we have self-driving cars to take care of all of that for us.
If you do get trapped in traffic, it can be annoying, but it's up to you how you deal with it. Will you let it stress you out? Or will you use it as a chance to take stock and think about the things that you never have time to think about?
3. Everyone is ambitious
Some people try to turn this one on their head. They'll tell you that LA is full of wannabes and/or aspiring founders and actresses, and it's certainly true that a lot of people are attracted to LA because they see it as a place where they can chase their dreams and try to live up to their full potential. But so what? Isn't that why people create companies in the first place?
In fact, it's this ambition that gives Silicon Beach its atmosphere. It creates a sort of "we're all in it together" vibe that fosters creativity, community and innovation. It's also responsible for the fast pace of the city because everyone's hustling and trying to get somewhere. There are few other places in the world where every single person you meet has a backstory.
4. It's still growing
In contrast to Silicon Valley, which is pretty much all grown up, Silicon Beach is still growing. Sure, it might be in its metaphorical equivalent of the teenage years, but it's still further ahead of the curve than pretty much any other startup hub you can think of. And it's not done yet – not by a long shot.
The fact that it's still growing is appealing to many entrepreneurs because it means they can have a hand in it. They can put their own stamp on it and potentially be remembered as one of the iconic startups to come out of the Beach scene.
5. People work hard and party harder
Perhaps this is just because the Beach caters to a younger crowd or perhaps it's the easy access to entertainment and amenities. Either way, while the work hard ethos is equally applicable to the Valley and the Beach, the Beach tends to party harder. How can you not when you're in LA?
Of course, many of the parties in Silicon Beach also double up as networking events, and if you frequent the same hotspots as other entrepreneurs then you're likely to find that things happen naturally through symbiosis. Better still, it means you can find a little work/life balance by letting your hair down without feeling as though you're wasting time that you ought to be spending working.
What's next?
Silicon Valley is no longer the be-all-and-end-all it once was. More and more startups are establishing themselves elsewhere not out of necessity but out of choice, and Silicon Beach is arguably up there in the top two or three locations for a new tech startup.
Part of the reason for that is that the place has some momentum. As more and more entrepreneurs come to call Silicon Beach home, they bring more and more people with them. The result is a bustling marketplace of tech talent and innovation that's a thrill to be around, and it's no surprise that so many people are choosing Silicon Beach as their new home. After all, who can blame them?
Calling all HuffPost superfans!
Sign up for membership to become a founding member and help shape HuffPost's next chapter
This post was published on the now-closed HuffPost Contributor platform. Contributors control their own work and posted freely to our site. If you need to flag this entry as abusive,
send us an email
.