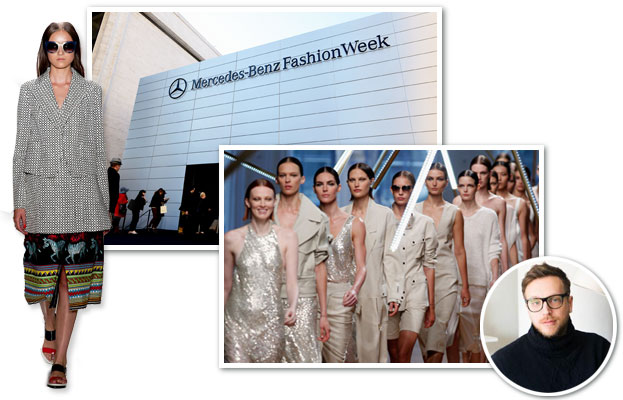 1. The tables have officially turned. The photographers outside shows are now better, more interestingly dressed than most of their subjects. Imagine a world where film directors might show up to set in full hair and makeup, not to mention in costume. Well, that topsy-turvy meta moment is now what's happening outside the tents at Lincoln Center. You can no longer differentiate between the fashion pack who preen and pose in their look-at-me looks and the bloggers with their Leicas and iPhone 5s. Everyone is turning it out. When the photographers start shooting one another, we will have officially jumped the street-style shark.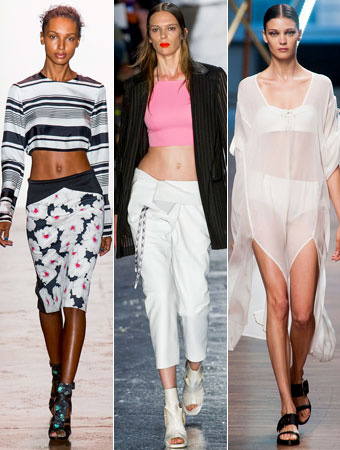 2. With skirts hitting mid-length and collars and sleeves approaching Amish proportions, the bare midriff returns again this season as the most erogenous of sartorial zones. In just one day of fashion shows, editors and retailers were served more taut tummies than at a Tracy Anderson studio. You have been warned: shrink your shirts and crunch those crunches. Designers are ab-sessed. (Above, bare midriffs from Peter Som, Jason Wu and Rag and Bone).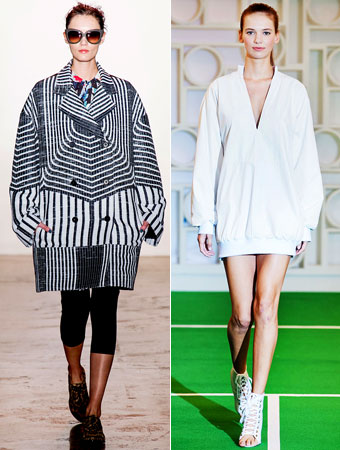 3. For those of us not willing to endure belly bump scrutiny, there's good news: the alternative baggy, boxy and blouson top that's floating down runways. Look for anoraks, sweatshirts and jackets big enough to be belted and called a mini. If spring is about transformation, then these are the coziest cocoons. (Above, loose looks from Peter Som and Lisa Perry).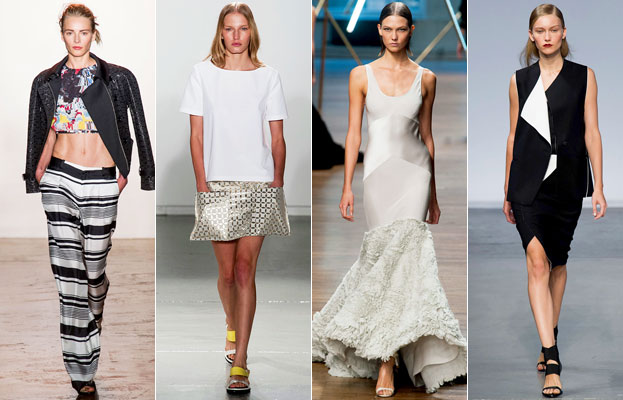 4. Trend forecast: Eyelet is the new lace. Mint is the new neutral. Flats still rule. And black and white is still the fastest hack to chic. (Above, spring trends from Peter Som, Suno, Jason Wu, Helmet Lang).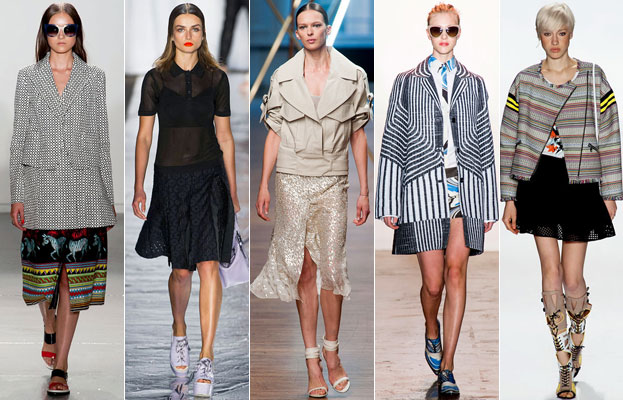 5. Top looks: Above: Suno, Rag and Bone, Jason Wu, Peter Som, Rebecca Minkoff