1. At the age of only 35, Egyptian artist Hamdy Reda is a legend in Cairo's art world, not just for his artwork -- photographs of Egyptian people and places that capture the performative as well as conceptual sides of contemporary culture -- but for discovering and encouraging a new generation of Egyptian artists, with his artellewa program.
2. Reda founded artellewa eight years ago, in his brother-in-law's apartment. Today the artist residency program and exhibition space is based in a six-story building in the densely populated Ard El Lewa neighborhood that is found by taking a three-wheel tuk-tuk down a long series of narrow, almost medieval alleyways. This is where Reda has launched many important emerging artists, including Mohamed Ezz, Amr Elkafrawy, Alaa Abd El Hamid and Shayma Aziz. Because of Reda's success in spotting interesting artists, his two-seat kitchen has often played host to noted international curators who come to look at work, meet artists and chat over tea about art and culture.
Ard El Lewa is one of the "informal" neighborhoods of Cairo that take up 60 percent of the city -- neighborhoods built without urban planning, housing mostly lower-middle-class Egyptians mixed with immigrants from Somalia, Sudan and Ethiopia. "Informal," explains Reda, means "based on what people need, on keeping it alive, on necessity."
So far, artellewa has provided residencies for 45 artists, mostly from abroad. The organization has presented upwards of 60 shows, featuring the work of over 400 artists -- including ten artists who saw their first solo shows at the space. Over the years, international support for artellewa has come from the Ford Foundation, British Council, Culture Resource (Al Mawred Al Thaqafy) Orgnization, Pro Helvetia and Mondriaan Fund, among other organizations.
Besides its regular program of exhibitions and residencies, artellewa is currently focused on two art projects: an exhibition on the theme of Nefertiti from the German artists Nora Nessel and Jan Nikolai, scheduled to open November; and a wood-recycling program with Syrian artist Hasan Suliman and local designers and craftsmen, designed to create up-cycled waste wood materials.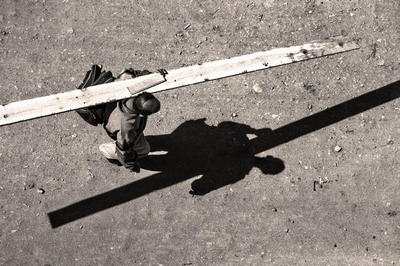 Hamdy Reda: Untitled Photograph from the "Passengers" series;
"This road snakes through this neighborhood, which is full of immigrants," says the artist. "Farmers from the north and south gather here for a new life. In these photos, the workers, the garbage collectors, the police officers, and the mothers all appear. And everybody busy with the same thing, moving forward. From my balcony, I witness the ever changing scape of humans passing by..."
3. For his own work, Reda once spent three years shooting a series of photos out his kitchen window, where life in the lively streets affords striking patterns of people, objects, light, color, and shadows. Though known as a photographer, Hamdy in fact creates photographic works that capture a kind of durational performance art. He's taken, for instance, thousands of photos of the desert that describe the infinitely wide color range of that terrain -- photos that on first view appear deceptively, monochromatically beige.
4. For one photo of the pyramids in Giza, seen across Cairo's skyline, Reda experimented for a year with aerial photography -- until he achieved a masterpiece that depicts the 4,500-year-old monuments in the misty background, with two pigeons in flight in the mid-distance.
5. Despite the support and growth it's seen, artellewa faces enormous challenges. "We're facing funding troubles because of the unclear vision from the Egyptian government," says Reda, "and the increasingly strict rules of international foundations who are uncomfortable supporting alternative artistic formats. We have done so much -- but sometimes I think, Is it time to stop? I used to ask myself that question once in a while, but now it comes up daily, if not hourly. I like being here... but I can be anywhere."
For more information, go here. This is the first of three reports on Simon Watson's recent visit to Cairo's lively art scene.
Hamdy Reda: Untitled Photograph; translation of the photo's text: "I have the right to draw."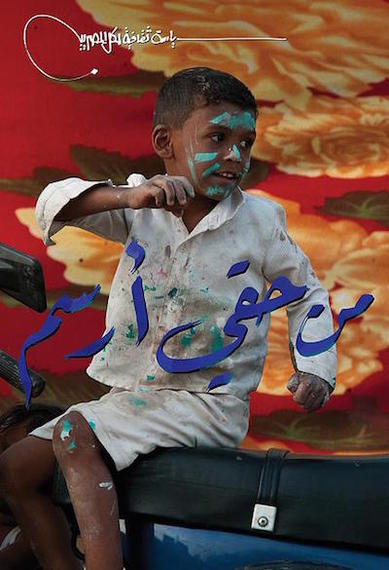 Related
Popular in the Community