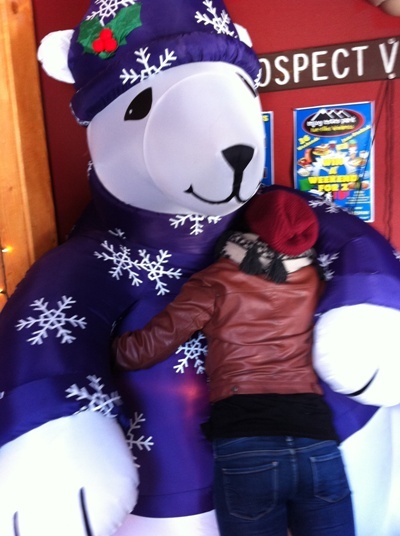 We've had a wild weather year in Colorado, and Estes Park was hard hit in September by flooding that damaged buildings and local businesses, and made the two main highways from Denver and the Front Range impassible. Happily, the town got running again quickly, and now both Highway 36, through Boulder and Lyons, and Highway 34, through Loveland, have reopened.
Last weekend, my family and I drove to Estes on a frigid 12-degree morning after a week of snow and very cold temperatures, and the road through Lyons was clear and easy to drive. Frosted trees and snowy landscapes put us all in a happy holiday mood, and we were ready to do some shopping! Estes Park has always been one of my favorite places to get away and relax, so I'm delighted to see Estes Park recovering after the floods, and to share these five things to love about Estes Park, Colorado.
Shopping on Elkhorn Avenue: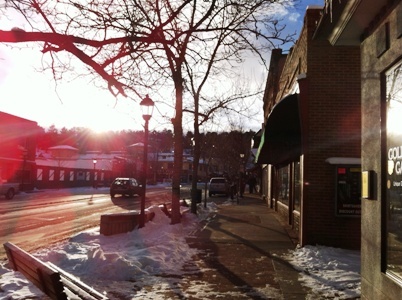 Elkhorn Avenue is the "Main Street" of Estes Park and the center of a pedestrian-friendly downtown, featuring lots of local shops, art galleries, candy makers and outdoor outfitters. In summer, tourism is a big part of the Estes economy and the town welcomes the crowds with daily shuttle service and plenty of parking for everyone.
My favorite time to shop here, however, is in the winter. The holiday decorations and picturesque street scene is the perfect antidote to holiday stress. Shop owners and sales people are relaxed and friendly, and you'll find lots of gift ideas that capture the beauty of the surrounding Rockies. We found a lot of discounts and great deals for our outdoorsy family at Hiking Hut and Kirks Flyshop, plus one-of-a-kind gifts at Rustic Mountain Charm.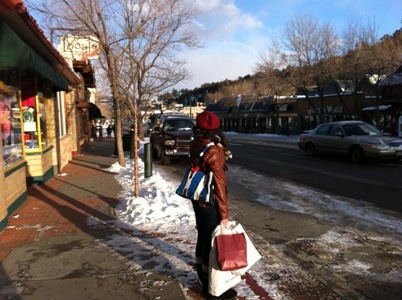 If you can't get to Estes in person this winter, check out ShopEstesParkColorado.com, a collaborative online shopping site set up by shopowners to support the local businesses that are working hard to bounce back from September's disastrous flooding.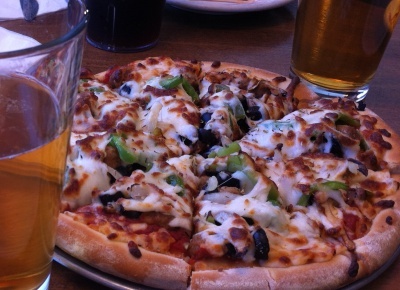 My husband and I love sampling local craft beer, so we warmed up to some hot pizza and cold brew at the Estes Park Brewery. It's a casual place where you can see the fermentation tanks from the second-floor dining room, buy a tee-shirt on the first floor, and play pool or video games if you're hanging out for a while. The Longs Peak Raspberry Wheat is delicious, and a past award winner.
Hiking in the Great Outdoors:
Unlike many resort towns in the Rockies, Estes Park isn't a ski town -- its outdoor vibe is more rugged and laid back. Hiking is super-popular here with miles of trails that meander through Rocky Mountain National Park. While some trails and access roads close for the season (usually October through April, depending on the weather), snow-shoes or cross-country skis can get you into the back country long into the winter months.
An short hike that's accessible most of the year is the Gem Lake trail, with free parking at the trailhead. It's about a 3.5 mile round trip with great views and picturesque Gem Lake as your reward. With a huge variety of distances and difficulty levels inside the national park, do your homework and expect to see some changes in the landscape on the east side of the Continental Divide after the torrential rains that caused the 2013 flooding. As the park service website says, the floods were a natural event and part of the evolution of the conditions you'll find hiking in the park.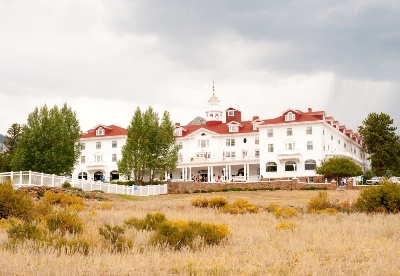 Most people know the Stanley Hotel's claim to fame as Stephen King's inspiring venue for writing The Shining. The turn-of-the-century hotel's haunted reputation is so popular, the staff conducts ghost tours and the annual Halloween event, the Shining Ball, as part of its proclivity to the paranormal.
The Stanley is a beautiful building and icon of Estes Park, but I have to say, when I stayed there, I didn't see anything out of the ordinary. Still, it's well worth checking out for a history tour or ghost hunt, a night at the chef's table or a Sunday brunch, and you can make reservations for all these online.
Rocky Mountain Leaf Peeping: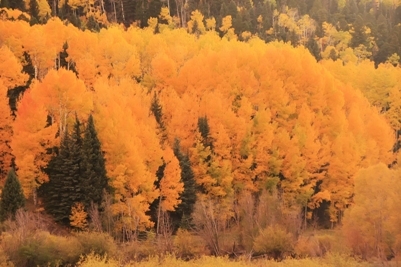 File this away for next year: Although the rains forced an early end to 2013's autumn in Estes Park, the explosion of fall color will come around again, and September 2014 will be prime time to take it in. The 55-mile Peak to Peak scenic byway is a front row seat to the spectacle and runs along the Continental Divide from Estes Park at the north end, to Central City at the south end. Make plans to be there to witness the changing seasons and the annual elk rut -- it's another prime time to be in Estes Park.
As a Colorado native, I have a special place in my heart for Estes Park, and am glad to see it recovering well from September's flooding. All year round, it's a great little town set in some of Colorado's prettiest scenery, and one of my favorite places to escape to. Grab your hiking boots and see it yourself.

The author on a November hike to Gem Lake. Post and uncredited photos by Kiley Vorreiter.