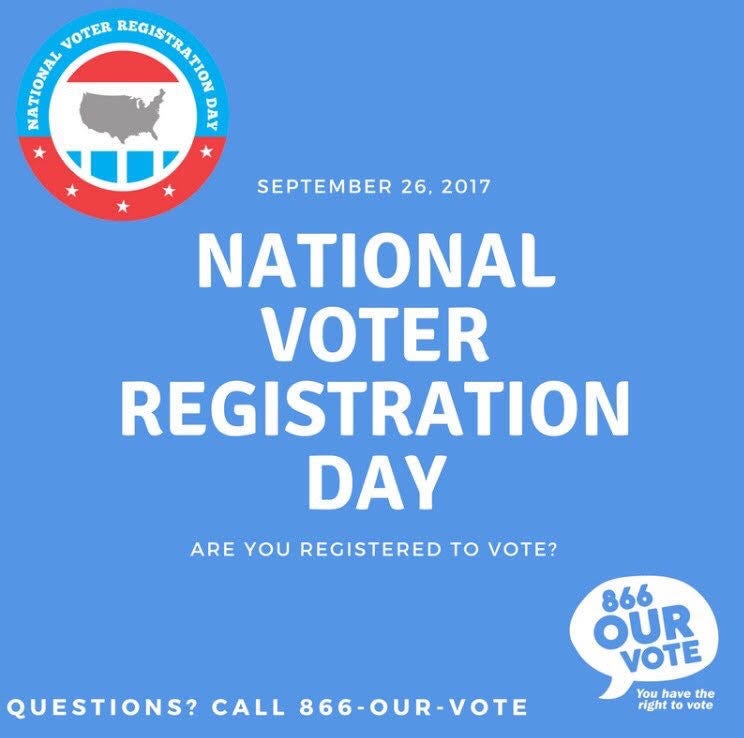 Today marks the sixth annual National Voter Registration Day, a day when organizations that care about our democracy and civic engagement like mine focus our efforts to ensure that every eligible voter has the opportunity to exercise their right to vote. While we work hard to protect the right to vote from efforts to restrict that fundamental freedom like restrictive voter ID laws and President Trump's sham voting commission, we call on all eligible voters to make sure they are registered in order to participate in the electoral process.
First, we #TakeTheKnee. Then we vote. Registering and voting is especially important in local elections where your voice matters most. Here are Five Things You Need To Know About Voter Registration:
1. On National Voter Registration Day, the Lawyers' Committee for Civil Rights Under Law-led Election Protection hotline will be taking calls LIVE to answer questions about voter registration, voter ID laws, language assistance, and other issues. Call 866-OUR-VOTE (866-687-8683) with any voting-related questions.
2. There are at least 51 million Americans who are not registered to vote. That is roughly one quarter of the people who are eligible to vote in United States. Think about the power we would have to make the changes we need in our communities if everyone was registered to vote!
3. States are modernizing and making voter registration more secure. And more are moving in the direction of automatic voter registration with tremendous success. In just two years, 10 states (Illinois became the latest state) have adopted a system in which eligible voters are automatically registered when they encounter state services including the Department of Motor Vehicles, Secretary of State's office, and other state agencies. The new law in the Land of Lincoln could add one million more voters to the rolls, and with it, an increased participation in elections. Additionally, 38 states and Washington, D.C. have adopted online voter registration—a 20-state increase since 2014.
4. Registration deadlines matter. In Georgia this year, nearly 8,000 more residents registered to vote after the Lawyers' Committee for Civil Rights Under Law successfully litigated to enforce federal registration laws in order to ensure more voters could participate in the 6th Congressional District special election.
5. Updating and verifying your registration is key. Transient populations, including young people, and antiquated processes like the use of paper forms continues to serve as barriers to register. If you have not voted in a while or just want to make sure you are registered, use this opportunity to check your registration so that you can participate in the next election in your city or state.
And remember to Think Local and Be Vocal: Register and vote in every election. Your vote is your voice and together we can make a different in our communities.
REAL LIFE. REAL NEWS. REAL VOICES.
Help us tell more of the stories that matter from voices that too often remain unheard.
This post was published on the now-closed HuffPost Contributor platform. Contributors control their own work and posted freely to our site. If you need to flag this entry as abusive,
send us an email
.