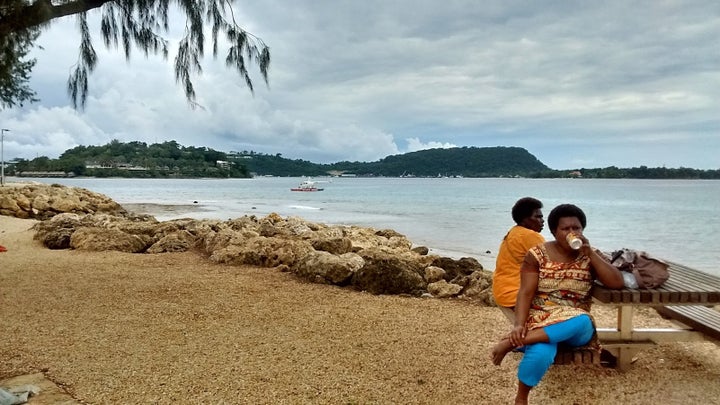 For the geographically challenged among you - Port Vila is the Capital of Vanuatu, if you still don't know where that is, then you are missing out. Port Vila is home to some 44,000 residents, and for a week it was home to me as well. This is my third trip to Vila in the last ten years, and I am telling you, it is as charming as little Pacific cities go, ok, not a city, but you know - a town.
Every time I return, something new strikes me about Vila, and these are my impressions so far.
1. People here speak French
There is something quite shocking to the system, to travel in a Pacific island country, a developing Pacific island country and much like my own town of Apia, and hearing French spoken by your average citizen. It is so beautiful to see a farmer in the market selling his crop who then turns around to his daughter and carries off in French. I do not speak French, but love hearing the language - so this is certainly an aspect I love about Port Vila. The most spoken language in Vanuatu is Bislama which is an English-based creole language.
2. Their taros are freaking huge
I went to the market the other day and saw the taro fifteen times the size of taros in Samoa. I'm telling you, they were huge. But more important than the massive taros is the fact that the market is one of the most well stocked, vibrant, colourful and bustling in the Pacific. You can find all manner of fresh produce and beautiful flowers and natures gifts in the market and a true insight into the lives of Ni-Vanuatu farmers.
3. The 'bus' is a minivan that is really a shuttle
When you are in Vila the best way to get around is by bus - but the bus comes in the forms of minivans crawling the city like there's no tomorrow. Priced at about USD$1.00 per ride, they act like shuttles which come around every two minutes and it takes you pretty much anywhere around Vila.
4. The 'kava' will relax your world
Drink kava in Vila or anywhere in Vanuatu - it will put you in a state of relaxation that you have never known before. There are kava stalls all over the place, marked by red or blue lights in a bucket or covered hanging from a tree - no joke, it is legitimately how they mark where to get your relaxation fix.
The food in Vila is some of the best in all Pacific - think French meets traditional Melanesian dining and you will get it here. All over town you can get fresh seafood, freshly squeezed lime, organically based meals and creatively inspired menus. The traditional Vanuatu meal consists of all manner of sweet potato interpretations. It is absolutely delicious.
So there you have it, those are just some of the things you should know about Port Vila, but before you come here - make sure you have the patience required of a tourist with plenty of time to spare, because they love to make you wait for your meal, or anything really, but one can't complain because the views of Port Vila harbour are absolutely stunning that it is hard to find fault with anything.