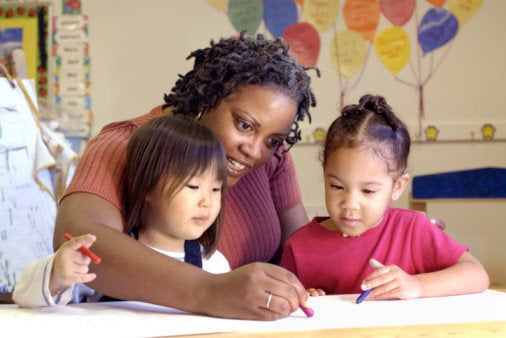 School's already back in session in some parts of the country, but it isn't too late to start the year off right. As a parent, your expectations are high, no doubt, but your child's teacher expects certain things from you as well. "Learning is going to be enhanced when communications flow in both directions," says Kathleen Hoover-Dempsey, associate professor of psychology and human development at Vanderbilt University's Peabody College of Education. The key: Developing a collaborative relationship, with parent, teacher and child all working toward a common goal. Here are five things teachers want you to know, well before that first school night rolls around.
"WE NEED TO KNOW WHAT'S GOING ON AT HOME."
The way your home supports your child's learning is going to be an important element in how well they learn, Hoover-Dempsey says. "Both teachers and parents have information that is very important to each other." Not informing your child's teacher about, say, grandma's trip to the hospital last night or your spouse's recent layoff is likely to create a big disadvantage for you, your child and his or her teacher. Students are often affected by difficult or new events in a family's life; informing your child's teacher helps them understand and respond supportively to any changes that these events may cause in your child's behavior and learning.
IT'S HOMEWORK, NOT YOUR WORK
Your help can be very useful, but what teachers don't want is you doing your child's homework for them. Show interest in what they've been assigned and feel free to ask to see completed work, especially if there have been problems with homework in the past. Establishing a reasonably regular time to do homework is also important, Hoover-Dempsey notes, though it doesn't have to be the same thing for every kid -- routines and times may vary for each. The idea is to "develop some kind of regular routine that attends the student's homework, and some kind of regular environmental support, including a place to work and an accessible parent nearby," she says.
DON'T BE A PERFECTIONIST
On the same note, try not to hover, especially if you're doing it with an emphasis on perfection. "Seeking perfection can be as detrimental as not showing any interest at all," Hoover-Dempsey says. "The child's honest effort is more important than a perfectly completed assignment." Kids learn in part from making mistakes and then figuring out how to solve them.
SHOW INTEREST IN THEIR LEARNING -- CONSISTENTLY
Ask your child "How was your day?" or "Tell me one thing you learned today." You're likely to get a good responses from the kindergarten through fourth grade set, but it's often more of a challenge with pre- and early-adolescent kids. With older children, Hoover-Dempsey suggests showing interest, but also approaching them -- and the questions you ask -- somewhat differently. "It's important to be sensitive to early adolescents' interest in sharing and interacting," she says. For example, wait until you're alone or interacting on another issue. Parents' interest is also critical to a student's energy and extra effort on school work, she notes. "Kids usually consider their parents to be powerful people. This means that your interest in their learning is an important source of motivation and hard work on learning tasks."
"REMEMBER THAT WE CARE ABOUT YOUR CHILD, AND ALL OF OUR OTHER STUDENTS, TOO."
Good teachers work hard to attend to the needs and interests of all of their students, which means that they cannot always respond immediately to your child's questions or your concerns. Try to be patient, Hoover-Dempsey says, and work to help your child deal productively with the situation in the meantime. "We'll get back to you as soon as we can!" she says.
Calling all HuffPost superfans!
Sign up for membership to become a founding member and help shape HuffPost's next chapter