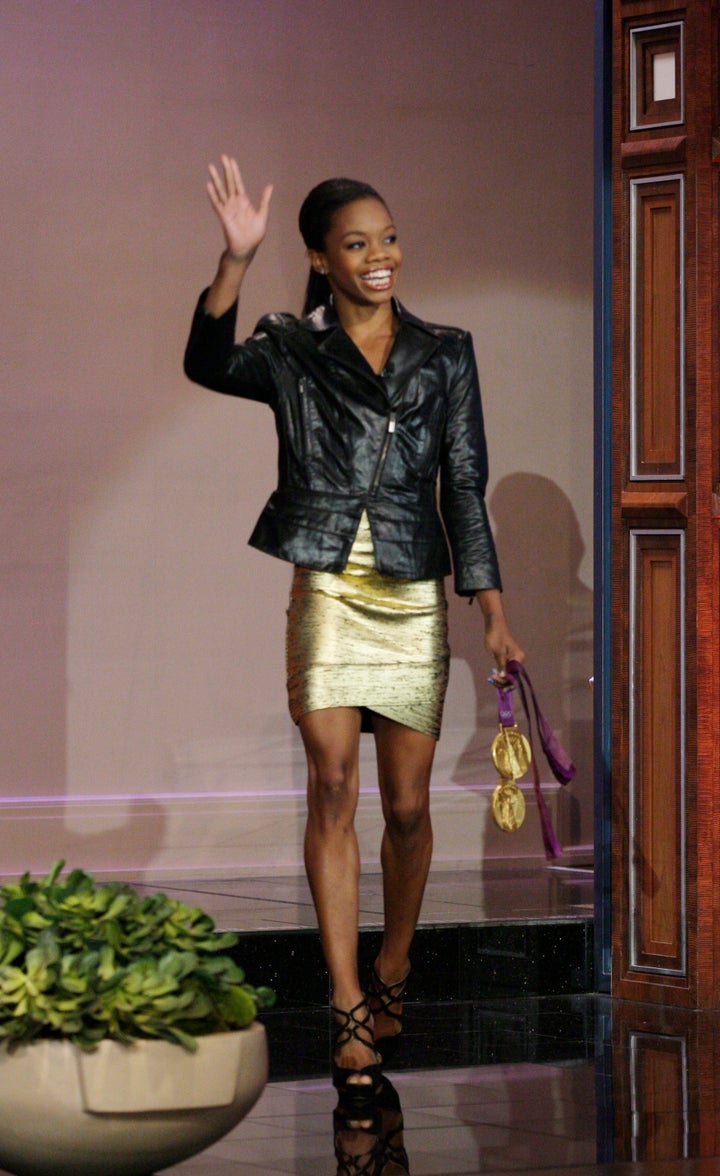 It looks like Gabby's family or agent were able to register
back in March of 2010 but the site needs some work and love! GabbyDouglas.com has a "site currently unavailable" message but was registered five months ago, on March 2012.
If GabrielleDouglas.com is the official Web site for Gabby, the site should link to her different social channels and her social channels should link back to the site. This way the search engines can validate that this is the real site and not a fan site since a fan site would be able to link to her official social channels but the official channels would not link back to the fan site.
A key account to have is a Google+ Profile. Answer all of the questions under the "about" tab and double check that you enter the proper URLs under the "other profiles" section like your Facebook and Twitter page, the "contributor to" section if you add content to other sites, and they have a bio page that links back to you and the "links" section where you should have your home page.
You might need the help of someone who is comfortable with HTML and making changes to your site for this step, but it is invaluable! There are many people with the same first and last name. You need to add the proper markup language to your web site and link back to your Google+ profile with code Google will give you in order to confirm that you are the person users are searching for. Some of our
guide you on how to keep up with the evolution of search engines, and to use
tags to add the right properties to your content. For example, Gabby has a birthday, a nationality, parents, siblings, awards, and performances that are different to other Gabby Douglas's out there who might also want a good online profile. All of these items need the right properties and signals for the search engines to find.
We talked about claiming and protecting your domain, sending the right signals and adding the proper tags to your site. But what if someone already has the name you want? In some cases, a person could have registered a domain and they no longer want it. Reach out to them and see if you can get it. There is an entire industry that buys domains for the purpose of reselling them. But sometimes it happens by accident. Back in 2004, Kerry Edwards said on CNN that he was offered $150,000 for his
domain but the John Kerry campaign for President of the United States did not buy the domain and kept their content under
. This week we found out that
was purchased back in February of 2010 and the owner would like to sell it for $10,000.
Many of us do not have the budget to go after the perfect domain, but if there is a trademark issue, you might be able to get it if:
Mr. Edwards has the right to the domain KerryEdwards.com since his name is Kerry Edwards. The person who registered RomneyRyan.com did it before we knew that Rep. Paul Ryan would be Mitt Romney's VP pick, but did he do it in good or bad faith?
After you register the perfect domain, or buy it from a 3rd party, or get ICANN to let you have the one you really want, you should
. Twitter accounts can have up to 15 characters and it is probably the reason why Gabby went with @GabrielleDoug (13 characters) instead of @GabrielleDouglas (16 characters).
As athletes gets ready for
and
Olympics, there are a few things their family and agents can do to help them with their online profiles, even if they were not able to claim their given name as a domain name.
Remember that things will change, the company you work for, your current city or the number on the back of your team jersey. Rick Sanchez' handle used to be @RickSanchezCNN when he was with CNN, but now he is @RickSanchezTV. I made this mistake too. When Twitter was first released I was @OracleJulio since I wanted to combine my work responsibilities as a global marketing manager for Oracle Corporation with my personal Twitter account.
Calling all HuffPost superfans!
Sign up for membership to become a founding member and help shape HuffPost's next chapter