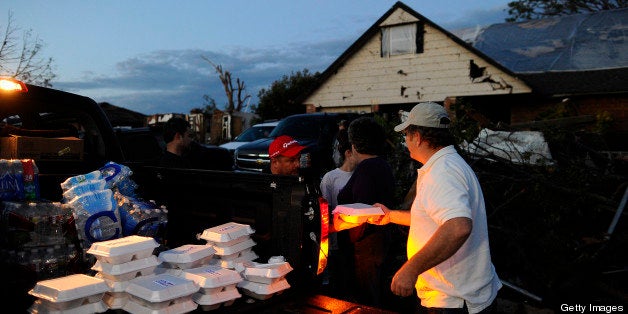 In August of 2010, Hurricane Irene brought very heavy rains to southern Vermont. In the aftermath, the community where I serve as a pastor was heavily flooded. For the next few weeks we worked together to rebuild the towns. Even today, nearly two years later, we still are regrouping.
During Irene I learned so much about what was and was not helpful during a natural disaster. With the recent destruction in Oklahoma, I offer these five suggestions to people of faith who wish to respond:
1. Monetary donations are the most useful.
People will want to send all sorts of things in the wake of a hurricane. We received lots of food, water, and clothes. Especially clothes. Clothes are sometimes called "the disaster after the disaster" by natural disaster responders. But money is really the best thing for people to give. It can be used by groups already on the scene who know the best possible way to put it to work.
In our case, some people gave to my pastor's discretionary fund, and we used those funds to help people in town who needed immediate help with bills and rebuilding expenses. Meanwhile, within days we received generous checks from our denomination, the United Church of Christ, who sent us disaster relief funds. Many other denominations have their own disaster relief funds.
We also were helped by Church World Service, another group that puts donations to good use. They sent us lots of cleaning buckets that contained all the things we actually needed. They also sent hygiene kits for the shelter, and school kits for local kids. They are very experienced at disaster relief, and are supported by an ecumenical coalition of churches. They also do not evangelize. Which brings me to my next point...
2. Some religious groups will try to to use natural disasters as an opportunity for conversions.
It's great that so many religious groups want to provide aid. It's not so great when they exploit traumatized and vulnerable people while doing it. There were reports of volunteers who would go to people's homes after Irene, but do little other than try to get the homeowner to pray with them. Here in my community a group of fundamentalist Christians presented themselves as Red Cross "trauma chaplains". (Read more here: http://www.huffingtonpost.com/rev-emily-c-heath/wise-as-serpents-finding-_b_1692251.html ) Local clergy should be "wise as serpents, gentle as doves" when dealing with outside religious groups. It's okay to be the gatekeepers for your community if it means protecting traumatized people.
3. Be cautious about bringing in outside volunteers.
In the aftermath a lot of well-meaning churches and organizations called the church asking how many people they could immediately send as volunteers. While we were grateful they wanted to serve, the roads in were literally falling into the river and the few resources left in town were already running out. Aside from very skilled contractors with specific rebuilding skills, or those with disaster sanitation experience, an influx of untrained volunteers will likely tax an affected community more than they will help. There will be plenty of volunteer opportunities for church groups and the like in the coming months.
4. Get involved as a community leader and use your resources
Hopefully you will have already laid the groundwork for this. Now is the time to reach out to emergency responders, the Chamber of Commerce, and other local organizations and to tell them what you can do. It's also the time to be as visible as possible so that you can best serve those who need it. I spent a week solid after the flood wearing my clergy collar everyday. It helped people to be able to easily understand my role, and what I could do for them.
We also opened the church, which was right down the street from one of the hardest hit areas, and provided a quiet prayer space. We kept bottles of water, energy bars, and fruit on hand too. To get to the work area, people had to pass by our church on foot. So we had volunteers sit on the front steps and hand them out to people going in and out. We reached out to local 12 Step groups and opened our building up to the ones that had been displaced by the flood. Natural disasters can be particularly tough for those in early recovery, so we also worked with the existing groups and hosted emergency meetings every evening. We all have a lot of resources in our churches that we might not even know about, starting with ourselves. Take an inventory of what you can give, and then work with community leaders to give it.
5. Preach about God's love, hope, and grace.
For most of us this goes without saying, but natural disasters are so often breeding grounds for bad theology and judgement. That's why people of faith have a special responsibility to counter the chorus of bad theology that inevitably erupts after a natural disaster. This isn't God's judgement, and this isn't divine punishment, no matter what the religious talking heads on CNN say. So don't be afraid to say so when interviewed by the press, or asked to participate in interfaith services.
In your public prayers, stress God's continuing presence. And really think through what you want people to take away from your sermon this week. They are going to be listening for the good news of God's love. Speak to your particular situation, and give comfort and hope. At all times remember that you are a representative of divine compassion. In the wake of disaster, people need to hear about it more than ever.
Popular in the Community