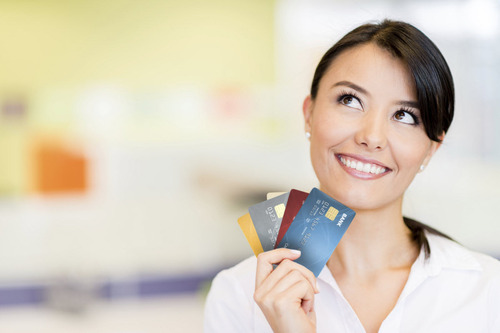 With the New Year right around the corner, many have begun planning their New Year's resolutions. If you're like many Americans, one of those resolutions likely involves paying off that credit card debt you racked up over the holidays.
According to the Federal Reserve, total credit card debt in the United States reached $882.6 billion as of October 2014, up 3.09 percent from October 2013. That's an average of $7,283 of credit card debt per household!
That number alone can seem overwhelming, however, there are a few things that you can do to start shredding your credit card debt.
1. Knowledge is Power: The first step is to know what you owe and to whom. Make a list of all of your credit cards, the amount you owe on each, the APR associated with each card, and the amount due. Once you have that information handy try our Credit Card Payoff Calculator to determine how long it will take you to pay off each credit card.
2. Lower Your APR: If you have a credit card with a high APR, there are a few ways that you can try to reduce this number so that you don't end up wasting a bunch of money on interest charges. This can often be done with a simple phone call to your bank or card issuer asking them to lower your APR. If they are unwilling to change your rate, another option would be to transfer your debt to a balance transfer card that offers 0% APR for an initial period of time. Look for cards that accept balance transfers at no cost. Just make sure that you are able to pay off the majority, if not all, of your debt before that initial offer expires, as many balance transfer cards have fairly high APRs that will kick in after that time is up.
3. Budget: Look for ways that you can cut a few extra dollars here and there by shopping generic brands, using coupons, and taking advantage of sales. Only spend your money on the bare necessities. Remember, it's only temporary. Once you are debt free, you can enjoy splurging every now and then without the guilt.
4. Strive for More Than the Minimum: Find a way to pay more than the minimum payment, even if it is just an extra $10 per month. Check the back of your statement to see how much you will need to pay each month to pay off your credit card bill in less than half the time it will take by paying the minimum.
5. Cash is King: If you find that you overspend because you can't see the limit of your credit line, you may want to stop using your credit cards and use cash only. This way you will be able to see exactly how much you can spend, you won't incur any more interest charges, and you can always return to using a credit card with rewards when you're ready.
* Editorial Note: This content is not provided or commissioned by the credit card issuer. Any opinions, analyses, reviews or recommendations expressed in this article are those of the author's alone, and have not been reviewed, approved or otherwise endorsed by the credit card issuer. This site may be compensated through the credit card issuer Affiliate Program.
*The content in this article is accurate at the publishing date, and may be subject to changes per the card issuer.
REAL LIFE. REAL NEWS. REAL VOICES.
Help us tell more of the stories that matter from voices that too often remain unheard.