I can't help myself. Laughing, joking, telling stories and asking questions are part of my personality. But behind that outgoing exterior there lies a dark secret. No, I'm not an ax murderer or a kleptomaniac, but I do suffer
from a chronic case of stage fright.!
The malady has plagued me all my life, and I have privately blamed Mrs. Widdens, my wicked third-grade teacher with the black lace-up shoes for it. She shamed me every day at the blackboard when I failed to absorb her ill-prepared attempts to teach me the multiplication tables. Sixty years later, I still can't come up with what nine times nine equals without using fingers, toes, and preferably a pencil and paper. In the '60's, the introduction of the electronic calculator was more exciting than landing a man on the moon!
Through all those years I have wrestled with my problem in every dreaded public speaking situation. I'm such a stubborn extrovert that I've acted in stage plays, appeared on live national television, led support groups, and spoken to many audiences about my book, Home Sweet Anywhere. I don't believe anyone knew how much I was suffering! I fought sweaty palms and damp scalp, dry mouth, and massive jolts of adrenalin that rattled through my body. I managed to hide my distress from others, but it cost me dearly.
Here was a lovely crowd at Malaprop's Book Store in Asheville, NC. They look as if they are eager for me to speak, and I had no reason to be fearful, but I certainly was!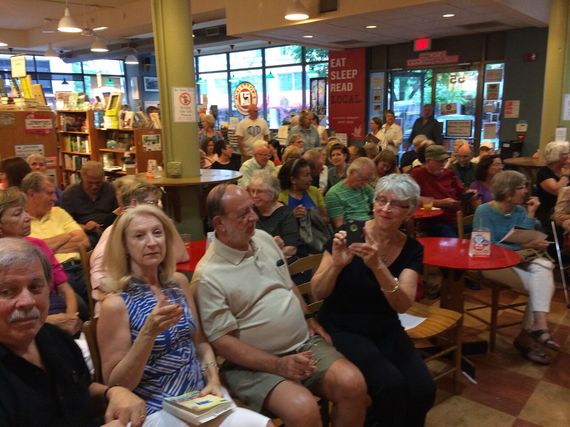 The next day I spoke to another group, and although I look relaxed, I was white-knuckling the podium while trying to control my breathing!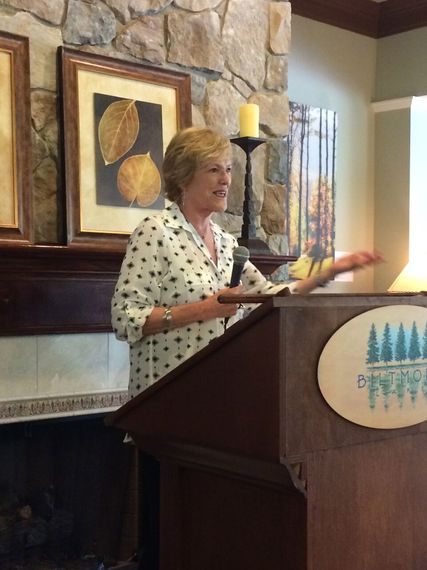 Recently my husband and I were invited to be the keynote speakers at HomeAway.com's Summit meeting in Austin, Texas. We accepted because we love to talk to groups about our Home Free Adventures, but when I found out there was to be an audience of 500, I almost declined! I was terrified. I knew I could do it, but I was tired of not enjoying what should be a delightful experience. I decided that enough was enough. I couldn't go on blaming poor Mrs. Widdens for my stage fright. I needed a CURE!
I sought the advice of my favorite psychologist, who explained the source of my distress.
We have a primitive brain which can overtake our more evolved cerebrum. It's that pesky fight or flight instinct that doesn't think, just reacts to what it perceives as danger. Once it takes hold, the victim is powerless to control its effects. Just knowing that stage fright originates in my lizard brain, and not my conscious one made it seem less threatening to me. Then we got down to solutions that might put that bad boy to sleep so I could enjoy talking to people about my favorite subject, our Home Free experiences. Here's what we came up with:
PREPARATION: It doesn't matter if you're playing King Lear or addressing the PTA, being thoroughly prepared can help short-circuit the panic. At the psychologist's urging, I built a bullet-proof Keynote presentation which showed us the current slide, the next slide, and even our bullet points. The audience couldn't see our screen, but it gave us much more confidence.
PRACTICE: Tim doesn't know the meaning of stage fright. He's great at speaking extemporaneously but was kind enough to rehearse every day once the slide presentation ready. We ran through it so often - even before our children, our toughest audience - until we felt completely comfortable with the material.
PLAN AHEAD: Be sure you plan to be where you need to be with plenty of time, so you'll be fresh and confident.
DRESS THE PART: A dear friend who was a professional speaker once told me that she always tried to look as good or better than her audience. But more than that, be sure you've auditioned your outfit. Nothing could be worse than fussing an outfit that requires adjusting
or attention. For my newly unterrified performance, I chose a one-piece dress and good-looking, comfortable shoes. I felt attractive and very comfortable, so my appearance wasn't an issue.
KNOW YOUR AUDIENCE: If at all possible, get to the venue early enough to mingle with your audience. That way you can establish some connections, so when you take the stage, you'll feel happy to see some familiar faces. They are bound to smile and encourage you.
RELAX AND ENJOY YOURSELF: Try to remember as you take the stage that those in front of you are there because they want to hear what you have to say, and you know more about your subject than most people in the room. If you make an error, don't panic. It will make your audience identify with you since you'll see much more human! Laugh it off and plunge ahead! Before long, you'll be enjoying yourself and so will your listeners.
We put these suggestions into practice and for the first time in my life, I loved being in front of a large crowd. Instead of concentrating on my fear, I was able to use that energy to be more entertaining and informative! It was a lovely experience to be able to connect with the audience, and I can't wait to tell our story again to the next group.
Here we are celebrating! I hope these suggestions can help you have more fun at your next appearance!