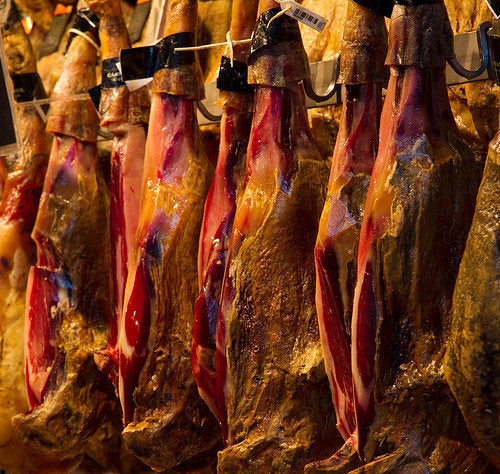 Forget outdated traditions like bullfights and siestas, and pass on the overhyped sangría and flamenco. Although Spaniards may enjoy those customs from time to time, you're likely to see more tourists than locals partaking in those activities.
If you're looking for a more authentic and modern experience, here are five ways to really live like a local in Spain:
Go to the market. Although large supermarket chains are starting to gain a presence in Spain, most Spaniards still prefer to get their food from local markets and vendors. For a huge selection of fresh seafood, meat, vegetables and bread, head to mega markets such as Madrid's San Miguel or Barcelona's La Boquería. Some of the best food, however, can be found at family-owned corner shops that offer homemade baked goods and some of the tastiest cuts of jamón serrano.
Catch the big game. Like in many places around the world, fútbol (soccer) isn't just a pastime; it's a representation of both national and local pride. Not taking an interest in a big match is not only a guaranteed way to be branded as a tourist; it's practically a sin. In a reflection of Spain's night-owl culture, most matches don't start until around 10:30 p.m. -- that way, hardly anyone misses the big game.
Let loose and enjoy la marcha. Spain -- especially Madrid -- is well known for its vibrant nightlife, which the locals colloquially call la marcha, literally, "the march." La marcha is similar to bar hopping, but with decidedly Spanish flair. Spaniards typically begin their evening between 8 and 11 p.m. by sampling cañas (draft beers) at perhaps a half a dozen different mesones (bars/restaurants) until 1 a.m. or so, when the dance clubs open. It's not unusual to see elderly couples, children and university students all strolling the streets at 4 a.m. on a Saturday night, and most Spaniards don't end their nights until the sun starts to rise.
Take a long lunch hour (or two or three). Like in many other Mediterranean cultures, in Spain, the big meal is eaten in the middle of the day. In fact, unlike in other Spanish-speaking countries, the word for "lunch" in Spain is la comida, meaning, simply, "food." Although the old tradition of the siesta is not practiced as much as it once was, Spaniards still typically take at least a two-hour break in the middle of the day - usually around 2 to 4 p.m. -- to enjoy a hearty meal, talk with family and friends and just relax. If you want to live like a local in Spain, be sure you do the same.
Comment on the weather. Many regions of Spain are known for their extreme weather. From desert-like summers to bitter-cold winters, Spaniards have seen it all. No one would guess that, however, based on their dramatic reactions. "¡Pero qué frío hace hoy en Madrid!" ("How cold it is in Madrid today!") No matter what the weather -- hot, cold, rainy, windy -- Spaniards act as if they have never experienced such an extreme. In fact, a popular tourism campaign for southern Spain's Andalucía region features a vulgar colloquialism for locals' response to the sweltering heat.
Support HuffPost
A No-B.S. Guide To Life
Related
Popular in the Community