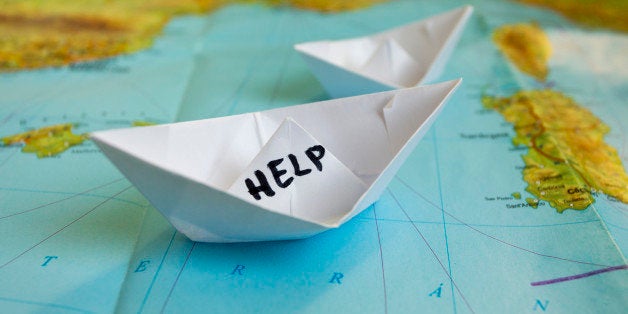 MAKE A DIFFERENCE IN LESS THAN 10 MINUTES
As we approach the holiday season -- a time dedicated to appreciating all that we have and giving all that we can -- your thoughts may turn to the millions of displaced people seeking safe refuge around the world.
You may want to help but aren't sure how. I grappled with the same question, and set out to find productive ways to take action by donating either time or money. You'd be surprised how easy it is to make a difference quickly, even without spending a dime.
This isn't an exhaustive list of options! Please comment with your ideas and links for detangling the issues, battling racism, and easing the suffering of refugees who are seeking safety and security.
The fastest way to make a difference? Share this post, tagged #RefugeesWelcome.
Offer the most direct help by sending cash to charities that will provide vital services and supplies where they are needed most. But which organizations are legitimate, and doing the most good? There are many more excellent charities than I can list here, but these use approaches including rescue packages, meals, emergency relief, and longer-term solutions.
Purchase Holiday Rescue Gifts that Help Save Lives
Browse a winter gift collection to send temporary shelters, warm blankets, and winter coats to refugees facing winter weather. You can also choose from a large catalog of holiday gifts, including emergency medical care, food, education, and clean water. It's administered by the International Rescue Committee, which is doing great work with refugees worldwide.
Transform Your Christmas Dinner into Aid
The Christmas for Syria app lets you calculate the cost of your holiday meal and gifts, select a percentage of the total, and donate that amount to charities that help refugees. The organizations, vetted by Public Radio International, are mostly lesser-known operations that offer targeted services like search and rescue, food and shelter, medicine, education, and awareness.
Support Work That Resonates With Your Wish for Refugees
Here's a short list of charities recommended by Charity Watch, an independent evaluator that favors organizations that use most of their budget for services (click here for the complete list):
American Refugee Committee: Provides protection, humanitarian aid, and distribution of emergency items to displaced people living in Syria.
Save the Children: Distributes life-saving food baskets, education, health services, clean water, warm clothes, and support for traumatized children.
2. HELP REFUGEES RESETTLING IN AMERICA
Many organizations offer services to refugees who are rebuilding their lives in the United States. They arrange for living accommodations, food, and clothing; help refugees understand American culture; and connect them with social, medical, and employment services.
The refugee crisis is complicated, and there are many ways to take a political stance to ensure the best outcome for the people of Syria and other refugees worldwide. Writing to your representatives and supporting human rights are two examples:
Write to the President and Congress
Send a pre-written letter that supports refugees or customize your own using this form on CARE's website (CARE provides direct aid to refugees). If you'd rather write to individual senators, use this online directory to find their contact information.
Support human rights
The people of Syria are victim to numerous human rights violations. According to Human Rights Watch these violations include government attacks on civilians, indiscriminate use of weapons, arbitrary arrests, enforced disappearances, torture, and deaths in custody by government forces. Check out Amnesty International USA's Syrian Refugee Activist Toolkit for ways to get started.
Understand the crisis
Daily news stories often hone in on the details, making it difficult to understand the bigger picture. A quick Google search can help you understand the conflict in Syria and why people are fleeing their homes.
Read stories about refugees
For most Americans, it's impossible to understand what it's like to journey from a war-torn country into an uncertain future. Reading refugees' stories and bearing witness to their struggles are essential to understanding why we need long-term solutions.
5. STAND UP TO RACISM AGAINST MUSLIMS
Many fear that refugees are terrorists and, therefore, do not deserve our help and compassion. In reality, refugees have witnessed unthinkable atrocities and many have lost someone they love. If you ask them, they are probably more afraid of ISIS than you are, and more invested in peace than any of us.
If you've remained silent in conversations that disparage refugees or Muslims, now is the time to call out misinformation as it unfolds. Learn the facts and speak out using the hashtag #RefugeesWelcome.
ARE YOU READY TO TAKE ACTION?
Are you curious if others did, too? Please consider taking this 1-question survey to anonymously share what how you supported refugees, along with your ideas for future action, and I'll report back in a future post.
Many thanks to Teresa Chahine for her support in writing this article. She is the director of Alfanar, a venture philanthropy working in Arab countries to support grassroots organizations serving marginalized populations, including an NGO supporting Syrian refugees in Lebanon.
Calling all HuffPost superfans!
Sign up for membership to become a founding member and help shape HuffPost's next chapter