This spring, fabulous bursts of neon are popping up everywhere. The bright trend isn't necessarily new; hunting stores all over the U.S. have offered neon caps for years, so you can make sure you don't get mistaken for a deer and meet an untimely end in the woods (maybe that's less of a trend and more of a survival technique). Even dogs can partake in the neon party, with bright collars and bandanas (because, let's be serious, our four-legged friends look a little more deer-like than we humans).
Because I went to a liberal arts college in Maine, where bright caps can save your life and where every themed party was an excuse to dress up in neon, I am an expert bright-color connoisseur. We had '80s parties, après ski parties, spandex parties, glow-in-the-dark parties... you get the idea. I even used to scour the local Goodwill store for killer neon outfits, hence this photo of yours truly: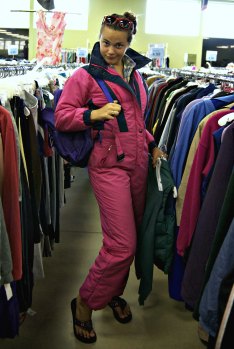 Not bad, right? Jumpsuits are in, so I was clearly far ahead of my time in 2009. For those of you who are daring enough to decide that the above look is indeed how you'd like to proceed with your neon education, I know some kids still in college who could maybe be persuaded to sell you their Goodwill-hunted ski suits.
Most of you, however, are probably wondering "how, if I am a) not a hunter, b) not in college, and c) a little bit more conservative when it comes to style, can I embrace the trend and not feel and look ridiculous?" Well, dear Stylelist reader, I'm here to help. I've put together what I call "Five Ways To Wear Neon (or) How To Blind Your Friends and Look Cool." Here are my five tips:
1. Get your neon fix in patterns. This is kind of like disguising your vegetables with tons of cheese. There are a lot of great pieces out there with more subtle hints of brightness worked into the design. You wouldn't necessarily look at some of them and think, "Wow, that's a lot of neon," but the brights will give a pop to your outfit and hint at the trend. And probably be just as good for you as broccoli.
2. Put neon into your bling. A lot of designers are incorporating bright shades into their jewelry these days. Some of my favorite brands embracing the trends are DANNIJO, Marc by Marc Jacobs, Holst + Lee, Gorjana, and Tom Binns. And J.Crew, but that's a given (read my blog and you'll realize I'm J.Crew-obsessed).
3. Choose accessories with neon accents. I love the crop of cross-body bags this season in neutral colors with neon piping. Sunglasses with bright frames or bright stems are also in abundance -- Karen Walker, Super Sunglasses, Sass + Bide, and Matthew Williamson are just a few designers taking advantage of the trend.
4. Find your staple items in neon colors. If you feel you're almost, but not quite, ready to go whole hog on the trend, do so by switching up your basics. I live in V-neck tees, so I added neon pink and yellow ones to my wardrobe. Paired with jeans and a neutral sweater or navy blazer these make an easy, comfortable outfit infinitely more chic.
5. Actually go whole hog. Buy that statement piece (I mean, sure, the ski suit from Goodwill could count, but I bet you can find something less sweat-inducing) in a bright color. Rock a neon blazer, a pair of neon shoes, or neon pants. I wouldn't wear all three together, but if you're up for it... well, I hear there's an '80s party at my alma matter. I'm sure they'd let you in.
6. Go for a walk in Maine. The hunting season starts November 1; the bullet-diverting caps look great, and you'll need one.