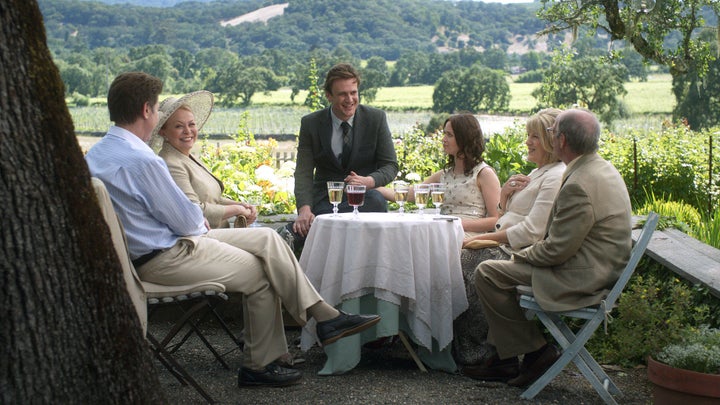 I wanted to like this film. I like Jason Segel. And Emily Blunt. But the laughs are spotty and Segel tries sooooo hard. The Five Year Engagement is strained and uneven. Some very funny moments are juxtaposed against some real clunkers. And so it goes. Segel co-wrote with director Nicholas Stoller. Their last venture together was The Muppets Movie. However this film is one example of a writer/director collaboration that does not work.
It is about the experiences of a relationship over five years. When our loving couple meets at a superhero party, Tom (Segel) is dressed as a superbunny and Violet (Blunt) is Princess Diana. They fall in love at first joke and become engaged. He is a chef in San Francisco while she has applied to the University of Michigan to be a psychology major. Stunned to be accepted because this presents problems for the wheres and whens of the wedding, Violet is torn. She has been hankering to be a student of the University of Michigan. In a selfless move Tom gives up his job where he is about to become a top chef to please Violet's lifelong dream.
The acting team of Chris Pratt, Allison Brie, Lauren Weedman, Mimi Kennedy and a long list of actors create a fine ensemble, but Jason Segel has to learn to look at the road while driving, not at Emily Blunt. Segel, go back to acting 101. And director Stoller, put on your glasses.
Bridesmaids' Judd Apatow produced this with Rodney Rothman. Apatow's tendency to push the envelope with raunch works at times such as when Tom fakes an orgasm. But this scene goes on too long and commits suicide. There are some very tender very real moments here, but also the tendency to go for shtick. Or just plain silliness. Pity. Pity.

"I want to be a psychology professor," Violet cries. It is refreshing that this script is about a college campus and topics like becoming a psych major and a professor. Depth that is thwarted by mediocre, uneven writing. We long to have a comedy with some depth, and while this touches upon it, it skirts to the bottom of the writing barrel in predictability and the film becomes yawn city. It is so long that one wonders if one can get a refund or what messages there are on your Blackberry.
It makes one angry because a few laughs are enjoyable such as when Tom who is feeling like a male faculty spouse after Violet has been asked to become a member of the faculty, says, "Sometimes I wonder where my penis went."
When making up after a fight, Tom says, "I don't want weekday sex."
"Are you pregnant," Violet asks of her best friend, Susie (Allison Brie). "Just a little," she replies.
However, as adorable a couple as Blunt and Segel are, they are not adorable enough to sit through this film.
Calling all HuffPost superfans!
Sign up for membership to become a founding member and help shape HuffPost's next chapter